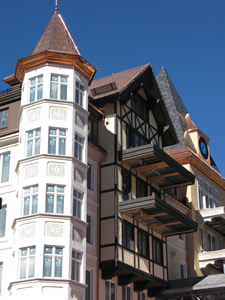 The Euro-style Arrabelle complex in Lionshead has been a decade in the making and was never easy for Vail Resorts. But now parts of it are open to the public and drawing rave reviews.
By David O. Williams
The best and worst of the Vail Valley in 2007
Realvail.com's tongue-in-cheek take on the year that was
By David O. Williams
January 3, 2008 — Best new Vail action sport:

Bed bartering. That's right, a ski town with a long a steamy history of after-hours arguing over sleeping arrangements has now legitimized and made official the sport of bed bartering.


And we're not just talking about the new town housing regulations aimed at allowing 30 percent of the town's workforce to actually sleep here overnight, we're talking full-on, high-finance, high-stakes wrangling over the number of new employee beds being provided in town.


The quarter-billion-dollar new Arrabelle at Vail Square condo, hotel and retail project in Lionshead, for instance, almost didn't get to open in late December because the developer, Vail Resorts, had not yet struck a deal with the town on how the ski and real estate company planned to replace the 120 employee beds at the Sunbird Lodge that Arrabelle supplanted.


VR had been one of two suitors looking to meet all of its employee bed requirements by razing and redeveloping the low-rent Timber Ridge complex across I-70 on North Frontage Road, but those negotiations stalled on all fronts and the ski company was back at the drawing board in early December.


In mid December, Vail Resorts was given a reprieve by the town. After plunking down a $17 million letter of credit (about the price of building 120 beds in an unspecified number of apartments), VR now has until the end of February to come up with a plan for the workforce-housing project and must then break ground by May of 2009.


So in a town once known for a crazed end-of-season event called the Great Race, in which revelers often drunkenly pushed beds through town, the new sport of kings in Vail, ironically, is bed bartering.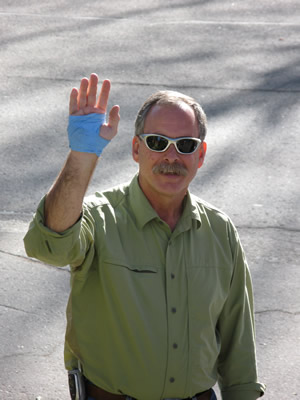 Dick Cleveland injured himself on Election Day but rallied to pull in the second most votes and wind up mayor. Way to take one for the team.
By David O. Williams

Best new bathroom amenity


So the old Sunbird Lodge and gondola building, once home to the best local's dive bar in town, the Sundance Saloon, and some of the cheapest ski-in, ski-out housing in the world (about $300 a month), has been replaced by a hotel that will charge $1,300 a night and boasts amenities such as flat-screen TVs in the bathrooms. Now that's progress.


Arrabelle is a modern wonder just steps from the Eagle Bahn Gondola, with 36 high-end hotel rooms, 50 ultra-plush condos, and shops and restaurants on the ground floor that include the new Centre V French-style bistro, a Starbucks, Blue Moose pizza, Burton, Quiksilver and Patagonia stores – all surrounding a new outdoor ice rink.


Arrabelle was the big-ticket item as far as new stuff at Vail this season (in addition to spruced-up base facilities at the bottom of the Vista Bahn chairlift and two new high-speed quads – Chair 10 and Chair 14), but Beaver Creek was busy catching gondy fever.


The resort that for 25 years defined and refined the boutique, luxury ski resort niche, sans gondolas, got two in one season in December, officially launching the new Riverfront Express (from the Westin Riverfront Resort & Spa in Avon to Beaver Creek Landing just across Highway 6) and the new Buckaroo Express (from the Hyatt in Beaver Creek Village to the top of the Haymeadow beginner area).


They're both short (three-and-a-half-minute rides) but sweet (connecting Avon to Beaver Creek via gondola and two chairlift rides and breaking up a logjam of beginner skiers by whisking them up the hill in warmth and comfort).


Best lodging bargain (for one more season)


On the other end of the lodging spectrum from Arrabelle – and speaking of reprieves – the old Roost Lodge, also on North Frontage Road in Vail, was spared from the wrecking ball for one more season.


Slated to come down for yet another luxury condo/hotel project, the Roost was famous for years as the last refuge of the true ski bum – a place college students and hard-core skiers could flop for the night for less than a Franklin (and if enough beer was involved, maybe try to leap from a balcony into the hot tub).


So for one more season, guests can enjoy cold showers and creaky box springs for $99 a night right in town. Talk about the end of an era.


Worst ways to cope with slope rage


Litigation - the bane of the American ski industry – reared its ugly head in December when an out-of-state adult skier, an employee of Reader's Digest, no less – condensed all that is wrong with skiing in America today by suing an 8-year-old Eagle boy who accidentally skied into him on a catwalk in Beaver Creek January of last season.


The plaintiff also named the boy's father and was seeking damages to pay for medical bills incurred from the alleged collision. The boy's mother said her son was no longer very psyched about the sport. Shocking.


Also in December, a visitor from New York brought a little of that Big-Apple attitude to Vail when she tried to download the Vista Bahn chairlift on the wrong side, refused to be redirected to the proper spot, got on anyway, fell and hit her head. She then allegedly threatened the offending lift operator with some sort of ice-chipping tool, which she offered to use on his head so he could feel her pain. The sheriff's department intervened.


Best way to make a political comeback


Talk about your total turnarounds. Two years ago in November, district attorney's office investigator Dick Cleveland was drummed off the Vail Town Council for refusing to back the redevelopment of the old Crossroads Mall into what will someday become Solaris – a condo and retail project that will include ice skating, bowling and new movie theaters (hopefully by 2009).


This past November Cleveland mended all of his fences and was the second highest vote-getter in an election that saw two incumbents reelected (Kim Newbury and Kevin Foley) and three newcomers in Cleveland (sort of), former Vail Resorts President Andy Daly (the top vote-getter and now Mayor Pro-tem) and retired attorney Margaret Rogers.


"Tonight is much better than it was two years ago when I was not re-elected," Cleveland said on election night. "People in this community wanted a bowling alley and wanted a movie theater, and I think they saw me as getting in the way of that, and that's a fact of life in this political realm. I didn't like it but voters spoke and I think I'm better person for it."


Cleveland was such a popular choice of the electorate that he was selected as Vail's new mayor by his fellow council members, and he'll have a new four-percent use tax on construction materials on any project that pulls a building permit in the Town of Vail.


The narrowly approved tax was the brainchild of outgoing council member Greg Moffet, who put it on the ballot in hopes of tapping into Vail's extraordinary $2-billion-plus redevelopment boom and catching up on $25.8 million in critically needed infrastructure upgrades over the next five years – such as a new fire station in West Vail where the Wendy's used to stand (now a parking lot).


Worst way to attract U.S. ski-racing fans


Get shut out on your home snow. The U.S. Ski Team, thanks in large part to largess of Vail Resorts, which goes to extraordinary lengths each season to host the Birds of Prey World Cup ski races at Beaver Creek, has only one shot a year on U.S. snow to impress largely apathetic American ski-racing fans.


This season Vail Resorts outdid itself, pulling off a minor miracle by getting the course ready in time for the early-December races despite an utter lack of snow in the month of November (since then, epic December snowfall put both Vail and Beaver Creek well ahead of seasonal averages as of early January).


The U.S. squad, minus the enigmatic Bode Miller, who in the offseason broke away to train and race independently for his newly formed Team America, rewarded Vail's efforts by getting skunked in four races, breaking a string of four consecutive downhill victories by an American the past four years.


To be fair, Steve Nyman, of Provo, Utah, very nearly won the downhill, finishing second to Austrian Michael Walchhofer. Miller was no higher than fourth (in the super combined) in any of the four races, although he did win a downhill later in December in Bormio, Italy, to tie the legendary Franz Klammer with 26 career victories and pull within one win of Phil Mahre's record for victories by an American man (27).


Best way to attract American ski-racing fans


Be young, dynamic, attractive and a winner. At the ripe old age of 23, Lindsey Vonn (formerly Kildow) is all of those things, and if she keeps up her winning ways – honed as a member of Ski Club Vail – she'll be the golden girl of the 2010 Winter Olympics in Vancouver, British Columbia, Canada.


Vonn, who married former U.S. Ski Team member Thomas Vonn in the offseason and built a big home with him near Park City, Utah, won a downhill at Lake Louise, Canada, in early December and then another downhill and a super combined in St. Anton, Austria, later in the month for her 8th, 9th and 10th career victories, surpassing her childhood idol, Picabo Street, for the second most wins ever by an American woman.


Vonn now trails only Tamara McKinney, who won a World Cup race (in 1983) and World Championship gold medal (1989) at Vail and tops the all-time wins list for an American woman with 18 career victories.


Worst blow to local history


The Eagle River Valley (don't call it the Vail Valley – that's a marketing term) has been a place drowning in a sea of change since Peter Seibert first brought the ski industry to town in the early 1960s. But one island of stability was always Frank Doll, who died in December at the age of 86.


Doll's family homesteaded the valley in the 1880s, ranching in the Gypsum area, and he relished his role as the valley's unofficial historian and weather watcher. He was a living link to the days when Vail was just a sheep pasture and land was valued more for its grazing on the surface or minerals just below it than the potential for high-end condos.


Visitors to the Park Hyatt in Beaver Creek may remember Doll as Wild West storyteller who cherished the county's colorful past, but the many locals who knew Doll – and his late wife, Imogene – will remember them for keeping a resort community that's sometimes lost in the clouds down to earth and rooted in the past.


Best way to procure a prime parking spot


Build a new garage. That's the thinking of the Vail Town Council, which in mid-September gave the nod to a $620 million plan to rebuild the Lionshead Parking Structure, piling on an additional 555 public parking spots.


A Texas tag team that includes Ross Perot, Jr's Hillwood firm would bury and expand the aging 1,150-space town-owned structure and top it with a St. Regis and a W Hotel, luxury condos, a conference center and 60,000 square feet of shops and restaurants.


But the largest single construction project in Vail's 45-year history hinges on the cooperation of Vail Resorts, which must waive a deed restriction on the property it originally donated to the town solely for the purpose of parking.


Open/Hillwood also needs Vail Resorts to build a new 600-plus-space parking garage in West Lionshead as part of its billion-dollar Ever Vail project before the Lionshead garage can come down.


And both Vail Resorts and Open/Hillwood were jockeying to raze and rebuild the town's Timber Ridge housing complex in order to double the number of employee housing beds there and satisfy their requirements per the town's new housing codes.


After being strongly urged by former council member Kent Logan to work with Open/Hillwood, Vail Resorts CEO Rob Katz came to town throughout the fall to promote his housing plans once Timber Ridge seemed like a non-starter and smooth some seemingly ruffled Town Council feathers.


In the meantime, two of the hottest commodities in Vail – more parking and cheap housing – remain in limbo.


Worst way to attract new candidates for public office


If at first you don't succeed, recall, recall again. That seems to be the mantra of the detractors of Arn Menconi, who have twice now attempted and failed to gather enough signatures to boot the Eagle County commissioner out of office.


Now entering the final year of his second and final term, Menconi derides the recallers as political extremists bent on torpedoing his legacy as he weighs a possible run for the state legislature.


"When they lose for not having enough signatures, their comment will be we accomplished what we set out to do, expose Arn Menconi for who he really is," Menconi said. "These people are gutless and they've lowered the integrity of politics in Eagle County."


Actually, Committee to Recall Arn Menconi chairman Mike Reid had no comment at all, other than to write a letter to local papers in September explaining his group had come up short in its bid to obtain 6,000 valid signatures of registered Eagle County voters (only 4,367 were required), and they might try again using a professional petitioning company.


It's doubtful the third time would be charming at all.


Worst possible ad campaign


"We're No. 2! We're No. 2"


Besides the scatological implications, touting second-class status in the annual Ski Magazine survey (Vail lost out to Utah's Beaver Creek, Deer Valley) would likely have the wrong ring to it. Does anyone ever remember the runner-up in the World Series? The Colorado who?


After taking top honors among North American resorts last season, Vail was on a New York Yankees-like tear of 14 No. 1 rankings in the past 19 years. But upstart Deer Valley, sporting less than half the ski terrain but a rep for pure pampering, has now assumed the role of the Florida Marlins, claiming the top spot three of the last five year.


Worst way to build summer tourism biz


Strand drivers in traffic snarls reminiscent of the metropolitan areas they're trying to escape.
Perhaps the Colorado Department of Transportation isn't too concerned with the local chamber of commerce goals in mountain resort communities – at least that was the appearance in Vail over the summer – but anyone caught in the gridlock along Interstate 70 likely sped back to their favorite rush hour elsewhere in the country as quickly as they could.


With both east- and westbound lanes choked down to single-file during the heaviest traffic months of the year – in order to repave and build up the median barrier in Dowd Junction – former 15-minute drives turned into hour-plus adventures in road rage. And, tragically, a handful of fatal accidents ensued.


CDOT promises fewer impacts from its projects next summer. Still, guests may want to seriously consider flying into Eagle.


Best way to beat the subprime blues


Stay white-hot.


According to Led Gardner & Associates Real Estate, at the end of July the total dollar amount of real estate transactions in Eagle County exceeded $2 billion for the fourth straight year with four months of sales remaining. With the fall numbers staying strong, a new record for sales volume in the county seemed likely.


One new slope-side home in the Lionshead area of Vail closed for $13.8 million, proving that the sub-prime lending crisis is largely irrelevant in the still-sizzling resort home market, where buyers typically pay cash. And places with vast natural beauty and locations of perceived safety remain a hot commodity in the post-9/11 world.


Best way to convert a cattle ranch


Dick Hauserman was first in a lot of way in Vail: one of the first investors in the ranch that would eventually become the town; the town's first full-time resident; owner of the first ski shop in Vail; designer of the ski company's first logo (still in use today); and investor in the town's first newspaper, the Vail Trail.


But the indefatigable 91-year-old author of "The Inventors of Vail" is first and foremost proud of the beautiful resort valley he helped build and all the friends he made along the way. That's why September, typically one of the most spectacular months in the high country, was bitter-sweet for the former Cleveland office-partition manufacturer who risked everything to uproot and move to Vail in the early 1960s.


Hauserman spent the month attending Vail Pioneer Weekend and numerous reunions and goodbye parties as he and his wife, Bobba, sold their Arrowhead home and prepared to move fulltime to their homes in New York and Florida. Sea level agrees more with Hauserman's current physical condition, but he promises he'll be back and that Vail will never be far from his heart.


Worst way to welcome mud season


Doing a special-election double take … and going down in flames … again.


Home rule, which sounds vaguely Medieval but basically would have increased the number of county commissioners from three to five and made it easier for citizens to force issues to a public vote, was defeated May 1 for the second time in six months.


State law allowed the question to be put on the ballot again - to the dismay of a vocal few - and it was a little closer this time around (52 to 48 percent), but now the measure seems to have gasped its last breath.


Best way to go for the trifecta


Play it straight. There will be no mini-Olympic bids for Vail and Beaver Creek this time around.
Spearheaded by the Vail Valley Foundation and with the backing of the U.S. Ski and Snowboard Association, the two resorts in early May threw their hats into the ring for the 2013 Alpine World Ski Championships.


Hosts in 1989 and '99, Vail-Beaver Creek first went for the trifecta in bidding for 2009 but lost out because of its innovative plan to include the world snowboarding and freestyle skiing championships.


The stodgy bureaucracy of the International Ski Federation (FIS) couldn't handle such a radical concept (of being actually interesting to American spectators) and denied the bid.


Now Vail-Beaver Creek is just going for the alpine worlds, this time competing against Schladming, Austria, St. Moritz, Switzerland, and Cortina d'Ampezzo, Italy. A decision is expected in the spring of 2008.


Best way to get off skid row


As rags to riches stories go, the tale of Little Bachelor is a particularly heart-wrenching one. Found wandering the streets of downtown Denver, Little Bachelor is now the official Labrador retriever of the Ritz-Carlton Bachelor Gulch.


Little Bachelor assumes the duties of the original Bachelor, who was bumped upstairs by a corporate promotion (actually his owner was), and those duties include being walked by hotel guests, loved by countless children, and stuffed full of doggy treats. Good work if you can get it.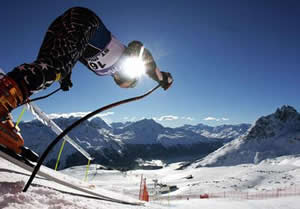 Ski Club Vail's Lindsey Vonn (formerly Kildow) is now the second best American woman ski racer of all time and a favorite to become the first Coloradan to win an Olympic alpine medal in 2010.

Best way to make a bold architectural statement


Hire Daniel Libeskind. That's what Edwards developers Remonov & Company did in a bid to create a signature building for the down-valley town's downtown core. Remonov wants the widely praised but sometimes pilloried architect to put Edwards on the map with 56 eye-catching condos.


Libeskind got mixed reviews for his 2006 design of the Denver Art Museum expansion and the adjacent Museum Residences, even making some museum patrons a bit queasy with his use of sharp angles and seemingly impossible lines.


He first made a splash with his designs of the Jewish Museum in Berlin and the Imperial War Museum North in Manchester, England, both completed in 2001, and then grabbed headlines as the winner of a competition for the replacement of the World Trade Center at Ground Zero in Manhattan. Now he's tackling downtown Edwards, hoping to give the "family-style" ski town an iconic structure to visually punctuate its post-modern downtown core.


Best way to get on Oprah


Win an Olympic mogul-skiing medal after being adopted from a Korean orphanage by Vail ski instructors. Then reunite in South Korea with your long-lost father and brother after the Olympic spotlight illuminates countless candidates in your quest for your birth parents.


That was pretty much the path 28-year-old Toby Dawson took to the Oprah Winfrey Show in April – a month that also saw him get married to Leah Halmi in the Palm Springs, Calif., area, where he's pursuing a new athletic career as a pro golfer.


Dawson, raised in Vail by Deborah and Mike Dawson, saw his Olympic dreams come true on the moguls course at Sauze d'Oulx, Italy, last year when he claimed a bronze medal in the grueling event.


The ensuing publicity, especially in South Korea, brought possible parents out of the woodwork, but Dawson insisted on DNA testing that finally paid off when his birth father, Kim Jae-su, was identified.


Kim explained that Dawson's mother lost him as a toddler in an open-air market and that police took him to an orphanage far from the family home, thwarting repeated attempts to find the boy. Dawson has established a foundation to help locate birth parents of South Korean orphans.


Best way to be remembered


If you're a skier – and the late Gerald R. Ford was an avid one for years – there's no higher honor than having a run named after you. The former president, who helped put Vail on the map in its formative years and later built a home in the new resort of Beaver Creek, now has two runs named after him.


Ford, who died in December of 2006 at the age of 93, will be remembered in Vail by the renamed lower section of Giant Steps, which is now called "38." The 38th president, who succeeded Richard Nixon in the wake of the Watergate scandal, will also forever have his name on the old Pitchfork trail at Beaver Creek, which runs past his former home in Strawberry Park and will now be known as "President Ford's."


And it took an act of Congress, but the Vail Post Office will also be renamed in honor of the man who left a lasting mark on the Vail Valley, from the Gerald R. Ford Amphitheater to Vail's Ford Park to the many charitable organizations he and his wife, Betty, supported throughout the years.


Best way to keep an eye on the competition


Out of one competing resort and into another – this one much closer to home.


Vail Resorts sold the Snake River Lodge and Spa in Jackson Hole, Wyo., for $32.5 million in December of 2006, removing one 88-room luxury property from its stable of high-end hotels at the bottom of some of world's best ski areas.


But the company's RockResorts lodging brand made up for the (profitable) loss in April when it acquired the management contract for the historic 92-room Hotel Jerome in Aspen – the longtime rival of Vail for top billing among Colorado's ski resorts.


Worst way to bump into someone on the mountain


Meanwhile, another solid if unspectacular snow year (2006-07) brought plenty of snow riders to Vail and Beaver Creek – a good thing for the ringing of local cash registers but not always conducive to harmony on the hill.


In April, a 22-year-old snowboarder who collided with an 8-year-old girl and fled the scene after being punched by the girl's father, pled guilty to harassment. He was found in a local bar and admitted to having a few drinks before the collision.


That was perhaps the worst example of on-mountain carnage last season, but numerous ski instructors and other snow riders reported a sharp increase in hit-and-runs and just plain unsafe riding on the local mountains.


Resort officials vowed to raise safety awareness and keep up the heat with yellow jacket and regular ski patrol presence.




Comment on "The best and worst of the Vail Valley in 2007" using the form below