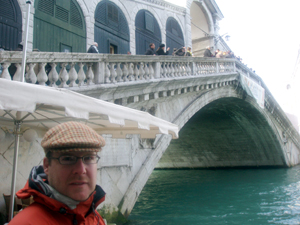 Don't drink the water:
While my trip to Venice was supremely enlightening in a cultural sense, I was also enlightened to the horrid state of Italy's environment, especially in Venice. The dredging of a nearby port in the 1960's disrupted the natural tidal flows in the area, and now evidence of the city's pollution remains in stale waters, for all to smell and see, rather than being flushed out to the open sea.
Photo by Renee Boyd
Hey Europe, don't be so quick to judge America
Our good side is about to make a comeback
By Tom Boyd
October 26, 2007 — Hello Europe, I believe we've met before, many times. I met you in that café in Venice near the Ponte Rialto. I met you after workdays in a small English pub in the Italian Alps. I met you on treks through Cambodia, in the form of a young Dutch couple. I met you on a soccer field in the Netherlands, and at a World Cup game in France. I met you in Athens and Santorini, Dehli and Bangkok, and I've also met you here in Vail, on the ski slopes or on the summer hiking trails. We've talked about America vs Europe, and although I've almost always enjoyed your company, it's time you know something.


You've been riding on a high horse, and it's time to get off.


In these past 10 years you've pulled the wool over many pairs of eyes, convincing millions of impressionable minds that you, Europe, are the good guys in the struggle to improve the world's devastated environment and debilitating social problems. From the Kyoto treaty to the German solar-power plants to the (former) Prime Minister of England declaring that England shall lead the charge to fend off the effects of global warming, you've managed to make yourselves appear noble and true to Mother Earth.


And the United States, of course … well, we're nothing but the perfect Bad Guy, eh?


Of course we are! We have George Bush and Iraq, and the gas-guzzling Detroit motor companies, and a form of consumerism so overbearing that a third of our people are obese. Obese!


The Bush era has been embarrassing and tragic, but don't count America out just yet. We've led the environmental movement before, and we will again. We've also spearheaded global efforts toward social justice before, and we will again. That's why I think America is the greatest country in the world.


A Dutch woman heard me say a similar thing during an amiable conversation in a Chang Mai restaurant, and she gave me an astonished look. "Why are Americans always so proud of their country!?" she wondered. "Why do you think you're so great?"


The Netherlands, in her opinion, was plainly superior. This idea has been echoed by American friends of mine who have traveled abroad and returned home in despair of America. They have been to Italy, Greece, Costa Rica (just fill in the blank) and have come home believing that (fill in the blank) is a far superior country.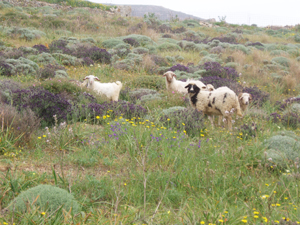 These sheep, on the island of Safos, roam freely along treeless, grassy hillsides. It wasn't always so. Legend holds that an early Greek king ordered the entire Grecian kingdom to cut down existing trees and replace them with olive trees. The olive trees could not hold root, and died, leaving Greece with the rocky shoreline it has today. Overfishing, too, has left the Mediterranean as one of the most depleted aquatic environments in the world.
Photo by Tom Boyd

OK, let's look at the Netherlands. Nice country, but hardly a historical steward of land and people. It has a homogeneous population all living in a country the size of Maryland, no doubt a bit easier to manage than the massive and multi-cultural United States. The Netherlands wasn't always small in size, however, since until quite recently it operated a large, brutal and racist global empire determined to pillage natural resources with very little care for the land they pillaged or the native people who lived upon it. The inheritors of this lifestyle in South Africa created Apartheid in an effort to hold onto their Imperialistic ways.


All this is in the past (just barely), but it holds tremendous bearing on the current state of the country. Their current wealth, which is the key factor allowing them to hold their environmental, educational, and social values in such high esteem, is a direct result of over 100 years of earth-raping, people-enslaving, rampaging Imperialism. Tack on the fact that the Netherlands includes 2,500 square miles of man-made land reclaimed from the sea, while the rest of it is overpopulated and absolutely without any form of wilderness AT ALL, and residents might want to reconsider the idea that they're leading some kind of environmental charge while the big, bad, United States does nothing but wrong.


The Netherlands is one example, but the same basic template holds true for France, Belgium, Germany, Italy, and most any other country in Europe. Now that they've completely destroyed their wilderness, barring a few modest patches here and there, and they've finished plundering the rest of the world's resources, all the sudden they want to declare themselves the leaders of the environmental movement.


So what about the United States? Are we really that much better?


Yes. But just barely. And if we don't do something about it soon we'll lose our credibility for a long time to come.


We have, of course, the tremendous scars of slavery and the genocide of Native Americans which leave an ugly mark on our early history. The Civil War and the Civil Rights movements did much to prove that America is capable of healing itself from the great illness of racial prejudice, but the story of our exploitation of the American West, and its indigenous inhabitants, ranks us as tantamount to the Imperialists of Europe who plundered foreign shores during that same period.
Global warming is a reality, not a debate, in Europe, where a decade's worth of warming has left the Alps barren of snow in some places, often times year-round. The bobsled course at the 2006 Torino Olympics, shown above, was surrounded by mud, not snow, despite that it was one of the highest-altitude courses built in Olympic history. A last-minute snowstorm allowed television crews to shoot their prescribed "snowy Alps" footage, but the snow barely lasted the length of the Games.

We did, however, pioneer the idea of protecting massive tracts of land for the sake of future generations (as opposed to saving it for royal hunting expeditions, the norm throughout Europe and Asia for centuries), and we did it in 1872 with the creation of Yellowstone National Park. Since then we have managed to create wilderness areas, national parks, state parks, and protected lands on a scale unprecedented on the globe (Costa Rica, it should be noted here, has the largest percentage of its land under protection. The United States, however, is the country with the largest amount of land under protection).


Add to that the National Geographic Society and the Nature Conservancy, both based in Washington, D.C., and there becomes little doubt that America started and continues to lead the effort to protect the world's last wild places (although here is a good place to give a nod to Jane Goodall, who is British, and others who have contributed to this effort worldwide).


Images of George W. Bush blustering his way through speeches on international television are incongruous with the efforts of America's people. Yet Europeans (and Europhiles who insist on disliking their own home country) should note this telling fact: Citizens of the United States (NOT the government), year after year, contribute more money to world hunger, disaster relief, Amnesty International and relief organizations in general than any other country in the world. Well, you may say, that's because the U.S. is the largest and wealthiest country, right? Which is where I remind you that the United States also has the highest per capita percentage of volunteers in the world, domestic and international. So while our current government makes itself appear asinine on television, our citizens are quietly doing the right thing, by the millions, all around the world.


All we need now is a leader who's environmental and social stewardship matches that of his/her people. For that, we will have to wait and see. However, if things go the right way, and the right person is elected President of the United States in 2008, Europeans will quickly find that it's not so easy to stay in the saddle atop their high horse - especially if they learn their own history.


Comment on "Hey Europe, don't be so quick to judge America" using the form below