Ski Beaver
Building Dams for a Better Future in the Vail Colorado High Country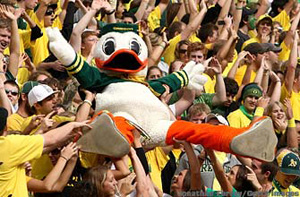 Blog Tools
Comments
Permalink
By Brook Portman
September 8, 2008 — It hardly seems possible, but Mother Nature quickly slammed the door on August's proverbial ass and before I knew it, the first weekend of what I consider to be the best sport season on Earth, college football, has already passed.

Please note I said best season, not the best event. I believe the best sporting event on earth is March Madness, but that only lasts a couple of weeks, where the football season last a couple of months. If I live to see the day college football can figure out how to have some type of "march madness" tourney, then it will reign supreme. However, it currently sucks the teet and typically leads me into a violent rage, although I usually just sulk, whine at Dave and look for some new tasty alcohol-fueled holiday drink recipes.

I'm kinda bummed that the weather is already dipping in the upper 30s at night. This year the summer in Vail really was NOT awesome. It snowed into June, was a hot droughty mess in July, rained the better part of August, and now it is super Fall-like. Riding the Buddy to work in the morning is creating a bitter internal conflict. While I love the ride home in the evening, low 40s in the morning have me second guessing if it is worth the runny nose, extra layers and hand warmers. I know, I know, wah wah wah for me. I bitch and complain and beg for 3 years for a scooter and now I have one and am fickle when it comes to the weather. Lay of me....I am fragile!

Anyway, we were in Connecticut for the opening weekend of college football and sitting in a foreign bar in New Haven, watching some dumbass Florida fan cheer like a hyena when Florida scored their 7 TD of the game on a hopeless and Brennan-less Hawaii team pissed me off and made me ecstatic at the same time. Words like "douchebag" and "dicktard" came to mind, but I realized that that is what I love. I love to be angered by fans of teams I can't stand, from conferences who think (and tell me, over and over) they are the sh*t EACH AND EVERY YEAR (I am looking at you SEC) and by bars that can't figure out their Gameplan packages. I love to sit on my ass, stare at three different games that I have no tie to, root for some upsets, call friends like Darden when ECU beats a ranked opponent (who knew I would become a fan of the butt Pirates?) and drink hoppy beverages. I love it.

But, you know what I don't love? Week 2 crappy lineup. Sure, there will be some upsets today and peeps will talk about teams like ECU breaking into the top 25, but have you seen the lines for today's games? I haven't seen that many double digits since my college wardrobe size. It sucks. The line for Ohio State/ Ohio matchup (applaudes again to OSU for a "challenging" OOC schedule....) moved from 37 to 33 most likely due to Beanie in a boot, but really....33 points?

And my beloved Ducks (pause for a moment of elation, reflection and pouring one out for my homies) are taking on what some analysts consider to be the worst team in D1 football, Utah State. Please Ducks, please do not make this an interesting game and just take care of business early. I have so few tears left for you and I am pretty confident this game is not going to be televised, Gameplan or no Gameplan. I don't think these weak preseason lineups do anything for the sport and quite frankly, they push me to, gulp, find something to do outside on a Saturday. Yikes!

Golly gee, I am out of it today. It might have been the 6 beers, shot of Tuaca, and the fraternizing with Peter Forsberg that took place at E-Town last night. By "fraternizing" and mean watching from a distance, texting my friends and pretending to be uninterested in his whereabouts. What I want to know is at what stage in life do you either become an celebrity autograph/ photo seeker or the person who pretends they don't care and wants the person to have their personal space? I am strongly the latter. Many people aren't. Is there a weird gene or something that decides that? I can't think of one celeb I would break that rule for. Oops, scratch that.....Jon Stewart and Paul Rudd. Paul Rudd is super dreamy (I accidentally wrote the word "creamy" instead of "dreamy", which I found quite hilarious. I gotta get out more often.)

I'm off like a prom dress.....have a good one!


1 Comment on "Fall, football, and (not) fraternizing with Peter Forsberg at Edwards' E-town"

Submit and read more comments on "Fall, football, and (not) fraternizing with Peter Forsberg at Edwards' E-town" now!
---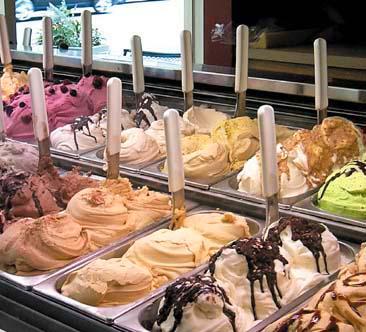 Oh-My-Goodness, that looks good. Ski Beaver discovers a lovely little Gelato place at the base of the Beaver Creek escalators
Photo courtesy of Ski Beaver
Blog Tools
Comments
Permalink
By Brook Portman
August 5, 2008 — Many people strive for important things in their life which will make them feel like they are living an accomplished, productive lifestyle. Some find this within promotion goals at work. Others find it within their personal lives through travel and relationships. I however, have been on a quest to find a dessert that equals my love of burritos. This is, by far, the most imperative task I have ever undertaken in my life. It now beats out owning a scooter, because I accomplished that through tears and prostitution.

I have feasted on several burritos, only to follow its deliciousness with a dessert of some type that has lead me to feel like I have let down my little burrito. I mean, all this burrito did was love me and gave me everything it's got.......delicious flavor, a full stomach, fond memories.......and what do I do? Throw it a crappy dessert and say "Here is what I reward you with...some piece of crap generic Reese mini cup".

I feel bad when I do it, but the burrito doesn't take this abuse laying down. Oh no, what does it do? Makes me fat and gives me a tummy ache. It really is a love/ hate relationship. Damn you burrito.

Well, several months ago I was skiing at the Beav and immediately noticed a new boy in town. This boy was a lovely little Gelato shop at the base of the escalators. I was intrigued, but prepared for overpriced disappointment. However, I promptly laid the groundwork to Dave in regards to trying the gelato shop at the end of the ski day. I laid it out by saying "Oh, gelato sure would be nice". And Dave would say "What?" clearly uninterested in my latest craving. And I would say "Gelato (firm tone)... that sounds good." And Dave says "Oh, aren't you fancy... you want gelato." And I say "Damn right I wants it. Gelato is frickin' tasty". And Dave says "Oh, we will get you some gelato princess, don't you fret." And then I say "Damn straight...gelato bitches."

And that is the end of our dialogue. Endearing and timeless, aren't we?

Well, after skiing and "apresing" (is that a word?) I had totally forgotten about the yummy dessert I had so desperately wanted earlier in the day. As we sauntered (well, more like lumbered) down the stairs and glanced to the right and I was immediately reminded of my one sole purpose at that place and time: To get me some gelato.

Frantically, I made some type of grunt meets whine to Dave and pointed at the shop. Looking back, I believe I resembled Lindsay Lohan at an attention convention, but I did not care. Sidenote: Does anyone even care that she is now carrying a lesbian card? I didn't think so I was pleased when Dave followed me promptly into get gelato and seemed almost as excited as I was. I tried to read the flavors, but was too overcome with excitement to be bothered by pesky things. If you can only imagine my delight when I was offered free tastes. I was like the first time I walked into the Grand Tasting at the Taste of Vail and was super glad I was wearing an adult diaper because I pretty much peed myself.

By the way, this place is called Rimini's and it pretty much rocks. There a so few things I think about on a regular basis that I can count them all on one hand and the rest of the time I am a blank canvas, but I find myself thinking of Rimini's SEVERAL times a day. I think it is because I have finally found a companion for my burrito in my stomach. Think of a naked David Beckham rolling around a grassy field, with rainbows and a Tom Petty's "Free Fallin" instrumental groove in the background, and that is pretty much how my stomach feels about this food marriage. Now if only Illegal Pete's would open a shop in the valley.........some call me a dreamer........



BTW - It is not overpriced and they give a solid local discount. And by solid, I mean "fist pumping, lock it in and head nod" solid.

Yawn....I am beat, hungry and out on any good thoughts. I leave you with this:
If the Cubs make it to the World Series, what will be the ratio of presidential ads vs. curse of the billy goat stories? It has to be 2:1. Is this really what America needs?



Submit a comment on "A New BFF for My Burrito"
---
Read More Blog Entries
Previous
Blog entry 5 through 6 of 6 total entries
Bloggers Profile and Information