The Bookworm Sez
RealVail Book Review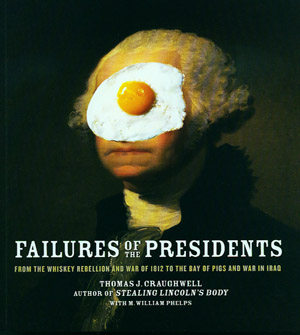 Blog Tools
Comments
Permalink
By Terri Schlichenmeyer
October 5, 2008 — "Failures of the Presidents" by Thomas J. Craughwell with M. William Phelps

Why is it that you only spill, fall, splat, or otherwise make a fool of yourself when everyone in the world is looking?

When things are perfect, of course, nobody's ever around to notice. But capture the eyes of just one person (particularly one with a big mouth) and you fumble, flounder, flub, and fail for all to see.

With that in mind, it's no surprise that the guy who lives in the big White House on Pennsylvania Avenue is under a microscope, and his gaffes are there for everyone to point at. In the new book "Failures of the Presidents" by Thomas J. Craughwell with M. William Phelps, you'll read about many a prez faux pas (c.2008, Fair Winds Press/Quayside Publishing, $19.95/$21.95 Canada, 320 pages)

From the Bay of Pigs to lipstick on a pig, our presidents (and presidential candidates) have surely presented their share of political bloopers.

Take, for instance, The Father of Our Country. As if being the first President wasn't pressure enough, George Washington agreed to a tax on whiskey which led to unrest in the backwoods of the newborn United States. Citizens were literally up in arms over a fee on their booze, and they rebelled. Though the wildly unpopular law was on the books until Thomas Jefferson's presidency, it was common knowledge that anyone who tried to collect the tax would meet with violence. Men, in fact, who attempted collection found themselves covered in tar and feathers. Understandably, nobody wanted to venture forth with his hand open.

Oopsie on Mr. Washington.

In the early years of the Depression, when homeless, unemployed families pitched tents on the grass in Washington D.C., President Herbert Hoover authorized Major General Douglas MacArthur to clear out the squatters. Almost immediately after the orders were sent, Hoover had second thoughts and tried to pull MacArthur back.

Whoops. It didn't work. Tear gas flew, tents burned, and in the end, Hoover was blamed for the melee.

George Santayana said that those who can't learn from history are doomed to repeat it, so future presidents should observe Lyndon Johnson's lesson: never lie. Johnson and Secretary of Defense Robert McNamara fabricated a story they knew would escalate conflict in Vietnam. You know what happened next, but you might not know that it changed the way a president can wage war.

Judging from the funny, irreverent cover here, you'd perhaps expect a light-hearted book filled with plenty of laughs, right?

Nope.

"Failures of the Presidents" is much deeper and drier than you'd anticipate by just picking this book up. Authors Thomas J. Craughwell and M. William Phelps include many very serious presidential losses and lack of successes that altered history, changed laws, and redirected the way Americans perceived the office and the men in it. Although I would have appreciated a smidge more humor here, this isn't a bad book. It's just more somber and serious than not.

Still, if you're fascinated with politics in this historically-political year, "Failures of the Presidents" is a definite must-have for your bookshelf. For you, missing this book is a big boo-boo.


Submit a comment on "Book review: "Failures of the Presidents" by Thomas J. Craghtwell with M. William Phelps"
---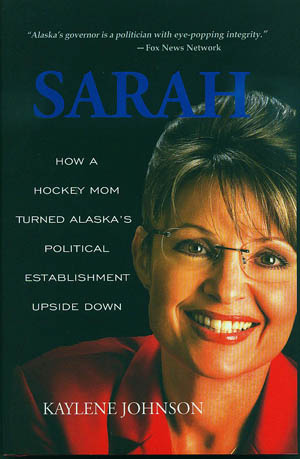 A book by Alaska native Kaylene Johnson gushes with praise for new Republican Vice Presidential candidate Sarah Palin.
Blog Tools
Comments
Permalink
By Terri Schlichenmeyer
September 30, 2008 — A few weeks ago, when Senator John McCain put rumors to rest and revealed his running mate, you could almost hear the question rumble across 49 states:
"Sarah WHO?"

While Alaskans knew their governor well, most people were in the dark then. Now, unless you just woke up from a long three-week nap, the name of Governor Sarah Palin is familiar. But with one of the country's most important elections looming, how much do you know about her?

You owe it to yourself to possess as much knowledge as possible about Palin as well as the other candidates when you step to the booth this fall. Begin by picking up the book "Sarah: How a Hockey Mom Turned Alaska's Political Establishment Upside Down" by Kaylene Johnson (c.2008, Epicenter Press, $19.95, 159 pages)

Raised in a boisterous family, Sarah Heath had integrity and honesty instilled in her from an early age. Johnson says that the Heath kids knew they had to work to get anything extra, so they hauled wood, gardened, and did other assorted chores for spending money. Sarah knew that college was not an option and that she and her siblings had to pay for their own education.

Johnson said Sarah entered a beauty pageant solely for the scholarships.

After eloping with her boyfriend, Todd Palin, and following the birth of her second child, Sarah was encouraged to run for Wasilla City Council, a seat of which she won by a comfortable margin. Shortly thereafter, she challenged the incumbent for mayor and won by an even wider vote. Later, after eyeing the lieutenant governor's office and accepting (and resigning from) an appointment to the Alaska Oil and Gas Conservation Commission, Palin ran on an "I'll listen" platform and became Governor of Alaska, the first woman to do so.

"Challenge" is a good word that describes Palin's tenure in office. Johnson gently relates several incidences where Palin went head-to-head with officials in various departments, most of whom quickly met her "personal brand of stubborn resolve." And her time spent in office - much like her nomination as vice president for the Republican ticket – was not without controversy.

While "Sarah: How a Hockey Mom Turned Alaska's Political Establishment Upside Down" is informative, it's also ripe with sappy pandering ("Sally Heath has… a voice that sounds like a song."), overgeneralizations ("Her down-home demeanor is one reason why Alaskans like her.") and quite biased U-Rah-Rah storytelling.

Author Kaylene Johnson lives near Wasilla, so enthusiasm for a neighbor is something to be expected but I was also hoping for a little bit more neutrality in this book, particularly on behalf of any reader who's looking for hard facts and less ebullience.

Supporters are going to love this book, but there's nothing new in here for them. Undecided voters will have to look past the effluent praise to find the nuggets that are here to glean. My advice is to find this book, read it, and ignore the gushing because education is important on your way to the voting booth, and "Sarah" is a good start.



2 Comments on "Sarah Palin book review: "How a Hockey Mom Turned Alaska's Political Establishment Upside Down"

Submit and read more comments on "Sarah Palin book review: "How a Hockey Mom Turned Alaska's Political Establishment Upside Down" now!
---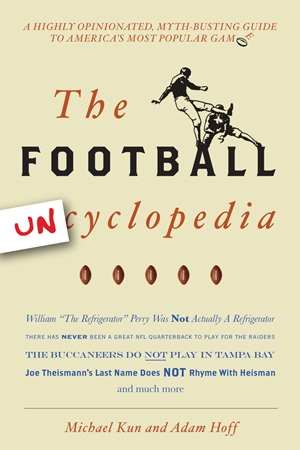 Blog Tools
Comments
Permalink
By Terri Schlichenmeyer
September 8, 2008 — Duck – for a few weeks each year, your friends and family get good at that.

It's not that you're a violent person. Really, it's not that at all.

The thing is, at some point, your team will do something boneheaded. A coach will make a bad decision. A ref will make a bad call and there you are, yelling and throwing peanuts or popcorn, foam bricks or crumpled paper at the TV. Nobody wants in the way, so they all DUCK.

This football season, distract yourself from a frustrating game with "The Football Uncyclopedia", a new book by Michael Kun and Adam Hoff (c.2008, Clerisy Pres; $15.95 / $17.50 Canada; 256 pages) Keep it by your elbow, and you won't throw anything at the TV. You'll be too busy laughing.

So the game's in progress and you're sitting there, smug. You know everything there is to know about football because you've been a fan since the womb. Nobody can tell you anything you haven't already repeated twice.

But let's take, for instance, Tom Dempsey. Did Dempsey's handicap help him break a record that has been equaled once but never surpassed? Argue amongst yourselves, then read what Kun and Hoff say.

And you know that guy in the old soft drink commercial, the one with the little boy? Would you believe that guy's name is not "Mean Joe Greene"? No, seriously. It's in there, go look.

Okay, how 'bout this: Kun and Hoff say the last player selected in the NFL draft is not a bad player. They also say that all football players are not bad actors. And Raiders fans are not like other fans. Ditto for the Packers. And why – with the humungous population it has – can't Los Angeles keep a team?

Do you snicker about the name of the Bears great linebacker? Check out the "F" entries to see if there's a funnier name than his. Look at the "P" entries to see what your dad wants for Christmas. Oh, and don't forget to read the footnotes. How else would you learn who almost made a Terminator movie or what Playboy magazine has in common with the game?

If you're not watching football in your favorite TV-viewing spot, chances are you're catching it at your favorite watering hole. And if you're not watching football this weekend, you should be reading this book.

Browsing "The Football Uncyclopedia" is a little like spending pre-game at the bar with two fellow fans who love to argue football and talk trash. It's like watching a cable-sports show with a couple of average wiseguys as co-hosts. It's like football fact one-upmanship in book form.

Authors Michael Kun and Adam Hoff good-naturedly rib one another and they poke fun at plenty of players. They lay some myths to rest and add fire to a few others. You'll agree sometimes and sometimes not, but you'll laugh for sure.

If you're not a football fan, you won't like this book. Go find another one and leave this to the people who live for the game. "The Football Uncyclopedia" will quack them up.


Submit a comment on "Book review: "The Football Uncyclopedia" by Michael Kun and Adam Hoff"
---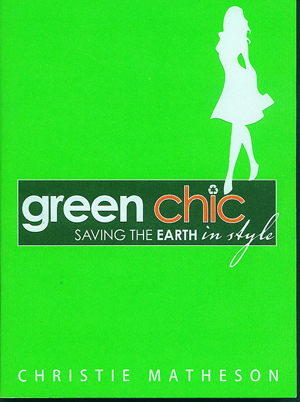 In the new book "Green Chic" by Christie Matheson (c.2008, Sourcebooks; $12.95 / $15.50 Canada; 220 pages, includes index), you'll see that being fashionable and looking great can be green, no matter what color looks best on you.
Blog Tools
Comments
Permalink
By Terri Schlichenmeyer
August 10, 2008 — Lately, it seems like everybody is concerned about ecology. "Being green" is stylish and recycling is de rigueur. The big buzz is about leaving a smaller carbon footprint. You're concerned about that, too, but is it wrong to want to leave a smaller footprint while wearing really cute shoes?

The answer is no, and in the new book "Green Chic" by Christie Matheson (c.2008, Sourcebooks; $12.95 / $15.50 Canada; 220 pages, includes index), you'll see that being fashionable and looking great can be green, no matter what color looks best on you.

So you want to do your part for ecology, but just getting started freaks you out a little bit. Matheson says being green is not difficult and even baby steps can make a difference.

Turn off the light when you leave the room, for instance, and use CFL light bulbs when you have to leave them on. Even just reducing your shower time and your dry time can save tons of CO2.

Okay, now you're committed. This going-green stuff doesn't make you blue after all, so you're ready for the next step. Matheson says to take a look at the popular products you use around the house. All those chemicals are bad for you in a dozen ways. There are cleaners that are eco-friendly and cost a little more than big-name-brands but not by much. Use those instead. The same goes for cosmetics.

Did you know that over 2 million tons of carpet is discarded – not recycled – each year? Matheson says to skip carpet when it's time for new flooring, and go with something natural. Be mindful of the paint you use to spiff up a room, and never buy anything vinyl, including wallpaper and shower curtains.

All this is great, you're saying, but if you have to give up your favorite clothes to be green, you're going to see red. Matheson says that, first of all, being green doesn't mean replacing everything you own. It means you should shop smart when the time comes for new things, and recycle the old. Consider vintage or buy organic as much as possible and be hyper-aware of where it all came from.

Give up your car if you can. Serve organic wine for parties and eat locally-produced food. Clean out your closet. Pass up bags when you buy. Know which plastics are recyclable and avoid those that aren't. And remember that being green doesn't have to put you in a black mood.

Sounds familiar? Pretty much, yes, but it's not what's said in "Green Chic", so much as how it's said.

Author Christie Matheson's style of writing is breezy and Carrie-Bradshaw-ish, with funny asides and useful sidebars, decent tips hidden in corny jokes, and boiled-down information for the busy fashionista who wants to do good. While the "green" part of this book is the same old stuff, the presentation makes it worth the price.

If you want to do your part in saving the earth, but can't bear to part with your earth-toned Choos, pick up "Green Chic". Missing it will leave you positively purple.



Submit a comment on "Book review: "Green Chic" by Christie Matheson"
---
Read More Blog Entries
Previous
Next
Last
Blog entry 41 through 44 of 47 total entries
Bloggers Profile and Information