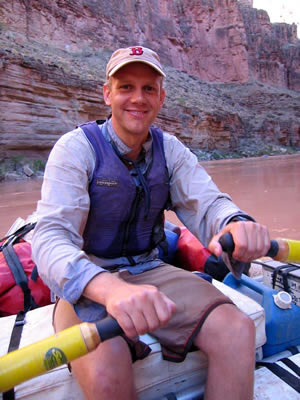 The blogger paddling the Grand Canyon last summer and taking full advantage of all of our primo Colorado powder - even after it melts.
Special to realvail.com
Blog Tools
Comments
PermaLink
Confessions of a Front Range skier
By Jason Sumner
January 1, 2008 — My name is Jason Sumner and I am a Front Range skier.


For the uninitiated that means I live somewhere along the eastern edge of Coloradoís Rocky Mountains Ė Boulder in this case. Whenever life allows, I make the drive west to ski, usually hitting one of the five resorts my Colorado Ski Pass affords access to: Arapaho Basin, Keystone, Breckenridge, Vail or Beaver Creek.


On a good day, when traffic is light and the roads are clear, I can go from the pay counter at my favorite local coffee shop to A-Basin in an hour and twenty minutes. Add 15 minutes more for Keystone and another 15 for Breckenridge. Itís about 2:15 to Vail, and 15-20 minutes more to get to Beaver Creek. Itís not the ideal ski bum set-up, but a slope-side bungalow is out of my price range at the moment, and it beats living in Kansas.


The key to my current scenario is the aforementioned ďgood day,Ē which is exactly what my better half and I had last Friday, when we popped the cork on the 2007-08 ski season and headed up to Keystone. (We arenít allowed to ski Vail during the holidays because of pass restrictions.)
Besides frosty temperatures (high of 10), it was postcard perfect Colorado ski day. The roads were clear and traffic light from Boulder all the way up Interstate 70, past Lake Dillon and on to the Keystone, where the parking is still free. Up on the hill, the snow was soft, the sky deep blue, and the sun just warm enough to keep frostbite at bay. We started with a few cruisers to warm-up, then headed to the Outback area hoping to grab a few freshies in the trees. We found some stashes here and there, grabbed lunch and headed back to Boulder. Round trip time was 6:30 a.m. to 4 p.m., about as good as it gets for the Front Range skier.

Two days later, I received a friendly reminder of the not-so-fun flipside. This time it was a Sunday trip to Keystone with a few friends. A storm system was moving in that morning and already the roads were getting slick. Still we made it to the lift by 9:15, and spent the next five hours on the mountainís underrated backside. No itís not Vailís back bowls, but if you like sustained fall lines, good bump lines or tight trees, you can find it here. Our snow-sliding fix satiated, we were back in the car at 2:30 p.m. and on the highway by 3.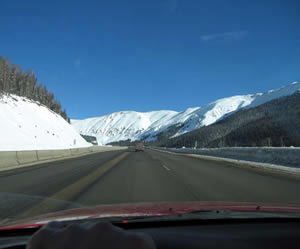 With traffic getting worse in the mountains, a Front Range skier often dreams of a nice open road after a sunny ski day.

Now as anyone whoís lived the life of the Front Range skier knows, being on the west side of I-70ís Eisenhower Tunnel after 2 oíclock on the weekend is a role of the dice. Even when the weather is good, volume jamming can turn the 10-mile ride from Silverthorne to the tunnel entrance into a scene reminiscent of Orange County at rush hour. But usually itís a slow crawl to the tunnel, a few slow spots thereafter, and then an easy finishing stretch back to Boulder. Worst-case scenario it takes an extra hour. Get a coffee, pop in a good CD, and itís no big deal.


Well, worst-case was redefined Sunday when high winds and blowing snow turned our drive home into a 5.5-hour ordeal. It took at least 90 minutes to cover those first 10 miles, and it wasnít much better on the other side of the tunnel. The wind was gusting to 70mph, the snow continued to fall, and several accidents blocked lanes and created rubber-necking slow downs.


But as anyone who turned on the news lately knows, we were among the lucky. About two hours after we got on the highway, the Colorado Department of Transportation closed a 60-mile stretch of I-70 in both directions. If my friends and I hadnít left when we did, a night at the Hotel Red Cross Shelter would have awaited. As it was about 2900 people ended up cramming into 12 high-country shelters, and who knows how many others found hotel rooms or holed up with friends. The bad news was that 12 hours later the highway was still closed. The good news is that all five of those aforementioned ski areas recorded at least four inches of new snow.


Such is the life of the Front Range skier.

Comment on "Confessions of a Front Range skier" using the form below