The Front Ranger
Thoughts on Colorado Skiing from the Front Ranger's point of view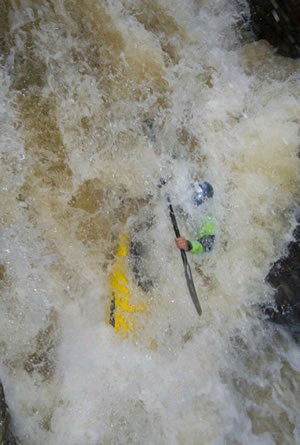 The 2009 version of the Teva Mountain Games, now run by the Vail Valley Foundation and beefed up by more concerts and a Vail Pass half marathon, are set for June 4-7.
By Dan Davis
trekkerphoto.com
Blog Tools
Comments
Permalink
By Jason Sumner
March 5, 2009 — It's still a little early to be making summer vacation plans, but with all the recent warm weather it's hard not to look ahead a little.

Such was the case this past Monday when I had the chance to meet the brain trust behind the 2009 Teva Mountain Games during a small press event at the Spot Bouldering Gym in Boulder.

One of the nation's premier outdoor adventure events, the Games are primed to rock the Vail Valley from June 4-7. Now being run by the Vail Valley Foundation, this year's slate includes all the events that have made it a success in the past, plus an expanded concert schedule — and a brutal half marathon up Vail Pass.

Starting in Vail Village and finishing near the summit of Vail Pass, the 13.7-mile run will punish competitors with 2,310 feet of elevation gain on a course that is 100 percent uphill. And remember that the summit of Vail Pass sits above 10,000 feet. Oxygen deprivation is an understatement.

For the less athletically inclined (or is it smarter?), this year's Teva Games also have an expanded music schedule that will include a trio of free nightly street concerts in Vail Village. Past acts have included Jurassic 5 and Ozomatli. Look for this year's line-up to be released soon.

Since its inception seven year ago, the environmentally-friendly adventure sports event has hosted upwards of 3,000 professional and amateur competitors. Those athletes converge on Vail's mountains and rivers to compete in seven sports and 21 disciplines. More importantly there's more than $100,000 of prize money on the line, a big bonus in today's troubled economic times.

Events include whitewater kayaking, rafting, mountain biking, road cycling, pro-level bouldering, amateur rock climbing, fly-fishing and running. One of the highlights from a pure spectacle standpoint is the 5K mud run where the start/finish area is built right next to a beer garden.

It's hard to think of a better way to spend an afternoon than hanging out drinking beer while your buddies drag themselves through the muck like privates on Paris Island.

The Teva Games also include a mountain photography competition, an interactive exhibition and demo area, canine agility competitions (read: dog jumping), free nightly concerts, and, of course, lots and lots of parties.

Arguably the weekend's biggest challenge is pacing yourself so that you can soak in all the fun, but also be ready come race time.

For additional information and a complete schedule of events, check out tevamountaingames.com.


Submit a comment on "June's Teva Mountain Games set to rock Vail with new half marathon, more concerts"
---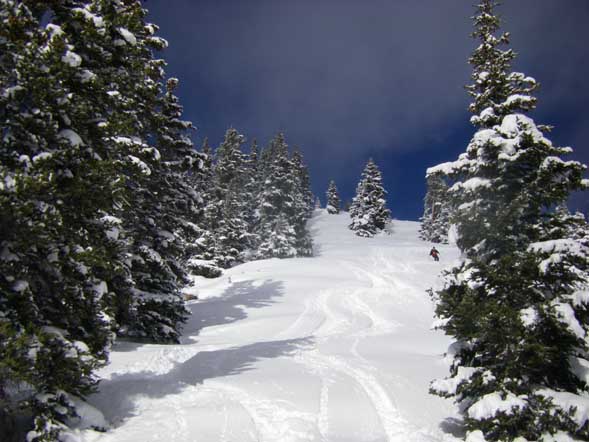 An Arapahoe Basin ski patrol photo shows just how deep the snow has gotten at Arapahoe Basnin's 400-acre Montezuma Bowl this season.
Photo courtesy Arapahoe Basin
Blog Tools
Comments
Permalink
By Jason Sumner
December 29, 2008 — Just a quick note to let you know Arapahoe Basin's Montezuma Bowl opens for the first time this season on Tuesday, Dec. 30. Rope drop is scheduled for 11 a.m. and judging by the this ski patrol picture, its going to be a freshie-filled time.

Solid early season snowfall allowed Basin staff to groom and open the terrain two weeks earlier than expected. The Zuma lift will give skiers and riders access to 18 intermediate, advanced and expert runs, totaling 180 acres.

When fully open, Montezuma Bowl encompasses 400 acres on the resorts backside. The area opened for its inaugural season in January 2008, increasing A-Basin's terrain by 80 percent, and accounting for the nation's largest terrain expansion during the 2007-2008 season.


Submit a comment on "Arapahoe Basin opens Montezuma Bowl Tuesday"
---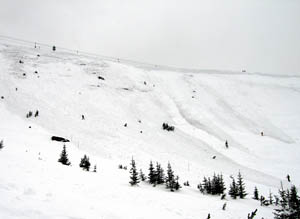 Blog Tools
Comments
Permalink
By Jason Sumner
December 22, 2008 — Call it a hunch, but I say it's a safe bet there won't be anymore unscheduled avalanches in Blue Sky Basin.

Eight days after a freak slide on Lover's Leap buried a skier up to his waist, Vail ski patrol spent Monday morning continuing to blast the short but steep expert-rated east-facing pitch that runs skier's right underneath the Skyline Express Lift.

That meant the entire Blue Sky area was closed, probably a good thing considering the repeated shelling that sent loud booms cascading across the Back Bowls. (My girlfriend admitted to being startled when one blast rang out while we were dropping down to the Tea Cup Express Lift. Imagine if you were on the lift above the blast zone.)

Sunday and Monday were our first two Vail days of the year, and despite the last substantial dump coming several days earlier, we managed to find a decent amount of fresh tracks. Highlights included Sun Down Bowl's Seldom, Never and O.S. runs, Game Creek's Ouzo Glade, and the back side's Tea Cup Bowl. Not coincidently access to these areas takes a little extra work, which is probably why they haven't been overrun by the masses.

Blue Sky eventually opened around noon on Monday, save for the blast area that's now littered with bare earth, rocks and slide debris. It's definitely going to take another good dump before the section is skiable again.

Don't be too concerned, though. There is plenty of great skiing all over the mountain, and with lots of precipitation in the coming week's forecast, it's only going to get better. As I write this on Monday evening from the Starbucks at the West Vail Safeway, it's snowing steadily outside. Too bad this Front Ranger has to go back to Boulder for a few days.


1 Comment on "Blue sky bombs away"

Submit and read more comments on "Blue sky bombs away" now!
---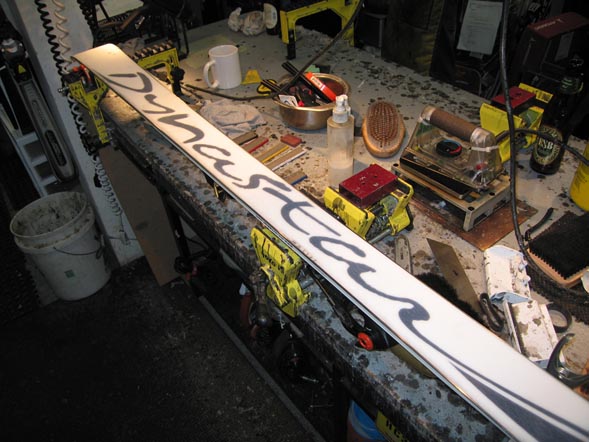 Blog Tools
Comments
Permalink
By Jason Sumner
December 19, 2008 — Imagine riding a bike all day with brakes that rubbed against your wheels. No way, you say? Well, while the impact may not be as significant, that's essentially what you're doing when you hit the slopes with a pair of poorly tuned skis.

Dull edges and base irregularities are winter's version of bad bike breaks, slowing down your skis and even effecting the way you get down the hill.

The good news is that with a little up front investment, practice and elbow grease, you can set up an at-home ski tuning operation that will make your skis perform better, and bridge the gap between trips to the ski shop, where basic tunes typically cost $30-$40 or more.

First you'll need to figure out a way to secure your skis. Companies such as Sun Valley Ski Tools and REI offer an array of ski-specific vises that will attach to a work bench or table. Expect to spend at least $100.

If that's more than you want to spend, pick up a pair of wooden sawhorses, then cut out vertical slits in each that will accommodate your skis when working on the edges. Next staple some old carpet to the top. This will keep your boards from sliding around too much when addressing the bases.

Other essential tools include a file, file guide, spring clamp, whetstone, diamond stone, iron, wax, wax scraper, brass brush and a pair of thick rubber bands to pull your brakes out of the way while you're tuning.

Again, you'll find ski-specific offerings for all this gear, but in some cases it may be cheaper to check out the hardware store first. A regular household iron will usually do the trick. Just make sure to get one without holes in the bottom.

A hardware store file can also work, but make sure it's made of hardened chrome. Otherwise it won't last very long.

Once you've got the tools, it's time to tune. Just remember that the involved skills can't be learned overnight. Indeed, ski tuning is both an art and craft that takes lots and lots of practice.

For Front Range skies, a great way to jumpstart the learning process is by attending one of the twice-weekly free clinics offered at Boulder's Alpine Base and Edge tuning center on 15th Street. Every Tuesday and Thursday at 6 p.m. attendees get the chance to learn the basics as well get some expert tips.

To sharpen your edges, start with the base edge using a 1-degree file guide. Remember to always point the file's tang in the opposite direction you're filing, go in the same direction and use long even strokes. And don't file too much edge off or you'll shorten the life of your skis.

Now move to the side edge, first making sure that you're getting good edge contact. If your file is gumming up with sidewall material, you first need to take down the sidewall, which requires another specialized tool.

When filing the side edge, a 1-degree angle is standard, but more advanced skiers may prefer 2 or even 3 degrees. Whichever you choose, always pull the file toward you, and remember that once you set the angle you can't go back without grinding down the base, which shortens the life of the skis.

Finally, grab your two polishing stones and smooth out any remaining rough edges. You'll know you're on the right track when the gritty rubbing noise disappears.

When it comes to waxing, start by choosing an appropriate wax for the snow conditions you'll encounter. For Colorado skiers, Alpine Base and Edge owner Peter Hill Boyer recommends a combination of Toko molybdenum wax and Toko System 3 red hydro-carbon, which is designed for temperatures between 14 and 25 degrees. The molybdenum helps beef up your base; the temperature-specific System 3 provides glide. (There are also wax options for warmer or colder days.)

Before applying new wax, brush out all the old. This opens the pours on the base of your skis, making them better able to absorb the new wax. Once your work surface is clean, use the iron to melt and spread the new wax. Then scrape and brush off all the excess. Only the wax that's fully absorbed into the skis makes you faster.

[Editor's Note: This story originally appeared in the Boulder Daily Camera newspaper.]



Submit a comment on "The basics of at-home ski tuning"
---
Read More Blog Entries

Next
Last
Blog entry 1 through 4 of 14 total entries
Bloggers Profile and Information