The Front Ranger
Thoughts on Colorado Skiing from the Front Ranger's point of view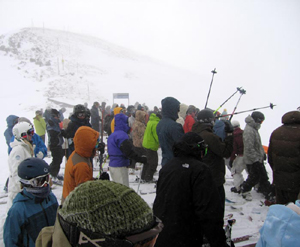 Blog Tools
Comments
Permalink
By Jason Sumner
January 12, 2008 — With apologies to our younger RealVail readers, remember the Chinese downhill scene from the classic 1980s ski flick, ďHot Dog?Ē Twenty or thirty guys line up at the top of some gnarly expert run in Squaw Valley, and then race each other to the bottom. First one across the finish line wins a bunch of cash and gets to hook up with the town hottie. (Or something like that. Itís been a while and the movie isnít exactly a regular placeholder in my Netflix queue.)
Anyway, the point of this diatribe is that Friday at Arapahoe Basin there was an honest to goodness Chinese downhill that doubled as the grand opening of the new Montezuma Bowl. As a refresher, Montezuma Bowl is the new south facing bowl thatís upped A-Basinís acreage by 80 percent, adding 400 acres and 36 intermediate and expert runs. The new area is served by the Zuma lift, a fixed-grip quad that covers 1,100 vertical feet in about 9 minutes. I asked one of the on-mountain staff why they hadnít opted for a detachable - i.e. faster - quad, and his blunt response was, ď$3 million.Ē Fair enough.


(Story continues below the video)

Back to the Chinese downhill. After another harrowing drive up I-70 from Boulder (this one marked by a jack-knifed semi on Loveland Pass that was spewing fuel all over the place, forcing a pass closer, which meant the road to A-Basin went through the Eisenhower Tunnel) I found myself at the top of Montezuma Bowl with about 100 of my new best ski buddies, all of us pressed up against the rope line ready to attack. At precisely 10:59 a.m., another on-mountain staffer began the countdown that would unleash this powder-hungry mob.
Sixty seconds later, under the din of hoots, hollers and a few F-bombs, the rope was dropped and it was game on down the deep and sorta steep. After plowing through some crusty wind blown snow at the top, things quickly softened up. Unfortunately the guy in front of me quickly stacked it, and it was all I could do not to run over his head. Besides the highly-variable conditions, Friday was a classic low-visibility-at-the-Basin day, the kind when vertigo kicks in because you sometimes canít see five feet in front of you.
But the less-than-ideal conditions did nothing to dampen the spirit of all my new friends, who charged, en-masse, down the half-open bowl (all the skierís right expert terrain is still closed.) The snow was knee-to-thigh deep and soft, but with no base underneath it wasnít long before freshies gave way to fresh gashes on the skis. Still, I managed to get down to the lift base without further incident, and was probably 30th to load Zuma for the first time. Behind me waves of skiers and riders followed, many of them wearing the telltale white masks of fresh face plants Ė just how a Chinese downhill should be.
I grabbed one more run, this time hugging the rope line and finding a plum, untouched stash on skierís right. But with the lift line already jamming up, I decided two historic first descents was plenty and bee-lined back to the front side. There, much to my delight, was an almost-empty Pallavicini lift corral, rather remarkable considering the parking lots were near capacity and there was four inches of fresh on the mountain. Thatís when it occurred to me that while a full review of Montezuma must wait until itís fully opened, the fact that the new addition is going to take a ton of pressure off Pallavicini already rates a big thumbs up.

Submit a comment on "Chinese downhill at the Montezuma Bowl opening"
---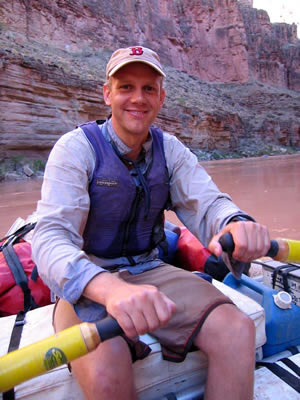 The blogger paddling the Grand Canyon last summer and taking full advantage of all of our primo Colorado powder - even after it melts.
Special to realvail.com
Blog Tools
Comments
Permalink
By Jason Sumner
January 1, 2008 — My name is Jason Sumner and I am a Front Range skier.


For the uninitiated that means I live somewhere along the eastern edge of Coloradoís Rocky Mountains Ė Boulder in this case. Whenever life allows, I make the drive west to ski, usually hitting one of the five resorts my Colorado Ski Pass affords access to: Arapaho Basin, Keystone, Breckenridge, Vail or Beaver Creek.


On a good day, when traffic is light and the roads are clear, I can go from the pay counter at my favorite local coffee shop to A-Basin in an hour and twenty minutes. Add 15 minutes more for Keystone and another 15 for Breckenridge. Itís about 2:15 to Vail, and 15-20 minutes more to get to Beaver Creek. Itís not the ideal ski bum set-up, but a slope-side bungalow is out of my price range at the moment, and it beats living in Kansas.


The key to my current scenario is the aforementioned ďgood day,Ē which is exactly what my better half and I had last Friday, when we popped the cork on the 2007-08 ski season and headed up to Keystone. (We arenít allowed to ski Vail during the holidays because of pass restrictions.)
Besides frosty temperatures (high of 10), it was postcard perfect Colorado ski day. The roads were clear and traffic light from Boulder all the way up Interstate 70, past Lake Dillon and on to the Keystone, where the parking is still free. Up on the hill, the snow was soft, the sky deep blue, and the sun just warm enough to keep frostbite at bay. We started with a few cruisers to warm-up, then headed to the Outback area hoping to grab a few freshies in the trees. We found some stashes here and there, grabbed lunch and headed back to Boulder. Round trip time was 6:30 a.m. to 4 p.m., about as good as it gets for the Front Range skier.

Two days later, I received a friendly reminder of the not-so-fun flipside. This time it was a Sunday trip to Keystone with a few friends. A storm system was moving in that morning and already the roads were getting slick. Still we made it to the lift by 9:15, and spent the next five hours on the mountainís underrated backside. No itís not Vailís back bowls, but if you like sustained fall lines, good bump lines or tight trees, you can find it here. Our snow-sliding fix satiated, we were back in the car at 2:30 p.m. and on the highway by 3.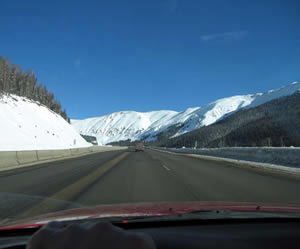 With traffic getting worse in the mountains, a Front Range skier often dreams of a nice open road after a sunny ski day.

Now as anyone whoís lived the life of the Front Range skier knows, being on the west side of I-70ís Eisenhower Tunnel after 2 oíclock on the weekend is a role of the dice. Even when the weather is good, volume jamming can turn the 10-mile ride from Silverthorne to the tunnel entrance into a scene reminiscent of Orange County at rush hour. But usually itís a slow crawl to the tunnel, a few slow spots thereafter, and then an easy finishing stretch back to Boulder. Worst-case scenario it takes an extra hour. Get a coffee, pop in a good CD, and itís no big deal.


Well, worst-case was redefined Sunday when high winds and blowing snow turned our drive home into a 5.5-hour ordeal. It took at least 90 minutes to cover those first 10 miles, and it wasnít much better on the other side of the tunnel. The wind was gusting to 70mph, the snow continued to fall, and several accidents blocked lanes and created rubber-necking slow downs.


But as anyone who turned on the news lately knows, we were among the lucky. About two hours after we got on the highway, the Colorado Department of Transportation closed a 60-mile stretch of I-70 in both directions. If my friends and I hadnít left when we did, a night at the Hotel Red Cross Shelter would have awaited. As it was about 2900 people ended up cramming into 12 high-country shelters, and who knows how many others found hotel rooms or holed up with friends. The bad news was that 12 hours later the highway was still closed. The good news is that all five of those aforementioned ski areas recorded at least four inches of new snow.


Such is the life of the Front Range skier.

Submit a comment on "Confessions of a Front Range skier"
---
Read More Blog Entries
Previous
Blog entry 13 through 14 of 14 total entries
Bloggers Profile and Information