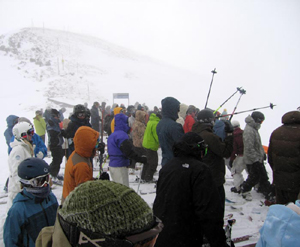 Blog Tools
Comments
PermaLink
Chinese downhill at the Montezuma Bowl opening
By Jason Sumner
January 12, 2008 — With apologies to our younger RealVail readers, remember the Chinese downhill scene from the classic 1980s ski flick, ďHot Dog?Ē Twenty or thirty guys line up at the top of some gnarly expert run in Squaw Valley, and then race each other to the bottom. First one across the finish line wins a bunch of cash and gets to hook up with the town hottie. (Or something like that. Itís been a while and the movie isnít exactly a regular placeholder in my Netflix queue.)
Anyway, the point of this diatribe is that Friday at Arapahoe Basin there was an honest to goodness Chinese downhill that doubled as the grand opening of the new Montezuma Bowl. As a refresher, Montezuma Bowl is the new south facing bowl thatís upped A-Basinís acreage by 80 percent, adding 400 acres and 36 intermediate and expert runs. The new area is served by the Zuma lift, a fixed-grip quad that covers 1,100 vertical feet in about 9 minutes. I asked one of the on-mountain staff why they hadnít opted for a detachable - i.e. faster - quad, and his blunt response was, ď$3 million.Ē Fair enough.


(Story continues below the video)

Back to the Chinese downhill. After another harrowing drive up I-70 from Boulder (this one marked by a jack-knifed semi on Loveland Pass that was spewing fuel all over the place, forcing a pass closer, which meant the road to A-Basin went through the Eisenhower Tunnel) I found myself at the top of Montezuma Bowl with about 100 of my new best ski buddies, all of us pressed up against the rope line ready to attack. At precisely 10:59 a.m., another on-mountain staffer began the countdown that would unleash this powder-hungry mob.
Sixty seconds later, under the din of hoots, hollers and a few F-bombs, the rope was dropped and it was game on down the deep and sorta steep. After plowing through some crusty wind blown snow at the top, things quickly softened up. Unfortunately the guy in front of me quickly stacked it, and it was all I could do not to run over his head. Besides the highly-variable conditions, Friday was a classic low-visibility-at-the-Basin day, the kind when vertigo kicks in because you sometimes canít see five feet in front of you.
But the less-than-ideal conditions did nothing to dampen the spirit of all my new friends, who charged, en-masse, down the half-open bowl (all the skierís right expert terrain is still closed.) The snow was knee-to-thigh deep and soft, but with no base underneath it wasnít long before freshies gave way to fresh gashes on the skis. Still, I managed to get down to the lift base without further incident, and was probably 30th to load Zuma for the first time. Behind me waves of skiers and riders followed, many of them wearing the telltale white masks of fresh face plants Ė just how a Chinese downhill should be.
I grabbed one more run, this time hugging the rope line and finding a plum, untouched stash on skierís right. But with the lift line already jamming up, I decided two historic first descents was plenty and bee-lined back to the front side. There, much to my delight, was an almost-empty Pallavicini lift corral, rather remarkable considering the parking lots were near capacity and there was four inches of fresh on the mountain. Thatís when it occurred to me that while a full review of Montezuma must wait until itís fully opened, the fact that the new addition is going to take a ton of pressure off Pallavicini already rates a big thumbs up.

Comment on "Chinese downhill at the Montezuma Bowl opening" using the form below