The Front Ranger
Thoughts on Colorado Skiing from the Front Ranger's point of view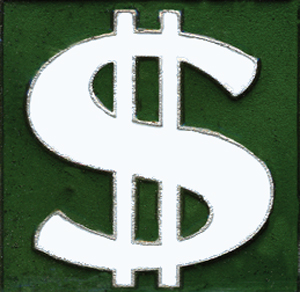 Blog Tools
Comments
Permalink
By Jason Sumner
January 31, 2008 — With powder days on the way, it's time for another installment of RealDeals. Check it out.
Discounted Loveland tickets: Buy Loveland lift tickets before you get to the mountain and adults pay $46, while children 14 and younger are just $21. That's $8 off the regular adult price, and a $4 saving for the kiddos. Discounted tickets are available at all Colorado Safeway, King Soopers, Wallgreens and Albertsons, plus several other locations. For the full list check out: skiloveland.com
Sleep and ski for free in Breckenridge: Skiers and snowboarders who ski three days and stay three nights, get the fourth night of lodging and day of skiing free. Packages start at $301 per person based on double occupancy. Valid all ski season with some restrictions. For more information go to breckenridge.com
Wells Fargo 2-for 1: Buy one lift ticket and get one free at Winter Park or Copper Mountain. These tickets are valid Sunday through Friday only, and there are some blackout dates. To get the deal pick up a coupon at any Wells Fargo Bank on the Front Range and present it with your purchase. Of course there is a small catch. You must use your Wells Fargo check card or credit card with this offer to prove that you are Wells Fargo customer.
Fly to Beaver Creek, get a room, and ski for free: Yeah, I know most of you don't fly to Beaver Creek, but if you do this is a pretty sweet deal as long as you land in the morning. Fly non-stop to Vail/ Eagle County Regional Airport (Airport code: EGE) anytime through April 13, and ski for free on your day of arrival at Beaver Creek with a valid boarding pass and lodging confirmation. Simply show your boarding pass and Beaver Creek lodging confirmation at any ticket window. Beaver Creek also has a kids fly free program. For more details on both programs call 800-503-8748.
Craig's List/Denver: At the other end of the deals spectrum, a quick search of the ticket section of the popular community website Craig's List turned up a slew of offers for discounted lift tickets and other deals (Go to denver.craigslist.org/tix and type in the search term, "lift.") Recent search returns included 2-for-1 coupons at Steamboat for $25, $10 2-for-1 coupons at Copper Mountain and Winter Park, and a Loveland four-pack for $80, which is a pretty smoking deal. Just remember that there are bad people in the world and some of them are lurking on the Internet trying to rip you off. So always heed the timeless adage, "Let the buyer beware."

Submit a comment on "February's high country deals"
---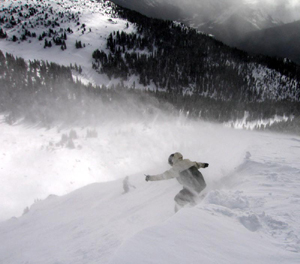 A snowboarder drops into End Zone chute at the new Montezuma Bowl expansion at A-Basin. This shot was taken only moments before I accidentally decided to explore some new terrain of my own.
Photo by Jason Sumner
Blog Tools
Comments
Permalink
By Jason Sumner
January 28, 2008 — I threw my hat in the ring for a Darwin Award last Friday. Probably won't get one since I didn't die, but there's an outside chance for honorable mention.
The scene of the crime was Arapahoe Basin's Montezuma Bowl. I was up there on Jan. 11 for its grand opening, but only about half the new terrain was open. When I saw last week that they'd dropped the rope on the rest of the 36 added runs, I figured I'd head back up and have a look.
After a quick warm-up on the front side, I rode to the top of Lenawee lift and dropped into the mountain's new backside, starting down intermediate Larkspur, then dodging right and onto the black-diamond-rated Black Bear.
Black Bear marks what amounts to the eastern edge of Montezuma's toughest terrain, a series of steep – and on this day rocky – chutes that funnel down to a long run-out that leads to the new Zuma lift.
Black Bear is the easiest option, while the rest of the runs are rated double black "extreme" and first require a short hike up to a small weather station that is directly above the lightly used Norway lift. Once at the top of the hike you can drop into Long Chute, or continue the easy westward traverse that takes you to the entrances of another half dozen options with names such as Max, Durrance and Jump.
At the far side of the ridge you can either drop into precipitous End Zone, or take the more gladed Elephant's Trunk. On my second run I opted for the former, carving a few quick turns in the choppy but soft snow, and then straight lining the bottom to keep momentum for the run out.
Moments later I was upon the three-way intersection of Larkspur, Eureka and Black Forest. Skier's left Larkspur is the easiest option, providing a quick trip back to the Zuma lift. Advanced-rated Eureka does the same after a short tree run. Black Forest, on the other hand, is one of several "hike back" trails in the Montezuma Bowl, where after skiing down you end up below the Zuma chair, and according to the sign at the entrance gate, are faced with a "20-minute" hike back up to the lift.
Well, being that I was up there in part to provide a RealVail review of the new 400-acre terrain expansion, I decided to give hiking back a shot. I figured 20 minutes was probably a worst-case scenario aimed at lowlanders, and maybe I could get it done in 10. So I skied on, slaloming around trees, trying to find soft spots in what was some exceedingly crunchy snow.
About 10 turns later, I started looking for what I figured would be a well-marked traverse leading me skier's left to the hike-back trail. At least that's how it'd looked on the map, which I'd briefly consulted before making what turned out to be a fateful choice. With no obvious signs of the traverse point, which I assumed would be marked by a "Ski Area Boundary" rope, I skied on.
A few minutes later, I came to what I think in hindsight must have been the hike-back trail in question. But again I saw no markings, and an uphill ascent of this "trail" would have been a post-holing nightmare. I was expecting something more packed down like a snowmobile track. So on I went, tracing the lone pair of ski tracks that continued down the fall line.
Well, as you've surely guessed by now, I was expecting wrong, and after a few more turns it became clear that my next stop would be Montezuma Road, the popular exit point for backcountry skiers before the new lift went in. Only problem is that I'd never been to Montezuma Road before, so I had no idea how far away it was or how I was going to get back to A-Basin once I got there.
I was also completely unprepared for my little backcountry excursion – no beacon, no shovel, not even a cell phone.
The only thing I did have was that lone pair of ski tracks, which I followed on a zigzagging path through what had become increasingly tight trees. At that point I was navigating more than skiing, as I dodged left and right down the hill.
That's also when I started getting a little nervous, doing the math about how I was alone, no one knew I was back there, and if I stacked it and snapped a ski (or worse) things would get ugly quick. Thankfully I kept full-on panic at bay and avoided snapping anything.
Finally I caught a glimpse of a moving truck below me, and a few minutes later I was standing on the side of Montezuma Road.
I'd barley had time to take a pee and pull off a layer when a small U.S.-made sedan came rolling by. I quickly threw out my thumb, and to my delight the car did a quick 180 and rolled back up next to me. The only problem is that what I'd hoped would be my ride back to Highway 6 and the A-Basin bus stop was packed with five 20-somethings out on a Colin McRae-inspired joy ride. No ski rack on top and no room inside for my lanky 6-foot-4 frame.
"We could tow you," offered one of the rally kids.
It wasn't exactly what I had in mind at this point, but with no idea when or if another option would come along, I figured it was time for my first career skijoring attempt. I passed my poles through the backseat window, grabbed onto the door jam, and gave a reluctant, "Go ahead."
Now obviously this wasn't the smartest idea in the world, and there were several times when I had to bellow a curt, "little more left please," so I wouldn't run into the snow bank. But the road was snow packed all the way back to the highway, and the car's pull on my arms and shoulders was manageable. Ten minutes later I was thanking my friendly towers and walking the final 100 yards to the bus stop.
As for my review of Montezuma Bowl, I think I have to go back one more time before I pass final judgment. But I can tell you one thing: If you're planning on "hiking back," keep your eye out for the trail.

Submit a comment on "A-Basin's Montezuma Bowl part II: My shot at the Darwin Awards"
---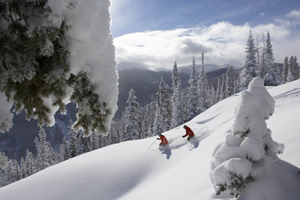 Access to beautiful ski days like the one above, at Beaver Creek Jan. 13, are a bit more accessible as a slew of deals become available around the high country.
By Jack Affleck/Vail Resorts
Blog Tools
Comments
Permalink
By Jason Sumner
January 23, 2008 — In the spirit of all the post-holiday sales going on at our beloved Front Range malls, I decided to find out what kind of deals are out there for Front Range skiers and snowboarders. The answer is too many to list all at once, so here are some of the best. We'll dig up another batch next week, so make sure to check back.
Vail 2-for-1 lift tickets: Ski or ride two days at Vail for just $92 with the "Real Deal" lift ticket. Offer valid Feb. 3-10 and available for purchase until Jan. 27 only. Tickets may be purchased by calling (800) 842-8062 and will be available for pick up at any Vail lift ticket window. This also coincides with two of Vail's biggest 2008 events, CarniVail and the Honda Session.
2-for-1 lodging at Keystone: Get two nights of lodging in a two-bedroom condominium located at Keystone Resort and two days of lift tickets for just $143 per person Jan. 27-Feb. 14 and Feb. 18-March 14 when you book this package by Feb. 14. The featured rate is based on a Sunday - Wednesday arrival. Other restrictions apply. Call 800.468.5004 or visit keystoneresort.com.
$100 season pass at Loveland: For adult skiers and riders who are still climbing the learning curve, buy three lessons at $87 each and add a 2007-08 season pass for just $100 more. There are two ways to purchase: either pay as you go and upon completion of the third lesson buy your pass. Or plunk down $361 all at once, spread the lessons out however you like and take advantage of the season pass right away.
Guaranteed powder at Winter Park: Get first track from 8-9:30 a.m. every day all season for one to three people for only $125. With three people that is only $41.66 each, a lot cheaper than a helicopter ride.
All you can eat breakfast at Winter Park: For just $9.95 stuff your pie hole full of bacon, eggs and pancakes at the Five Mountain Tavern located inside the Vintage Hotel. Breakfast buffet is open every morning from 7-9:30.
Discounted season passes at Arapahoe Basin: Check out the new Montezuma Bowl any time you want this year with an A-Basin season pass. Prices start at just $30 for kids 5 and under, and adults 70 plus. Kids 6-14 are only $99. Teens 15-19 pay $189, while it's $279 for everyone ages 20-69.

1 Comment on "Real deals: a look at discounts coming up in ski country"

Submit and read more comments on "Real deals: a look at discounts coming up in ski country" now!
---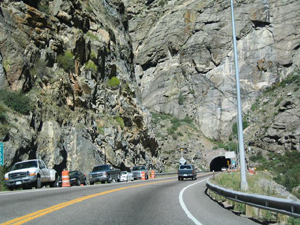 Blog Tools
Comments
Permalink
By Jason Sumner
January 20, 2008 — One of the great debates faced by many Front Range skiers is: canyon or highway? For the uninitiated this is a reference to US 6 – a.k.a. the road through Clear Creek Canyon – and Interstate 70. Whether heading up to the mountains or coming home, both roads can get you there. But which is better?


For Boulder-based skiers like myself, the initial decision-point comes at the south end of state highway 93, where it runs into US 6. Go right and it's a windy, scenic trip up Clear Creek Canyon before the road ends, sending traffic onto I-70 for the remainder of the trip.


Head south at the 93-6 intersection, and you skirt past Golden, before quickly joining up with I-70.


Coming from the other direction, the canyon-v-highway choice arises about five miles east of Idaho Springs: either exit left onto US 6 or stay right and continue on I-70.


Now obviously, for most people the key component here is mileage. I took the canyon home last Monday morning, and according to my car's odometer it was 14.4 miles from the I-70 exit to the 93-6 intersection. Thursday, I plugged the same route into Google Maps, and it reported 14-even. We'll split the difference and call it 14.2.

Opt for I-70, and Google Maps says it is 18.5 miles between the two decision points. Now I'm not going to go all math crazy and try to figure out how much faster you have to be going in order to make up 4.3 miles over 18.5 miles, but all else equal, you're likely to be going at least 20mph faster if you stay on the highway. And if you happen to get caught in the canyon behind a slow-moving 18-wheeler or some blue-hair on her way back from a Texas-hold'em session in Central City, that disparity could be even greater. There are not many places to pass.


On I-70, even in bad weather, the section in question is usually a smooth ride. Unlike the two-lane stretch from Summit County to the canyon exit, I-70 widens here offering up three lanes. It's usually no problem to engage the turbo and wind it up to 80mph.


But even if taking the highway is a little quicker (which I don't think it is) the bottom line for me is this: The road through Clear Creek Canyon is one of the most beautiful on the Front Range. The almost-always-in-view creek changes throughout the year, going from raging spring torrent to oozing wintertime ice flow.


The canyon is also big horn sheep country, and in winter it's not uncommon to see a half dozen of these majestic animals grazing along the roadside. Also since there are so few passing opportunities, the canyon offers a soothing break from the hustle and bustle of I-70. Get in line, roll along, and don't worry about overtaking this car or that truck.


The highway is the highway. Drive fast, get agro when someone cuts you off or drives too slow in the left lane, and get home as fast as possible – bad gas mileage be dammed.


As you probably already guessed, I take the canyon every time.


Submit a comment on "When two roads diverge, which is better for the skier?"
---
Read More Blog Entries
Previous
Next
Last
Blog entry 9 through 12 of 14 total entries
Bloggers Profile and Information