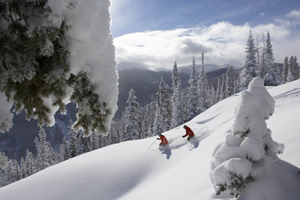 Access to beautiful ski days like the one above, at Beaver Creek Jan. 13, are a bit more accessible as a slew of deals become available around the high country.
By Jack Affleck/Vail Resorts
Blog Tools
Comments
PermaLink
Real deals: a look at discounts coming up in ski country
By Jason Sumner
January 23, 2008 — In the spirit of all the post-holiday sales going on at our beloved Front Range malls, I decided to find out what kind of deals are out there for Front Range skiers and snowboarders. The answer is too many to list all at once, so here are some of the best. We'll dig up another batch next week, so make sure to check back.
Vail 2-for-1 lift tickets: Ski or ride two days at Vail for just $92 with the "Real Deal" lift ticket. Offer valid Feb. 3-10 and available for purchase until Jan. 27 only. Tickets may be purchased by calling (800) 842-8062 and will be available for pick up at any Vail lift ticket window. This also coincides with two of Vail's biggest 2008 events, CarniVail and the Honda Session.
2-for-1 lodging at Keystone: Get two nights of lodging in a two-bedroom condominium located at Keystone Resort and two days of lift tickets for just $143 per person Jan. 27-Feb. 14 and Feb. 18-March 14 when you book this package by Feb. 14. The featured rate is based on a Sunday - Wednesday arrival. Other restrictions apply. Call 800.468.5004 or visit keystoneresort.com.
$100 season pass at Loveland: For adult skiers and riders who are still climbing the learning curve, buy three lessons at $87 each and add a 2007-08 season pass for just $100 more. There are two ways to purchase: either pay as you go and upon completion of the third lesson buy your pass. Or plunk down $361 all at once, spread the lessons out however you like and take advantage of the season pass right away.
Guaranteed powder at Winter Park: Get first track from 8-9:30 a.m. every day all season for one to three people for only $125. With three people that is only $41.66 each, a lot cheaper than a helicopter ride.
All you can eat breakfast at Winter Park: For just $9.95 stuff your pie hole full of bacon, eggs and pancakes at the Five Mountain Tavern located inside the Vintage Hotel. Breakfast buffet is open every morning from 7-9:30.
Discounted season passes at Arapahoe Basin: Check out the new Montezuma Bowl any time you want this year with an A-Basin season pass. Prices start at just $30 for kids 5 and under, and adults 70 plus. Kids 6-14 are only $99. Teens 15-19 pay $189, while it's $279 for everyone ages 20-69.

1 Comment on "Real deals: a look at discounts coming up in ski country"