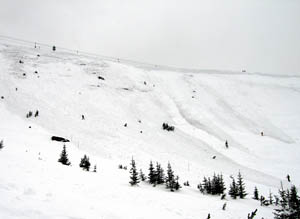 Blog Tools
Comments
PermaLink
Blue sky bombs away
By Jason Sumner
December 22, 2008 — Call it a hunch, but I say it's a safe bet there won't be anymore unscheduled avalanches in Blue Sky Basin.

Eight days after a freak slide on Lover's Leap buried a skier up to his waist, Vail ski patrol spent Monday morning continuing to blast the short but steep expert-rated east-facing pitch that runs skier's right underneath the Skyline Express Lift.

That meant the entire Blue Sky area was closed, probably a good thing considering the repeated shelling that sent loud booms cascading across the Back Bowls. (My girlfriend admitted to being startled when one blast rang out while we were dropping down to the Tea Cup Express Lift. Imagine if you were on the lift above the blast zone.)

Sunday and Monday were our first two Vail days of the year, and despite the last substantial dump coming several days earlier, we managed to find a decent amount of fresh tracks. Highlights included Sun Down Bowl's Seldom, Never and O.S. runs, Game Creek's Ouzo Glade, and the back side's Tea Cup Bowl. Not coincidently access to these areas takes a little extra work, which is probably why they haven't been overrun by the masses.

Blue Sky eventually opened around noon on Monday, save for the blast area that's now littered with bare earth, rocks and slide debris. It's definitely going to take another good dump before the section is skiable again.

Don't be too concerned, though. There is plenty of great skiing all over the mountain, and with lots of precipitation in the coming week's forecast, it's only going to get better. As I write this on Monday evening from the Starbucks at the West Vail Safeway, it's snowing steadily outside. Too bad this Front Ranger has to go back to Boulder for a few days.


1 Comment on "Blue sky bombs away"