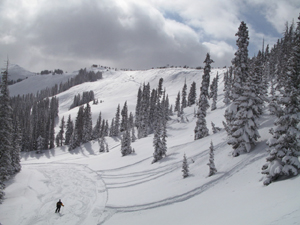 Wolf Creek, above, has collected more snow than any other ski area in Colorado.
Courtesey Wolf Creek Ski Area
Blog Tools
Comments
PermaLink
Wolf Creek: is it really the snow king?
Plus some helpful holiday driving tips
By Jason Sumner
February 15, 2008 — For years now, southwestern Coloradoís Wolf Creek ski area has branded itself with the brash slogan, ďMost Snow in Colorado.Ē On the surface this might seem like a bold and unsustainable claim, but this year at least, itís right on the money.
As of February 13, the 1,600-acre resort thatís sits a mile east of the Wolf Creek Pass summit on Colorado Highway 160, is running away with the most-snow title. Its current mid-mountain depth is 134 inches, 18 more than second-placed Silverton Mountain and 41 more than the closest traditional ski resort, Monarch Mountain, which has 93. By comparison Vail sits at a modest 59.


Even more remarkable is the number claimed by a recent e-mail from the Wolf Creek PR team, which had the jaw-dropping subject line of, ďWolf Creek Ski Area - 36 Feet Year-to-Date.Ē Thatís 432 inches of goodness for those who donít have a calculator handy. Maybe itís time to buy property in Del Norte.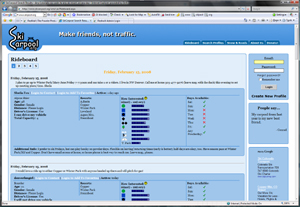 Skicarpool.org helps Front Rangers - and others - carpool in an effort to reduce skier traffic along I-70. " />
Skicarpool.org
helps Front Rangers - and others - carpool in an effort to reduce skier traffic along I-70.
Make friends, not traffic?
For those of you lucky enough to work for the federal government or a bank, thereís a three-day weekend on the horizon. The rest of us will probably have to call in sick Monday if we want to spend Presidentís Day on the slopes.
Either way itís a safe bet that I-70 between the Front Range and the slopes is going to be crowded this weekend. With that in mind, RealVail offers these travel tips, which can help reduce your drive time.
Look before you drive: You will soon be able to check weather and traffic conditions at realvail.com. Until then, navigate to the Colorado Department of Transportation website, www.COtrip.org or the I-70 Coalition's website, www.i70solutions.org. It might mean the difference between spending an hour crawling up to the tunnel or relaxing at a coffee shop waiting until traffic clears.
Go green: If youíve got some space in your car or want to ride with someone else, check out skicarpool.org. The easy to navigate website has a ride board where potential carpoolers can post profile detailing everything from when they want to go to the slopes, to what kind of terrain they prefer. More people per car means splitting gas costs, reduced environmental impact, less wear on your vehicle and fewer cars on the road. Plus you might make a new friend.
Telecommute: Convince your boss to create a flexible work schedule for the holiday weekend. Maybe you can put in extra hours before or after the weekend, so you can get out early on Friday and get a jump on other travelers.
Be an overnighter: Spend the night in the mountains and extend your fun into the next day. Share the cost of a condo or rental unit with a group of friends. Many of the resorts are offering great lodging deals this weekend.

Comment on "Wolf Creek: is it really the snow king?" using the form below