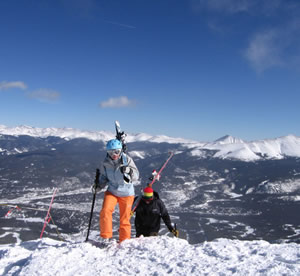 Blog Tools
Comments
PermaLink
Backcountry 'light' opportunities abound
In-bounds, hike-to terrain is available at many resorts throughout the state
By Jason Sumner
March 24, 2008 — If you're looking for a backcountry experience, but don't want to deal with the equipment and risk requirements, inbounds hike-to terrain may be the answer. Nearly all of Colorado's 26 ski areas have at least a handful of trails that are only accessible by foot, and that includes most of the resorts near the Front Range. 
At Breckenridge it's a brisk 10-minute hike from the top of the Imperial Express chairlift to the Peak 8 Summit, with the final dozen steps up a precipitous 50-degree pitch. The payoff is a spectacular 360-degree view from the top of the 12,998-foot mountain. The Peak 8 summit also affords access to a plethora of otherwise-unreachable expert terrain, including the ultra-steep Lake Chutes and the recently added Snow White bowl. You can also traverse north across the saddle between Peaks 8 and 7, either dropping into Whale's Tail or continuing to the 7 summit where a half dozen wide-open expert trails await.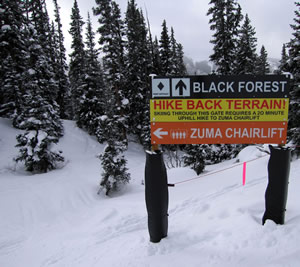 A-Basin's new hike-to terrain is among the best in the state - but be sure to pay close attention to signage.

Breckenridge's Peak 9 also has hike-to terrain. After 15 minutes on a mild catwalk through the woods, skiers and riders can choose from the Windows, Broadway or far-off Twin Chutes.   
Over at Loveland, the "backcountry-light" experience is better known as The Ridge, which runs along the Continental Divide, yielding its own 360-degree views. Loveland regulars like to traverse south, and then make the short hike up and over the 13,010-foot Summit Ridge before dropping into expert-rated Wild Child. There's almost always a launch-able cornice there, and its distant location means untracked snow can last for days after a storm.
It's a similar story at Arapahoe Basin, which recently opened the four expert hike-to runs that jut upwards from the East Wall traverse. Willie's Wide is a local favorite, serving up steep but open terrain that stays soft long after the rest of the mountain has been skied off.
Access to the Basin's sketchy North Pole runs is either though a gate at the top of Lenawee Mountain Lift, or via a straight-up hike from the East Wall traverse. As the crow flies, the hike through the gate is slightly longer, but it's less steep and offers great views all the way up.
A-Basin also has hike-back terrain at the bottom of the new Montezuma Bowl. Just make sure you don't miss the trail, as I did my first time there (read more about that lovely experience by clicking here.
If you're not interested in earning turns, but still want to go beyond lift-accessed areas, Keystone and Copper Mountain offer affordable options. At Keystone, $5 buys a one-mile sno-cat ride from the top of the Outback Express lift up toward the summit of Wapiti Peak. From there you can drop into the gentle slopes of either North or South bowl. If you'd rather save your five bucks for aprčs-ski, you can cover the same distance by foot in about 15 minutes.
Keystone also runs a $199-a-day sno-cat operation, which hauls skiers and snowboarders to top of the more-difficult Independence Bowl. Again, those on a budget can forsake tank-tracked transportation, but getting to the top by foot will take at least a half hour.
At Copper Mountain a pair of sno-cats offer free rides to the ridge between Copper Bowl and Tucker Mountain. From there you can either strap on the boards and head back down, or continue hiking up Tucker Mountain, gaining access to runs such as Taco and Nacho. Copper Mountain ski patrollers joke that if you do that twice, you get an Enchilada Plate. An even better option is hiking to the end of the ridgeline, and then dropping into Freemont Glade. It's one of the mountain's best-kept secrets and is often loaded with soft snow.
Access to Winter Park's expert-only Vasquez Cirque is more skate than hike. Once there, the precipitous South Headwall and Alphabet Chutes are your best bets. No matter which you choose, you'll end up in steep, gladed trees before arriving at the base of the Eagle Wind Lift.
As for Vail, there's not much in the way of inbounds hiking, but that's okay when you have 5,289 skiable acres to choose from.
(Editor's note: A modified version of this story originally appeared in the Boulder Daily Camera newspaper.)

Comment on "Backcountry 'light' opportunities abound" using the form below