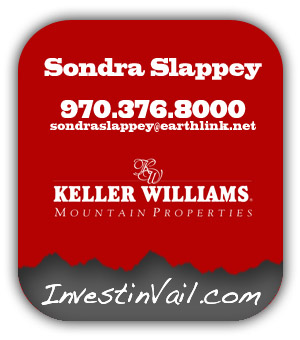 Sondra Slappey writes about Vail Real Estate, Beaver Creek Real Estate, and Vail Valley Real Estate in general, following trends, news, and information about Colorado real estate
Blog Tools
Comments
PermaLink
To sell Vail home, be sure it stands out
By Sondra Slappey
February 18, 2009 — Since there are fewer buyers looking at properties, what will it take to make your home the No. 1 choice of those searching?

Pricing, condition, marketing and finishes are all controllable variables. Remember, first impressions are LASTING impressions. Do everything you can to make your home stand out and by all means keep it accessible to potential buyers.

Other options include offering owner financing, paying closing costs or buying down the buyer's interest rate.

Call me for more creative strategies and a free market analysis or visit my website at www.investinvail.com.

Comment on "To sell Vail home, be sure it stands out" using the form below