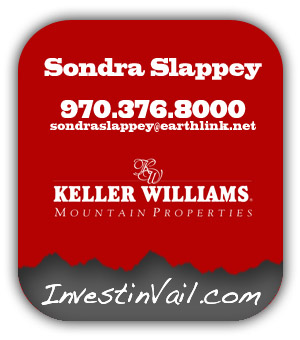 Sondra Slappey writes about Vail Real Estate, Beaver Creek Real Estate, and Vail Valley Real Estate in general, following trends, news, and information about Colorado real estate.
Blog Tools
Comments
PermaLink
Despite rising inventory and still dropping prices, now is the time to buy Vail Valley real estate
Market likely near its bottom, and interest rates are bound to start going up
By Sondra Slappey
June 17, 2009 — The mantra for most folks I know is "back to basics" in these uncertain financial times. I liken good, sound financial planning to food and your waistline.

That $100,000 line of credit on your home may taste good right out of the bank, but eventually it will catch up with you and begin to look unattractive and possibly become downright harmful to your health.

It is estimated that 67 percent of adults in the United States own a home and two-thirds of those homeowners have mortgages. One in eight homeowners is late on house payments or in foreclosure (12 percent).

What about the rest of us? In Eagle County, there are 72 properties (excluding the ubiquitous timeshares) that are in foreclosure (NED filed). This is up about 200 percent from this time last year.

Eagle County is not immune to the woes of the national economy. About 45 percent of the homes in Eagle County are second homes or vacation homes. Sales of vacation homes fell 31 percent in the U.S. in 2008, while primary home sales fell 13 percent. The median price of vacation homes fell 23 percent in 2008, and 23 percent of vacation home purchases are in resort areas.

These statistics make it easier to quantify the drop in our local real estate market. The biggest losers have been the very expensive luxury homes. There are currently 132 active listings priced over $5 million.

I further researched the 34 most expensive listings in the valley that are priced between $10 million and $21 million and 34 percent have had price reductions. The average number of days on the market is 462. In the last 90 days, there have been six sales in this high-end luxury market.

That puts the current supply at a staggering 5.5 years. Simply put, the number of buyers who wish to and can afford to spend this kind of money has been greatly reduced, and funding for these types of homes has also been an issue with rapidly declining prices and wary lenders.

Now is an exceptional time to purchase a multi-million dollar property if you are one of the few who can afford it. There are even foreclosure opportunities in luxury land in Eagle County.

In reviewing the year-to-date statistics available through April 2009, 64 percent of all closings have been for properties priced less than $1 million, and 79 percent of all closed residential
transactions were priced at less than $2 million.

The writing is on the wall again. The most active part of the market remains in the pricing stratosphere of the "normal folks." I would expect to see the recovery in real estate begin from the bottom up, meaning the inventory at the top should remain heavy for a long time to come.

Prices are continuing to go down in Eagle County. The further from Vail, the more the price is dropping. Part of the reason for the continuous decline is still partly due to unreasonable or uninformed sellers who are not pricing ahead of the curve but are chasing the market down with price drops.

While the buying activity is certainly picking up, there is just more inventory. Remember the law of supply and demand? In my last blog, I mentioned the probability of rising inventory entering the summer months.

There are currently 1,667 residential listings in Eagle County compared to 1,454 in the first quarter of 2009, an increase of 15 percent. As inventory continues to rise into the early summer months, buyers will continue to enjoy a market in which sellers are eager to negotiate.

If I were looking to purchase a home, I would definitely be looking now. Why, you may ask, if I am predicting a continued decline in price? Because I believe that interest rates are headed north and soon.

A 1-percent increase in interest rates is roughly equivalent to 5 percent of the purchase price of a $500,000 home. Pick your poison, timing the real estate market or timing the interest rates of a country in the midst of unprecedented
borrowing.

Real estate prices have already plunged an estimated 20 percent or more in Eagle County. We are seeing sales prices reminiscent of five years ago.

If you are qualified and know what you want, it is time to be ready to pull the trigger when the right property comes on the market. You may not hit the exact bottom of the market, but you are buying in a time of historical housing affordability and
somewhere near the bottom.

There is also the issue of the available tax credit which will save you another $8,000! Ready, set and go.






1 Comment on "Despite rising inventory and still dropping prices, now is the time to buy Vail Valley real estate"