Fairways and Greens
The Vail Valley Golf Report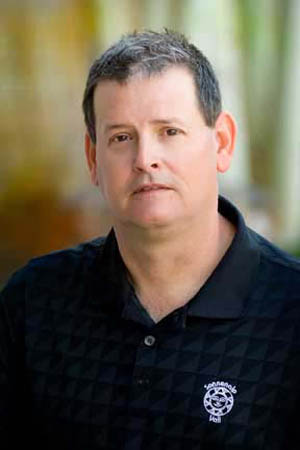 George Heart of the Sonnenalp Golf Club has fast become known as one of the best golf teachers in the region, and was the recipient of the 2007 Western Chapter Teacher of the Year Award.
Blog Tools
Comments
Permalink
By Reid G
July 14, 2008 — If you've walked into the golf shop at the Sonnenalp Golf Club in the past five years, you have met George Hart. With his mild demeanor and slow Southern drawl, he is also the proud to holder of the 2007 Colorado P.G.A. Western Chapter Teacher of the Year award. Nominated be members and peers alike, he was also a contender in '06.

George's philosophy on the golf swing is simple: Body rotation.

"The inside turns the outside," he states, and with this philosophy golfers can gain better contact with the ball, which in turn will give you distance and accuracy. And to show that it works, half of last year's club champions at Sonnenalp Golf Club were students of his.

A resident of the Vail Valley since 2003, George left his Director of Golf job at Terradyne Golf Club in Wichita, Kansas and landed in Colorado. A veteran of the golf business for 18 years, George was not always a golfer. In fact he played football at the University of Alabama from 1976-80 under one of the most famous coaches of all time, Bair Bryant. But the days of football are long gone for George who, with his wife Alena, now watch their teenage son Curtis play goalie for numerous hockey teams around the state.

So, if you're looking to fine tune your game, or your ready to take up the wacky game of golf, contact George Hart or any of the other golf professionals at the Sonnenalp Golf Club(970) 477-5372. It's never too late, or too early, to fine tune your game.

Roll' Tide and keep it in the short grass.


Submit a comment on "Looking for Vail golf lessons? Consider Sonnenalp's George Hart"
---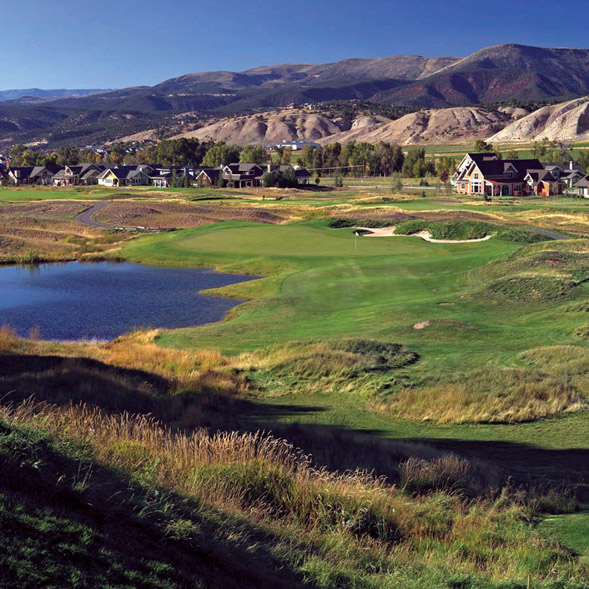 Eagle Ranch Superintendent Derek Rose says his course is in great condition for the Colorado Open qualifier this week.
Courtensy Eagle Ranch
eagleranchgolf.com
Blog Tools
Comments
Permalink
By Reid G
July 10, 2008 — Great golf will be abundant this week as the Eagle Ranch golf course hosts one of four qualifiers for the Health One Colorado Open. Thursday July, 10th the Eagle Ranch golf course will be closed to allow scratch golfers test their skills at one of the longest courses on the Western Slope.

Players will begin teeing of at 8 a.m. sharp Thursday morning, clamoring for birdies from Eagle Ranch's wicked black tees. At 7,428 yards, Eagle Ranch will be a test for all of the golfers, especially if the wind blows.

Golf professional Pascal Begin agrees, "I think it's great that we can host this event, our course is tough but fair, and playing from the tips, if the wind begins to blow, it will be a real challenge."

And with a cool and fairly wet spring, the rough could be a big factor to attaining low scores.

Superintendent Derek Rose says the wet spring, "Has made the rough really healthy, and the native areas are almost impossible to get out of."

I have personally played Eagle Ranch a number of times this summer and the course is in great shape.

For the golfers who qualify, they will be on their way to playing one of the most prestigious state opens in the country, now held at Green Valley Ranch golf course in Denver, Colorado. The Colorado Open schedule will begin Friday July, 24 and conclude Sunday, July 27.

For more information on the Colorado Open please visit www.coloradoopen.com and for information on Eagle Ranch golf course visit www.eagleranch.com.

Good Luck to all competitors, and keep it in the short grass.


Submit a comment on "Eagle Ranch hosts Colorado Open qualifier this week"
---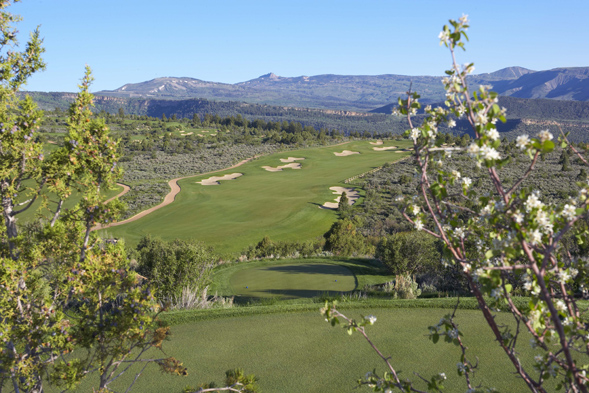 Views like this one, at Wolcott's Red Sky Ranch, give golfers the feeling they can hit the ball a mile. But exactly how much does the altitude effect the game?
Photo by Jack Affleck/Vail Resorts
Blog Tools
Comments
Permalink
By Reid Griebling
July 2, 2008 — Independence Day for our great country approaches, the Eagle Valley Jet Center fills with private planes, and our second homeowners begin their annual summer vacations in the great Rocky Mountains. Visitors from all over come to town, many of them toting golf clubs, hiking boots and fishing rods, excitedly waiting for more Vail memories to be made.

Over the years, the question I've heard most from golfers traveling from sea level was how much the altitude changed the way the ball flies. It's a valid question for golfers who hit the club face on a regular basis.

There are many opinions on the market about high altitude golf, some say there is little change in the ball flight, others sway directly opposite. So I, too, have an opinion on the whole altitude situation. When playing golf at altitude be aware that it will take a few holes of golf to really get yardages exact, in fact it may take a round or two.

My advice may seem simple but I'm the type of golfer that tries not to over-think things too much. Golfers will see more of a change from clubs that hit the ball higher: 8, 9, and wedges. In fact you may see a 15-17 percent difference.

As you work your way down to four and five irons, you may see very little change. A simple rule of thumb goes like this: if you hit your seven iron 150 yards at sea level, club down to an 8 iron in the mountains. Use this rule through your wedges – the longer irons and hybrid clubs should stay just about the same, although you may have to feel those clubs out.

You may ask: "What about my driver?"

Well, you're in luck.

The driver at altitude is your best friend. Assume that you will hit drives at least 5-8 yards farther than you would at sea level, and in some cases, with elevated tees and the like, you may gain 30 yards.

One last hint: when putting on the green, almost always, the green breaks toward the river. Until next time, keep it in the short grass, and happy Fourth of July!


Submit a comment on "Vail golf: How much will the altitude change your game?"
---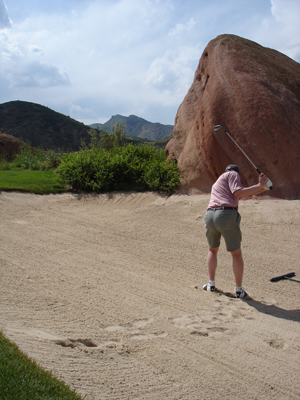 The author strikes a ball on hole 17 at the Ravenna Golf Club near Chatfield reservoir early this June. Although the course is located on the Front Range, it's worth tapping a member on the shoulder to see if you can get on course for a round or two.
Photo by Reid G
Blog Tools
Comments
Permalink
By Reid G
June 23, 2008 — As we transition into the summer months in the Vail Valley I can't help asking myself "did we have a spring?" If you ask any of the Valley's golf course superintendents they will tell you that the growing period for turf on the golf courses as well as your own lawn is at least a month behind schedule.

I guess that's what we get for skiing 20 inches of powder on the final days of the official ski season. I for one missed spring this season, usually a chance to head west where the warm weather is abundant and golf is cheap, a time to give my feet a rest from the grapple of my packed out ski boots. Alas, beggars can't be choosers and as we all know, that's the price we pay for living in the Rocky Mountains.

Golf season is in full swing now, and pun aside, every golf course in the Valley is reaping the benefits of the almost record snowfall from the winter. Flooding has occurred at Eagle Ranch as well as the Vail Golf Club from swelling runoff of Abrams Creek and Gore Creek, but has not stopped hackers and slicers from strapping on the spikes and chasing "whitey" around the yard.

Green grass and tight lies exist on all the fine courses our valley has to offer, even the Cordillera Summit Course which was buried under nearly 20 feet of snow opened for play June 12. I have played my share of rounds so far, although not as much as I would like, limited by the birth of my first.

I did have the chance to join Realvail.com editor Tom Boyd for a jaunt to southwest Denver where he was writing a golf article about a new club called Ravenna. Although not entirely related to our "Happy Valley" I was so impressed by the experience I thought I would share.

This private, no cash club opened June of 2007 with bagpipes and champagne. It is a Jay Morrish design, with members including Colorado favorites like Colorado Avalanche Joe Sakic and Colorado's first family of golf, the Stadlers.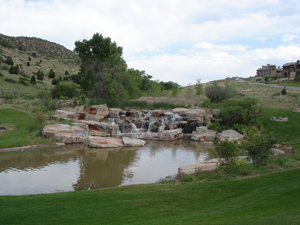 Ravenna has gone above and beyond the call of duty to try and minimize the environmental impact of its course. This watercourse, for example, is filtered before it enters the main stream below.

Tom and I played with founder Glenn Jacks and Director of Golf Seth Berliner, who gave us the total golf tour. Glenn Jacks comes from a finance and real estate back round from Colorado to Florida to California. As a landscape architect Mr. Jacks has also been involved in designing notable clubs like PGA National in Palm Springs as well as TPC Sawgrass in Ponte Vedra, Florida. Seth Berliner is a class-A PGA professional, former minor league ball player and native Coloradan started his career at the prestigious Cherry Hills C.C. and was nice enough to play with us regardless of his very pregnant wife; due June 25. Congrats Seth!

Mr. Jacks' dream course, set under the staggering red rocks near the Chatfield State Park takes each and every hole and makes them pieces of art. From the angles of the five sets of tee boxes, to the native landscaping and bunker placement. Each hole allows the golfer to use his imagination on and around the green surface, making it a wonderful test of golf for the low handicapper and a fun visual experience for the beginner. This par 71 course spans over 7,200 yards from the back tees with a slope rating of 149, and a friendly and forgiving slope of 129 from the forward tees, with the max yardage of just over 5,000 yards. We played the Forest, or "Member" tees, which most members play on a regular basis and although only 6,500 yards, which in this day and age may seem a bit short, the design from the first hole and on screams "hit the ball in the short stuff." And from what I saw on the practice tee, Tom was about to have the time of his life.

Par 35 on the front side with two par fives and three par 3's allows golfers the chance to score well, if arrant shots can be avoided. Did I mention the Seventh hole, a reachable par 4 with an undulating green. The longer hitters must go for it while the weary can lay up with a hybrid and have only a wedge in. A challenging par 3 ninth leads golfers into the back nine where the fairways open up a bit more, but the views and landscape stay the same. Both par fives on the back nine cover more that 600 yards from the tips, with number 14 creeping down hill with a peaceful myriad of waterfalls leading the way.

Talking with Glenn Jacks, I got the sense that he has been on his share of courses through his career and has seen the designs that work and those that don't. With his vision for Ravenna, Mr. Jacks wanted to do everything he could to limit the environmental impact from the golf course, including building a water treatment plant on site to recycle and clean both natural water and irrigated water. And if that's not green enough, Ravenna spent millions proactively working with the Division of Wildlife to ensure that every acre of golf property was deemed a wildlife sanctuary, which it is. Mr. Jacks wanted the future of the golf course to look like it was part of the original landscape, untouched, as if 1.5 million cubic feet of soil was not moved, a course that has the look as if the course had been there for hundreds of years prior.

Reaching the 16th hole, a mid yardage downhill par 3, considered their signature hole by members, it's the only hole on the golf course that requires golfers to adjust more than a one club difference. Something by first glance should be the norm on six or seven holes total, another Jacks/Morrish visual masterpiece.

If you ask the staff members at Ravenna, they consider all eighteen holes signature golf holes, and after making a four on the final hole of a fabulous golf day, I couldn't agree more. If you ever get a chance to play Ravenna golf club I highly recommend jumping at the opportunity. A visually intriguing and stunning golf experience for every golfer. For more information on Ravenna visit www.ravennagolf.com and also keep watch for Tom Boyd's article in Rocky Mountain Golf Magazine.

1 Comment on "Vail golf still good despite short growing season"

Submit and read more comments on "Vail golf still good despite short growing season" now!
---
Read More Blog Entries
Previous
Blog entry 9 through 12 of 12 total entries
Bloggers Profile and Information