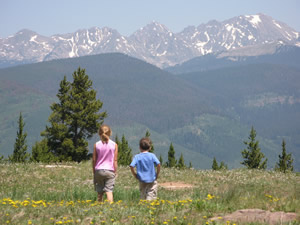 Want to escape the heat of Denver and the upcoming DNC for scenes like these of the Gore Range near Vail? Check out the DNC escape package being offered by the Society of Leisure Enthusiasts.
By David O. Williams
Leisure Society urges Denverites to escape Democratic National Convention
Group offers tank of gas and 10 percent off hotels in Vail and other mountain destinations
By realvail.com
July 13, 2008 — With some right-wing pundits comparing Barack Obama to leisure-suit-era President Jimmy Carter, it seems appropriate a group calling itself the Society of Leisure Enthusiasts is urging people to get out of Denver during the Democratic National Convention next month.

Citing an expected record crush of 50,000 out-of-town visitors Aug. 25-28, and demonstrators to the tune of more than 10,000, the society "dedicated to providing education and outreach services that help travelers" is offering a tank of gas and discounted luxury lodging throughout Colorado's mountain resorts Aug. 21-28.

"As a Colorado-based company, we heard our friends and families talking about wanting to escape the crowds during the DNC," Society co-founder Michael McFadden said in a release. "By working with local property managers, the Society has created a promotion that will allow Denverites to get out of the city to destinations within driving distance."

The Society is offering all Colorado residents a $50 gas card and 10 percent off already-lower summer rates for its luxury accommodations in Aspen, Beaver Creek, Breckenridge, Telluride, Vail and Winter Park Aug. 21-28.

According to the city of Denver, the DNC will be the largest event in Denver's history with an estimated 1,500 special events during the Convention's four-day span. With the city's 38,000 hotel rooms filled and an additional 12,000 people looking for lodging elsewhere, the city's restaurants, public transportation and other amenities will be overloaded with out-of-towners.

Although the convention will be held downtown in the Pepsi Center, hotel clusters contracted through the DNC Committee are located throughout the Denver-metro area.

Even though delegates will spend most of their time in the Pepsi Center, there will be demonstrators downtown in the Civic Center, Skyline Park and other downtown parks throughout the week.

Unlike typical online vacation search sites, the Society ensures that each vacation home meets quality standards established by experts in the luxury real estate industry. Also, members and guests of the Society have access to The Society-rated concierge information including the best golf courses in an area, nearest ski resort or popular restaurants.

The Society endorses Sustainable Travel International (STI), a non-profit organization, dedicated to providing education and outreach services that help travelers, travel providers and related organizations support environmental conservation and protect cultural heritage while promoting cross-cultural understanding and economic development.

To book the offer, go to www.thesociety.com.



Comment on "Leisure Society urges Denverites to escape Democratic National Convention" using the form below