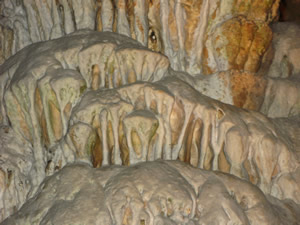 The formations in Luray Caverns in Northern Virginia show the spectacular subterranean allure of caving with kids.
By David O. Williams
Underground adventures a year-round attraction even in the high country
Caving with kids can be good way to escape late-fall, early-winter doldrums
By David O. Williams
September 8, 2008 — The chill in the air in the Vail Valley the last week or so and the dusting or two of snow on the high peaks serve as a stark reminder that ski season is just around the corner after only officially ending about two months ago (A-Basin shut down in early July).

While there's still plenty of late-summer and early-fall weather left to get out on a river, climb a few peaks or ride a little single-track in the fall foliage, the fact is that I was on skis last season on Oct. 10 (A-Basin's earliest opening ever). That's just over a month from today.

And the winter seemed endless after that. But there's a painful period after the first snow flies and before the chairlifts crank up when it's a struggle to find things to do with the kids on weekends. A few years ago, early-season snowstorms had driven the kids inside and my wife and me crazy but we hit on a great escape.

Desperation being the mother of creativity when it comes to kids, we struck on an unlikely diversion, and it remains an option all winter: going underground.


If you go caving
Glenwood Caverns Adventure Park: www.glenwoodcaverns.com or call (800) 530-1635 for winter prices and hours of operation.

Cave of the Winds, Manitou Springs: www.caveofthewinds.com or call (719) 685-5444.

For more information on cave locations, preservation and safety go the National Speleological Society website at www.caves.org, or the local chapter, Colorado Grotto, at www.caves.org/grotto/colorado.

No, I'm not talking about going into the witness protection program and not telling your kids where you're relocating, tempting as that may be. Nor should you lock them in the basement until spring. That would likely raise some official eyebrows.

I'm talking about caving with the kids. Subterranean adventures that will deepen familial bonds, open up unimagined new worlds for the kids, and maybe even spark some curiosity about such arcane subjects as geology and speleology (the study of caves).

There are only two commercial cave systems in Colorado – a state not known for its abundance of caves in general – and that's definitely where you should start, especially with children. Unguided exploration of wild caves is definitely unwise (more about that later).


My then six-year-old son Nick and I headed for Glenwood Caverns Adventure Park near Glenwood Springs because of its proximity to our Edwards home (only about 45 minutes west on Interstate 70) and Glenwood's iconic Hot Springs Pool, which is a lot less crowded in the fall and winter.

Colorado's other commercial cave system, Cave of the Winds near Manitou Springs, is likely a closer trip for most Front Range readers. It takes about an hour and 20 minutes to drive there from Denver as opposed to two and a half hours from Denver to Glenwood, excluding bad weather and multiple pit stops.

Once in Glenwood, the Iron Mountain Tramway takes you up to the entrance to the caverns, where you'll also find a slew of rides such as an alpine coaster, zip line and giant swing that slings you 1,300 feet out over Glenwood Canyon.

Still, Nick was most impressed by the 70-minute cave tour, which covers about a half mile of stalactites, stalagmites, flow stones, cave bacon, soda straws and cave popcorn – all fascinating formations for a young spelunker.

And he was so enamored he jumped at the chance a few weeks later to take his souvenir, plastic miner's helmet on a camping trip to Yeoman Park south of Eagle, where we naively thought we would poke around Fulford Caves.

Fulford is a well-known "wild" cave system, which, we discovered by talking to a grimly determined Boy Scout troop on the three-quarter-mile hike to the entrance, requires some serious gear, at least a rudimentary knowledge of caving and nerves of steel.

The entrance is a steep, muddy, 20-foot culvert with a slick, metal, ladder bolted to it. Nick and I gamely scrambled in, looked around and wisely scrambled back out – content with the beautiful hike up and back and already talking about a return to the well-lit confines of the Glenwood Caverns.

Nick's been back to Fulford a few times since then with the Vail Recreation District's Camp Vail program, going much deeper and gaining a great deal of confidence inspired by experienced counselors.

And last month on a vacation to the Washington D.C. area we took a quick road trip to Luray Caverns in the Shenandoah Mountains. Cheesy side attractions (like Glenwood) but spectacular stalactites and stalagmites.

So if you're going a bit stir crazy this fall or winter and you're looking for something creative to do with the kids, consider going underground.


Comment on "Underground adventures a year-round attraction even in the high country" using the form below