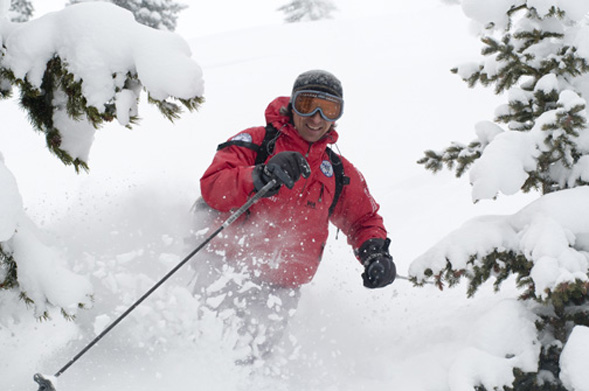 Grisha Kravtchenko of Aspen Alpine guides makes his way into the backcountry on a trip near Aspen, Colorado.
Photo by Dan Davis
trekkerphoto.com
Colorado backcountry guides still catching up to European counterparts
By Tom Boyd
February 10, 2009 — Tracing Grisha Kravtchenko's lineage is like a quick spin through world geography. An indefatigably upbeat international mountain guide and ski instructor, Kravtchenko has a French mother and an American father, was raised in Chile and Switzerland, and has lived in South America and Europe. His current location is either Aspen Colorado or Chamonix, France, depending on the needs of his international clients and, of course, quality of the powder skiing.

In a voice as rich with international accents as his personal history, Kravtchenko explained that life as mountain guide is very different in Europe than it is here in the U.S.A., where he guides for Aspen Alpine Guides.

"It's a true profession over there," he said. "It's getting more like a profession here, but in Europe it's a real profession. It's a lot of work … it's a long process."



A sample of backcountry guide services
Aspen Alpine Guides
Phone: (970) 925-6618
Web:
www.aspenalpine.com
Aspen Expeditions
Phone: (877) 790-2777
Web:
www.aspenexpeditions.com
Paragon Guides
Phone: (877) 926-5299
Web:
www.pargonguides.com
Telluride Adventures
Phone: (970) 728-4101
Web:
www.tellurideadventures.com
Crested Butte Mountain Guides
Phone: (970) 349-5430
Web:
www.crestedbutteguides.com
Mountain guiding history


August, 1786: first ascent of Mount Blanc


1821: First professional mountain guiding company started in Chamonix, France


1850: Guiding company opens in Courmayeur, Italy


1953: First ascent of Mount Everest by Sir Edmund Hillary


1965: International Federation of Mountain Guide Associations (IFMGA) founded by guides from France, Austria, Switzerland and Italy.


1979: American Mountain Guide Association (AMGA) formed


1997:  AMGA is accepted into IFMGA as sole U.S. representative


*sources: American Mountain Guides Association; International Federation of Mountain Guide Associations; www.montblanc.to. 
The reason it's different over here, he said, is because hiring a guide in Europe is very common whereas in Colorado, even where continental snowpack makes for some of the most dangerous avalanche conditions in the world, hiring a local guide for tours into the backcountry is much less common.

"Guiding in Europe, they have been starting in the 18th century in the Alps, thanks to British mountain explorers like Edward Whymper and his mountain guides," he said. "So it's a long, long time ago and I think here it's more a new thing, and that's why probably."

"We're still in the infancy of professional guiding in the U.S.," agrees Ron Rash, owner and lead guide for Aspen Alpine Guides. "Our terrain is different than Europe where you have to be knowledgeable because it's steeper, glaciers with crevasses. Here you have to be more knowledgeable because of avalanches."

Outdoorsmen like Kravtchenko and Rash would like to see more people – especially beginners – hire guides as they head into the backcountry. Beyond the benefit to their business, many guides believe that some of the high-profile avalanche deaths that make headlines in Colorado each year could be avoided if guides, rather than amateurs, were leading trips into the backcountry.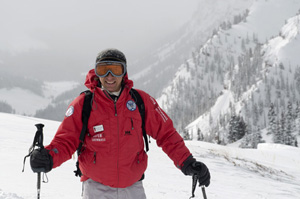 Kravtchenko has guided in Europe, the USA, and around the world.

A craving for fresh powder seems to play a leading role in avalanche deaths throughout the state. With bigger skis, better equipment, and faster lifts, in-bounds powder skiing has become a beat-the-crowd race at many resorts. In search of more fresh turns, skiers and snowboarders hike into the backcountry or use one of the many Forest Service backcountry access gates located at resorts like Aspen, Vail, and Telluride.

"The powder craze at lift-serviced terrain has created a bigger demand for 'side country,' or 'slack country,'" said Jim Clarke, who works with Kravtchenko at Aspen Alpine Guides. "When they drop the rope at Aspen Highlands Bowl, for example, it's insane: people are throwing elbows – it's a mad rush. Skiing with us it's more relaxed. We take our time and get some powder turns."

Clarke, Kravtchenko, and Rash all agree that hiring a guide is still a rarity for those who want to step through a backcountry gate and into the wilderness – where avalanches and exposure are palpable dangers.

Hiring a guide is no guarantee of safety. The March 6 avalanche which killed a 32-year-old man in the Five Fingers area, off the side of Aspen Highlands, occurred during an Avalanche class being held by another Aspen guiding company. And among the high-profile avalanche deaths which took place outside the boundaries of Vail and Aspen over the past 13 months, almost all the skiers leading the trips had considerable backcountry experience.

The growth of guiding may face other challenges as well. Kravtchenko, for example, has more letters tagged to the end of his name than most medical doctors. The acronyms ISIA, UIAGM, IFMGA, and AMGA may seem little more than alphabet soup, but rest assured that membership and certification from these organizations requires years of study, field practice, and time spent guiding expeditions all over the world.

Once accredited, an international guide can develop a client list and work as an independent operator everywhere from Mount Everest to the Matterhorn. Here in the U.S., however, Kravtchenko must work under an accredited outfitting service.

"You have to work through the outfitters who have the permits, and they only have permits for certain areas," Kravtchenko explained. The permit structure limits a guide from developing a client base, he said, because clients generally want to explore new areas, rather than returning consistently to the same place.

1 Comment on "Colorado backcountry guides still catching up to European counterparts"