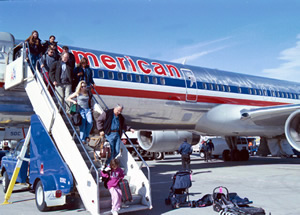 Eagle County Airport closed for the summer for runway repairs
Next flights scheduled for early September on American Airlines
By realvail.com
April 27, 2009 — Eagle County Regional Airport, (EGE) located between Eagle and Gypsum and serving both the Vail and Roaring Fork (Aspen) valleys, is closed for commercial service April 15 through Aug. 31 for scheduled runway work.

When service resumes on Sept. 2, American Airlines will provide flights through the fall season into winter. The decision to close EGE through the summer was made after exhausting every other possibility. Improvements made will include milling and resurfacing the eastern half of the runway and a complete restoration of the western half.

"The temporary closing of Eagle Regional Airport comes on the heels of a strong winter season showing strong air bookings considering the tough economic conditions," said Kent Myers, director of the EGE Air Alliance.

"Through solid strategic alliances with our airline partners this winter, we were able to drive a large volume of passengers and have aggressive fares in the marketplace in what would have otherwise been a really off season," said Gabe Shalley, Senior Manager, Vail Resorts Airline Marketing Programs. "The airlines have been helpful in driving passenger volume in a hard season.

"It's a testament to the effectiveness of our partnership that from American Airlines will resume service so quickly when we reopen in September," added Shalley.

Overall, EGE reported a small drop in enplanements in comparison to last year: 2.5 percent down in January and 3 percent down in February. When contrasted to other mountain resort airports showing a 5 to 15 percent drop in enplanements, Chris Anderson, terminal director for the Eagle County Regional Airport, counted this season as a success during a hard time.

Anderson contributes the success to two driving factors: the marketing of the winter program and the fact that airlines offered great fares out of EGE this year.

"The fares really drew a lot of locals to the airport," Anderson said. "We may have had a reduction in the number of visitors, but that slack was taken up almost completely by locals flying out. We like to see area residents using the airport."

When the airport reopens in September, Anderson has high hopes for the upcoming season.

"We're really looking forward to reopening and picking back up with the same flight service options in the fall that we've had for the past two years. It's indicative of the level of service that we provide and the benefit to our community that has United and American committed to maintaining air service to Eagle County."

EGE Air Alliance is a non-profit organization established in 2003 to grow and improve the quality and volume of air service to the Eagle County Regional Airport targeting the summer and fall periods of the year. The EGE Air Alliance is made up of a variety of Vail Valley businesses including banks, resorts and real estate companies.



Comment on "Eagle County Airport closed for the summer for runway repairs" using the form below