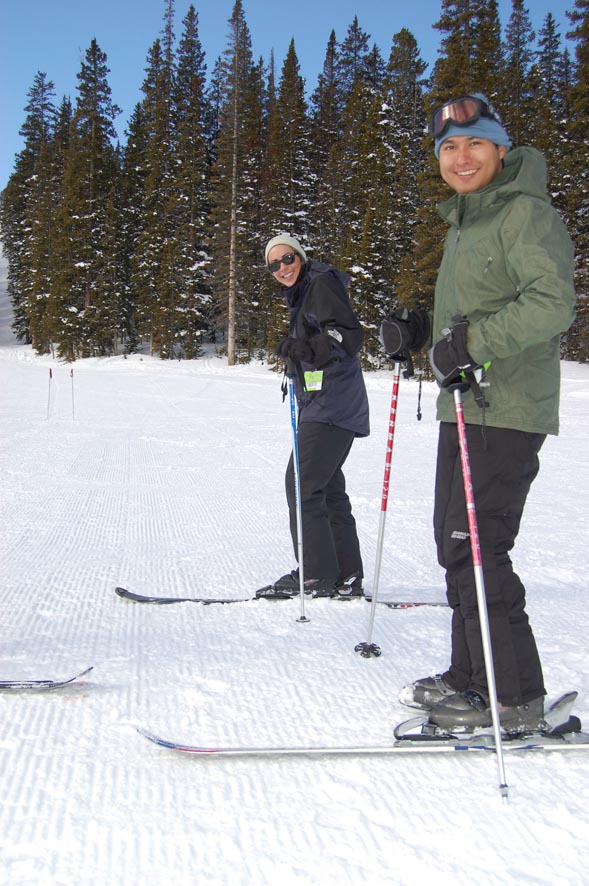 Luis Lopez (foreground) and Petrina Crockford took their Monarch Mountain ski lessons one step at a time.
Tom Boyd
Ski lessons of love at Monarch Mountain
By Tom Boyd
February 3, 2009 — Skiing was not at the forefront of Luis Lopez' mind when he struck up a conversation with a young Colorado girl at a coffee shop one fateful day in 2007. Lopez was the kind of guy who thought 55 degrees was "freezing," who had only seen snow once, in Canada, and who spent most of his life in or near the small, tropical city of Tapachula in southern Mexico.

"Tapachula is beside the Pacific Ocean in the middle of nowhere in the jungle," he said, "The only place you can actually touch something like that was the snow in the fridge."

Little did he know that his conversation with Denver's Jessica Mason, who was traveling through South and Central America at the time, would lead to a day learning to ski at Monarch Mountain ski area in south central Colorado on a recent February Day a year-and-a-half later.

When Lopez busted a move over a café Americano, he may have known (or hoped) that one thing would lead to another: but he never imagined Mason one thing or another would lead him onto a pair of skis in the snowy Colorado mountains.

Nor was he unduly excited about the prospect of launching himself down a mountain while strapped to two rigid boards with sharp metal edges.

Lopez was quietly tense on the morning of his first ski day. He sipped a mochaccino at Bongo Billy's, a top-notch Salida breakfast spot, and then delivered philosophical lines: "When I was a boy and I was facing a tough day I always said to myself, 'It's OK, I'm going to laugh about it later."

Laughing didn't seem in his future at the time, however. His main exposure to skiing came through the television: and no matter how cool Glen Plake and Seth Morrison seem to expert skiers, Lopez was convinced that high-speed falls and a broken bone awaited somewhere in his near future.


Monarch Mountain Information
The best place to stay when visiting Monarch Mountain is in or near Salida. The group featured in this story stayed at the dog-friendly Super-8 motel in Salida and found it simple, inviting, friendly and clean, not to mention inexpensive ... a lot like Monarch itself.
See their website here:
salidasuper8.com/
Many other fine hotels take dogs in Salida (seems to be a big thing over there), so if you've been there feel free to comment at the bottom of this article about your experience.
There are also some faaa-aaa-bulous margaritas to be had at "The Boathouse" restaurant in Salida, located in historic downtown by the park, not to mention the high-quality fish tacos and burgers (although Luis Lopez, being from Mexico, found the "extra hot" sauce to be quite mild).
Monarch Mountain facts
# of trails: 63
% Beginner: 14%
% Intermediate: 28%
% Advanced: 27%
% Expert: 31%
Longest Run: 1 mile
Chairlifts/Conveyor: 1 fixed quad, 4 fixed double chairs
(conveyor lifts only for Ski School)
Uphill Capacity: 6,100 skiers per hour
Lift Hours: 9 a.m. to 4 p.m. daily
Acreage: 800 acres along the Continental Divide in the Sawatch Range. Monarch operates within the San Isabel National Forest under permit of the US Forest Service.
Ski Season: Mid November - Early April
Annual Snowfall: Approximately 350+ inches 100% natural snowfall
Operated Since: 1939
Elevation Base: 10,790 ft.
Summit: 11,952 ft.
Vertical Drop: 1,162 ft.
Skiable Acres: 800
Meet Petrina:

Patrina Crockford was also a bit nervous about her first day on skis. Born in Del Rio Texas — a small town on the Mexican border — she was raised in the balmy climate of Central Valley California.

While working in the literary world of New York City she met and fell in love with writing professor and novelist Tyler Sage, who was born and raised in Vail and grew up terrorizing the cliffs of Vail Mountain on fluorescent, 210 cm straight skis with his pack of Vail Mountain School friends.

Skiing had long been on the "to-do list" for Crockford, but even after Sage and Crockford moved to Gunnison together she felt overwhelmed by the gear, the speed, and like Lopez, all the extreme near-death moments she'd seen on Fox television.

"It's an intimidating sport when you come from the outside because you hear about extreme skiers doing the 'gnar-gnar,' and Tyler growing up in Vail, I was thinking, 'I can't hang with these guys.'"


Meet Rick Boucher:

The first move in any new skier's life is to figure out how they're going to learn: Will they toss themselves down the bunny hill and hope athleticism and a strong survival instinct keep them from a bloody nose and a broken wrist? Or will they put down the dollars required for a lesson and learn from a pro?

After a few minutes with Rick Boucher, a certified instructor at Monarch, it was painfully evident that the latter choice is the right way to go – not only because Lopez and Crockford were getting along famously with their congenial instructor, but also because the other portions of Monarch's bunny hill — dubbed "Snowflake" — was enhanced with vignettes of wayward skiers posed in all kinds of acrobatic but not-so-comfortable bodily positions as they slid, sometimes forward sometimes backward, down the gentle slope.

It was not, needless to say, Boucher's first rodeo. He took his diligent students through the process one ski at a time – literally. After getting used to the idea of wearing boots, then riding one ski, then riding both, the trio headed for the lift and made their first run.

Bit by bit, moment by moment, Lopez' apprehension melted in the combined brightness of the Colorado sunshine and Boucher's veteran sympathy.

"Sometimes people from other countries that don't have sliding sports can have a little fear of sliding sports," Boucher said, "But since we took it one step at a time I don't think Luis had any fear."

And he didn't. After a two-hour lesson with Boucher ($180) both Lopez and Crockford were headed up the hill to try their first "real" run. Much to the dismay of onlookers, neither skier provided the cherished, entertaining episode known far and wide as the "garage-sale," and came away with nary a fall, scrape, or bruise to validate their efforts.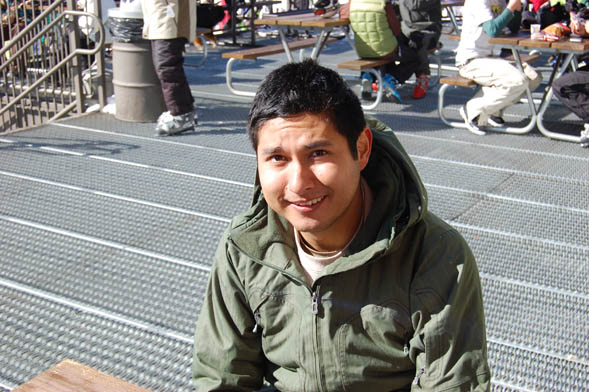 Lopez expected to feel relieved at the end of the day, but he didn't expect to find that skiing can be relaxing and social ... even warm on a sunny day.

The verdict:

"It was much better than I expected," Lopez said. "Anybody will think that the first time is really hard, but it wasn't that hard because of the instructor – he was very good."

And Crockford already feels like one of the gang – so much so that she is determined, "to become a ski bum," and spend untold days riding the Colorado Rockies with Sage, who proposed to her only a few weeks before their first ski day together.

"It's kind of an exclusive sport, it has the air of a more exclusive sport," she said. "But it feels more welcome now."

She agreed that it was also due to Boucher's expertise, but added that Monarch – a small, family-friendly resort with a low-key atmosphere – helped make her feel all the more comfortable. And since she and Sage live nearby, a season pass is the next item on her birthday/Christmas wish list.

And that's how it happens ... it starts with a cup of coffee or a conversation over a book, and next thing you know it's a budding romance - not only for the person you love, but for the sport they love as well.

For more on Monarch Mountain call (888) 996-7669 or visit www.skimonarch.com.

Also see our realvail Resort Guide for more information about Monarch Ski and Snowboard Area


1 Comment on "Ski lessons of love at Monarch Mountain"