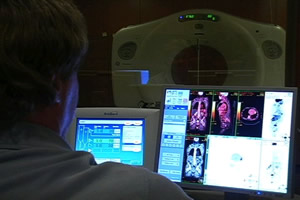 A radiologist at Shaw Regional Cancer Center examines a PET/CT scan.

Shaw Cancer Center in Edwards unveils new PET/CT scanner
By realvail.com
June 24, 2009 — Vice President of Shaw Regional Cancer Center (SRCC) Joe Deuschle recently announced the addition of a PET/CT scanner, adding cutting edge diagnostics to one of Colorado's leading comprehensive cancer centers.

The PET/CT scanner provides early cancer detection by detecting cancers in specific parts of the body that would ordinarily remain hidden.

"PET/CT combines two types of images: one shows that cancer exists, the other shows you where," said Dr. Wayne Wenzel, Chief of Radiology at VVMC. "The benefit is earlier and more precise detection in addition to giving patients far more personalized treatment plans."

The PET/CT scanner combines two types of imaging: positron emission tomography (PET) and computerized axial tomography (CT). In the PET process, radioactive sugar molecules are injected into the patient. These molecules become concentrated at cancerous cells, indicating where the cancer exists and how large it is. Then the CT scan overlays images of the body's organs.

"Together they give us a detailed, personalized view of each patient's cancerous areas and tell us how large the area is," says Wenzel. "Subsequent PET/CT scans can tell us if the patient is responding to their treatment or if they are in remission."

Prior to PET/CT scans being available at Shaw Regional Cancer Center, patients seeking this sophisticated level of imaging would be forced to go to Denver or Grand Junction.

Often, the time required to get a PET/CT appointment and results elsewhere is two to three weeks. Deuschle says that patients seeking PET/CT imaging at SRCC can expect to be scheduled and receive results far more quickly than in other places because everything is done in one location—often times the next day.

"I came to Shaw because of the ability to deliver easily accessed, compassionate and collaborative patient care in a technologically superior environment," says Deuschle. "Having PET/CT at Shaw raises the bar on our technological capabilities and continues to define us a leader in Colorado cancer centers. It's rare to have a center of this caliber in a community of this size."

The PET/CT scanner was purchased with donations and fundraising efforts by the Shaw Outreach Team. VVMC will host a ribbon cutting to celebrate the new PET/CT scanner at Shaw Regional Cancer Center on Friday, June 26, from 4 to 6 p.m. The community is invited to attend the celebration.

Comment on "Shaw Cancer Center in Edwards unveils new PET/CT scanner" using the form below