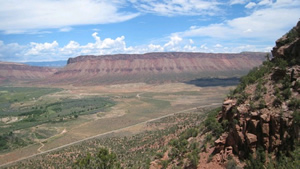 The Paradox Valley in far western Colorado is a battleground over a proposed uranium mill some fear could stigmatize the area as an outdoor recreation destination.
Flickr Creative Commons photo by Iversonic at
flickr.com
Can uranium mining, tourism and outdoor recreation coexist in Montrose County?
Colorado's mining history runs up against new ski-real-estate economy near Telluride
By David O. Williams
September 13, 2009 — MONTROSE — Montrose County commissioners last week delayed a decision on a controversial uranium mill proposal after nearly six hours of public testimony Wednesday that underscored deep divisions between longtime mining families and residents of neighboring Telluride and San Miguel County.

The Pinon Ridge Mill would be located on the far western edge of Montrose County, in the Paradox Valley near the Utah border, but the uranium and vanadium processing mill — capable of producing enough fuel rods to power a city one and half times the size of Denver — has been meeting with stiff opposition from residents of Telluride and Ridgway.

They argue the mill will re-stigmatize the area once known as the capital of the global uranium industry, irreparably damaging the region's new reputation as an outdoor recreation mecca and international tourism destination.

Proponents counter the western end of Montrose County has been severely depressed for decades, struggling for jobs and a sustainable economy since the last big uranium boom tapered off in the 1970s and '80s in the wake of nuclear power-plant disasters at Three Mile Island and Chernobyl. They also say technology has changed dramatically since the days when Uravan produced uranium for the first atomic weapons but is now a toxic ghost town.

Frank Filas, environmental manager for a U.S. subsidiary of Ontario-based Energy Fuels Inc., called Pinon Ridge a small facility that will revitalize the once-vibrant industry, but in a way that avoids the mistakes of the past and won't impact outdoor recreation and agriculture.

"Energy Fuels feels strongly [uranium processing and tourism] are compatible and not mutually exclusive, but I would point out tourism on the west end has not been particularly robust," Filas said. "We think rural areas benefit from a diverse economy."

Mark Goldfogel, owner of small farm in Paradox and a technology company in Telluride, urged the commissioners to reject the special-use permit allowing for industry in an area zoned agricultural. His argument was based purely on economics.

"If the mill is allowed, the stigma of a uranium mill in Paradox Valley will make agriculture and tourism extremely difficult," Goldfogel said. "There is no market for organic produce grown down the road from a uranium mill. There is no market for my farm if you allow this mill."

The mill would have 85 on-site personnel, with another 282 miners expected to find work at nearby mines, an additional 256 support staff, management and transportation jobs, and 766 indirect jobs. The Western Small Miners Association put the annual economic benefit at nearly $50 million in annual income.

But those numbers are based on the current renewed interest in nuclear power as carbon-free fuel source that could replace coal- and gas-fired power plants and reduce greenhouse gas emissions. Many activists on the Western Slope are skeptical that interest will last, predicting another bust that could leave another toxic legacy for decades to come.

Still, the numerous residents of Naturita and Nucla who spoke in favor of the mill and bristled at the invasion of concerned residents from Telluride and Ridgway, are convinced it's a gamble well worth taking given improvement in technology and their nostalgia for the good old days.

Uranium mining holding ponds near Uravan in Montrose County in 1972. (Photo courtesy National Archives via Wikimedia)

Uranium mining holding ponds near Uravan in Montrose County in 1972. (Photo courtesy National Archives via Wikimedia)

There were countless stories of fathers, grandfathers and uncles who later worked the mines in the Cold War heyday swimming in evaporation ponds and playing on tailings piles as children, with no adverse effects.

Lee Sutherland said his father started hauling uranium ore in 1942 and lived to be 85. He talked of pumping water out of a mine and using it to irrigate his garden, pointing to his five healthy children as evidence of the benign effects of uranium mining and processing. Besides, he added, it's the right thing to do for the planet.

"They're all talking about global warming, and if we go to nuclear power, it'll stop a lot of that," Sutherland said. But even Energy Fuels' Filas acknowledged the cavalier attitude of the early days of the uranium industry can't be repeated today.

"You just can't use [tailing] for sandboxes the way they were in the 50s and 60s," Filas said. "But comparing our situation to historic situations is a little disingenuous."

He called a finding by the Colorado Medical Society that uranium mining is not safe "mostly political" based on opposition to the proposed Powertech mine in Weld County.

Still, Dr. Christine Gieszl, an internal medicine specialist in Montrose, cited a long litany of studies linking uranium mining and processing to everything from lung cancer to birth defects and infertility. And a Colorado Springs attorney testified she successfully represented numerous victims of contamination from a mill in Canon City that has since been shut down.

Jerry Cope of Placerville noted the irony of a Canadian company "pointing to us as outsiders," and warned of creating another mining-ravaged Appalachia in southwestern Colorado, which would result in a "loss of tourism, real estate values and spikes in cancer rates."

But proponents countered places like Moab and even Telluride with long mining histories still thrive as legendary recreation destinations, but that low-paying service-sector jobs in the tourism industry or agriculture-industry jobs in other areas aren't nearly as desirable as high-paying mining-sector jobs, however fleeting.

Bobby Calhoun, owner of the 5th Avenue Grill in Naturita, said if organic farming can come close to mining wages, she's all for it. "I'll be the first person in line to pick your tomatoes for $45,000 to $75,000 a year. The people in Telluride have enough of their own problems without worrying about what's going on in the west end [of Montrose County]."

Many opponents called on the county to delay a decision until the Colorado Department of Public Health and Environment can begin reviewing the license application from Energy Fuels once it's filed next month. At that time the company will have to provide $50,000 to the county for an environmental assessment, and the state will take up to a year to review the application.

Officials from San Miguel County, where Telluride's located, spoke in favor of additional hearings to allow them to provide feedback on the state's findings. Montrose County Commission Chairman David White seemed open to that continuing dialogue with neighboring San Miguel.

The next hearing was set for 10 a.m., Sept. 30 at Friendship Hall in the Montrose County Fairgrounds and Event Center.

Comment on "Can uranium mining, tourism and outdoor recreation coexist in Montrose County?" using the form below