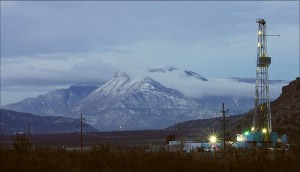 Garfield County continues to debate resolution on DeGette's FRAC Act
Oil and gas production, water quality a hot topic in county just to the west of Vail
By David O. Williams
September 16, 2009 — An expected showdown over support or rejection of the FRAC Act by one of Colorado's most drilled counties fizzled a bit Monday when the Garfield County commissioners decided to delay any resolution on the federal hydraulic fracturing legislation until they see a movie on the topic and take more public input.

Democratic county commissioner Trési Houpt, also a member of the Colorado Oil and Gas Conservation Commission, has shown support for the bill, sponsored in the U.S. House by Colorado Democrats Diana DeGette and Jared Polis. But Republican county commissioner John Martin has indicated he doesn't think it's necessary.

Republican commissioner Mike Samson, the third and perhaps deciding member of the board, while saying he is not taking a position that would reinstate Safe Drinking Water Act rules for fracking, did invite community activists concerned that the process is contaminating drinking water to speak at Monday's meeting.

One of the key components of the FRAC Act — which stands for Fracturing Responsibility and Awareness of Chemicals — is full disclosure of exactly what chemicals are being injected into natural gas wells, along with sand and water, to force open tight geologic formations and free up more gas. Drinking water wells and creeks in gas production areas have been contaminated by methane and some chemicals, but industry officials say it's not linked to fracking.

Gov. Bill Ritter and some scientists have called for more study of fracking before the EPA steps in to regulate the process.

"When the chemicals are undisclosed and non-regulated, what is there to study?" New Castle resident and community activist Tara Meixsell said. "The argument pretty much is that everything is fine and safe and there are no problems, so then why does it need to be undisclosed. If it's fine and safe, then they should have full disclosure."

Industry representatives say the chemicals used in the process are safe and need to be kept secret because they're part of proprietary information that could give one company a competitive advantage over others.

Meixsell said she's encouraged the commissioners agreed to see the upcoming documentary film "Split Estate," which details the impacts of natural gas drilling in Garfield County. Meixsell, an associate producer on the film, mentioned one segment in which Colorado Oil and Gas Association lobbyist Kathy Hall talks about putting fracking fluids in her mouth.

"It would be a dream come true if we could all feel that way, that frack fluids straight from a truck would be fine to have in our mouth, but I'm not going to sit here and assume that an industry that has been tracked using toxic chemicals is going to self-regulate and still be undisclosed and assume that all frack fluids can be safely held in one's mouth," Meixsell said.

Eagle County sees very little energy production, but the nearby cities of Glenwood Springs, Carbondale, as well as Pitkin County, have endorsed the FRAC Act. In the southwest part of the state, the city of Durango, as well as La Plata and San Miguel counties, support the bill. Also, two counties and three towns in New York, a town in Pennsylvania and a city in Texas support the legislation.

However, six Colorado counties, including some with the most natural gas reserves, oppose the bill — Delta, Mesa, Moffat, Rio Blanco, Morgan and Weld — as well as the towns and cities of Delta, Naturita, Nucla, Rangely and Grand Junction.

Also Monday, the Garfield County commissioners agreed to tentatively support the Thompson Divide Coalition, which opposes drilling on 122,000 acres of mostly roadless public lands northwest of Carbondale.

Sloan Shoemaker, executive director of Aspen's Wilderness Workshop, has been fighting for years to protect the area, including exemptions that would allow drilling in the area under the Colorado roadless rule.

"[The Colorado rule] is going to allow those leases to be developed and eviscerate the Thompson Creek roadless area, which is Carbondale's backyard and a Colorado watershed," Shoemaker told RealVail.com last year. "The citizens of Carbondale are like, 'Over my dead body on that one,' and they say things to me like, 'Just tell me when it's time to lie in front of the bulldozers.'"

Oil and gas industry watchdog groups in Garfield County, just to the west of Eagle County, want the state to dramatically step up groundwater testing near gas drilling operations in the wake of new evidence that hydraulic fracturing may have contaminated drinking-water wells in Wyoming.

Two groups met with the county commissioners Monday in Glenwood Springs to discuss recent findings by the U.S. Environmental Protection Agency that hydraulic fracturing — commonly referred to as fracking — may have introduced toxic chemicals such as 2-butoxyethanol, or 2-BE, into water wells near Pavillion, Wyo.

The activists say the Colorado Oil and Gas Conservation Commission (COGCC), which regulates natural-gas drilling in the state, has been providing the county commissioners with false assurances that fracking — which involves injecting high-pressure sand, water and undisclosed chemicals into gas wells to free up more gas — does not pose a threat to groundwater supplies.

"It's not an argument about stopping gas drilling by any means," said Meixsell, who's with the Grand Valley Citizens Alliance (GVCA). "It's an argument about not using undisclosed and toxic chemicals and not using carcinogenic chemicals. It's an argument about being a little more prudent about protecting people's health and water quality."

Meixsell said there are several cases in Garfield County, which is Colorado's undisputed epicenter of Western Slope gas production, that show a pattern of problems with fracking, which was exempted from the Safe Drinking Water Act in 2005 under the Bush administration.

Meixsell on Monday introduced more evidence from some of those cases, including that of Larry and Laura Amos of Silt, whose water well exploded in 2001 after nearby gas wells were fracked. The Canadian company EnCana denies the Amos's well was contaminated by fracking, but did reach a settlement with the couple, who later moved away.


The GVCA, along with the Western Colorado Congress, also called on the commissioners to implore the Colorado Department of Public Health and Environment to study the effects of drilling chemicals on the Battlement Mesa community of more than 5,000 people, where a Denver company wants to drill 200 gas wells from 10 pads in close proximity to homes and town facilities. The two groups want the state to increase drilling-rig setbacks from homes from the current 150 feet to at least 1,000 feet.

David Neslin, director of the Colorado Oil and Gas Conservation Commission (COGCC), has said an EPA mandate that the state start issuing fracking permits would spread his staff too thin and potentially take it away from other key oversight obligations. He believes the process is covered in COGCC's recently revised drilling regulations.

And he also disagrees with the findings of an independent geologist, Dr. Geoffrey Thyne, who has produced several reports for Garfield County detailing elevated levels of methane in groundwater since the most recent gas boom began about a decade ago. Thyne also has concluded fracking may be at least partially responsible for some local cases of well contamination and that more study would be prudent given the big spike in how often the process is now employed.

"We just respectfully disagree with his conclusions that he articulated in his report to the county," Neslin said. "That said, the staff did discuss with the commissioners the possibility of collecting additional longitudinal data on groundwater quality in that area."

Neslin added the COGCC is already doing something similar in La Plata County.

"Now, there are a lot more wells drilled in Garfield County than there are in La Plata County, so I don't think we'd be looking at something where every water well in proximity to a gas well gets sampled," he said. "But we will certainly investigate the possibility of developing a sampling program that would create this kind of more long-term picture of groundwater quality in that area."

Thyne was among a handful of scientists, including an EPA whistleblower, who felt the 2004 EPA study of fracking was flawed. Neslin said he has not read that report but still disagrees with Thyne's conclusions about groundwater quality in Garfield County.

"And even if we disagree with him about whether there has been a change to date, it still might be prudent given the level of drilling that's occurred and is expected to put something like that [testing] in place so we're not having a similar discussion five years from now," Neslin said.

Comment on "Garfield County continues to debate resolution on DeGette's FRAC Act" using the form below