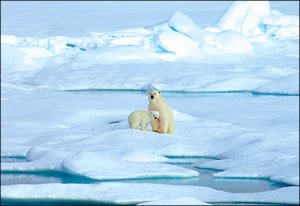 Polar exploration company Quark Expeditions signs on as major sponsor of Vail Valley Foundation
By realvail.com
July 2, 2009 — The Vail Valley Foundation has figuratively gone to the ends of the earth to find their newest Cornerstone Partner as Quark Expeditions, the acknowledged leader in polar adventures since 1991, has signed on to help support the nonprofit organization's overall slate of programming.

Based in Norwalk, Conn., Quark Expeditions features the largest and most diverse fleet of passenger vessels in the Antarctic, including the only helicopter-equipped, polar-class icebreaker outfitted for expeditions in Antarctic waters.

Their nuclear-powered icebreaker crushes its way to the North Pole, while a polar-class icebreaker journeys at latitudes well above the Arctic Circle. Each icebreaker is equipped with helicopters and Zodiacs, enabling passengers to reach remote locations that other vessels in the Arctic cannot.

"We are extremely excited to literally and figuratively have Quark Expeditions on board as a Cornerstone Partner for the Vail Valley Foundation," said Michael Imhof, Vice President of Sales and Marketing for the Foundation. "While there is definitely a certain cache that having such a dynamic company brings to the organization, Quark has also provided us with several unique opportunities for raising additional dollars."

Two of these opportunities involve donating Quark Expeditions trips to the North Pole as live auction items for December's Black Diamond Ball during the Birds of Prey World Cup and March's Hold 'Em For Hope benefit during the American Ski Classic.

In addition, Quark has also donated a third trip to the Foundation as the grand prize for a year-long contest. Entrants can register to win the trip by visiting www.vvf.org and clicking on the Quark banner on specific event pages or by signing up at a Vail Valley Foundation event this coming summer and winter. The contest will run through the conclusion of the 2010 Teva Mountain Games, with the grand prize winner announced June 14, 2010.

"Quark has provided us with some truly once in a lifetime opportunities for our community," said Vail Valley Foundation president Ceil Folz. "Congratulations to Mike and his team for bringing us together and we look forward to a long and exciting partnership with Quark Expeditions."

For additional information on the Vail Valley Foundation, visit www.vvf.org. For more information on Quark Expeditions, check out www.quarkexpeditions.com.



Comment on "Polar exploration company Quark Expeditions signs on as major sponsor of Vail Valley Foundation" using the form below