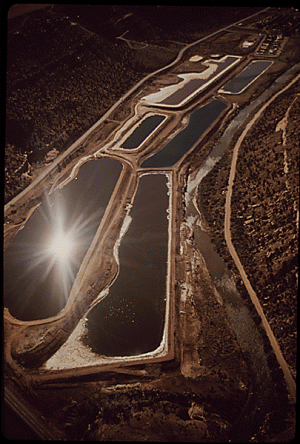 Uranium mining holding ponds near Uravan in Montrose County in 1972.
Courtesy National Archives via Wikimedia
Coming soon to a rest area near you: Yellowcake uranium, a low-risk form of hazmat
By David O. Williams
September 24, 2009 — MONTROSE — Opponents of a proposed uranium mill in southwestern Colorado near the Utah state line may be relieved to hear that state officials in charge of overseeing the transport of incoming ore and outgoing yellowcake don't actually consider such things "nuclear materials."

By state statute, uranium ore and processed yellowcake, used to make fuel rods for nuclear reactors, are considered mere hazardous materials and therefore not limited to transportation along the state's designated nuclear materials routes.

"When you're dealing with yellowcake shipments, they get carried in pretty much a dump truck," said Capt. Allan Turner of the Colorado State Patrol's Hazardous Materials Transport Safety and Response (HMTSR) team.

"We actually had one of those turn over in the city of Colorado Springs, turn over in the median, and people were going to the hospitals with facemasks on, thinking they were contaminated with radiation, when in actual fact it doesn't really present that much of a hazard."

Environmentalists looking to stop, or at least dramatically slow, the Montrose County commissioners' special-use permit approval process for the proposed Piņon Ridge Mill between Bedrock and Naturita in far western Montrose County have fixed on transportation and the potential for spills as a major rallying point.

Toward the end of a lengthy and contentious public hearing earlier this month, Ridgway resident Dana Ivers got up and asked the commissioners if they had any idea what roads Energy Fuels — the Canadian company proposing the mill — would use to bring in uranium ore and ship out yellowcake.

Montrose County Commission Chairman David White said that was a question probably best directed to the Colorado Department of Transportation (CDOT), which has approved an access permit for the mill. "Apparently it was OK" with CDOT said White. White told Ivers he did not know the exact route the trucks carting the materials would travel.

"[Ivers] hit the nail on the head when she said, 'Do you know anything about any of the transportation corridors for either incoming or outgoing traffic?' and they had nothing," said Hilary White, executive director of the Telluride-based environmental group Sheep Mountain Alliance. "They knew nothing about it; they had obviously not looked at; they had not seen the plans. It's a huge concern."

But according Montrose County's own website, the Piņon Ridge Mill plan already conditionally recommended for approval by planning staff would use 24-ton capacity trucks to bring in 21 loads of ore a day — or about 500 tons a day – on Colorado Highway 90. After processing, the mill would ship out about 200 pounds of yellowcake a day in sealed, steel 55-gallon drums.

Two facilities in North America can then turn processed yellowcake into fuel rods for nuclear plants: one in Metropolis, Ill., and the other in Port Hope, Ontario, near Toronto. Facilities in Great Britain and France can also convert yellowcake into fuel rods, meaning the yellowcake would have to first be trucked to ports in Texas. Europe, where nuclear power is much more prevalent, is one of the major potential markets for the Piņon Ridge yellowcake uranium.

"It's a global commodity," said Frank Filas, environmental manager for a U.S. subsidiary of Ontario-based Energy Fuels. "It could go just about anywhere, but it's not going to North Korea and it's not going to Iran."

According to the county, trucks headed to the nearest major interstate, I-70, would travel east on Colorado Highway 90 (not a designated hazardous materials route), north on Colorado Highway 141 (which is a designated hazardous materials route), north on U.S. 50 (a hazmat route) and finally to I-70 (also a hazmat route).

"The Colorado State Patrol controls the designation of hazmat and nuclear routes in Colorado," CDOT spokeswoman Stacey Stegman said. "The current, established, hazmat route includes all of U.S. 50, so hazmat moves on U.S. 50 daily. This is just a new hazmat product that will be moving on that route."

Many in the audience at the most recent hearing were from Grand Junction and Fruita, and were clearly concerned about processed yellowcake moving through their communities.

But the CSP's Turner said even the crash of a truck hauling uranium ore in Colorado Springs presented no extraordinary health risk. The Fremont County Independent Outreach Committee, a community-based watchdog group monitoring the cleanup activities at the Cotter Uranium Mill near Canon City, appears to agree. That mill, which operated steadily from 1958 to 1979, was later declared an EPA Superfund cleanup site after numerous incidences of contamination.

Turner added that even processed yellowcake doesn't present that much of a threat, but both yellowcake and unprocessed ore are not considered nuclear materials. That designation is reserved for spent fuel rods and other radioactive waste such as materials from Rocky Flats, which are shipped along Interstate 25 to the Waste Isolation Pilot (WIP) Plant in Carlsbad, N.M.

"When you talk about uranium itself, the materials that you're dealing with, the ore, that is specifically exempted from our regulatory authority," Turner said. "We have no regulatory authority to route them; they can go wherever they want."

Nuclear materials are restricted to I-25, I-70 east of Denver and I-76 in northeast Colorado. There are no nuclear materials routes in southwest Colorado.

Of even more concern to watchdog groups is sulfuric acid, which is used to leach the uranium ore. Energy Fuels' Filas said three to four trucks of sulfuric acid a day will be coming into the proposed Piņon Ridge facility. CSP's Turner said only tanker trucks carrying 500 gallons or more must stick to designated hazmat routes. Companies hauling hazmat also must be licensed by the Colorado Public Utilities Commission.

All of this industrial activity is alarming to many in southwest Colorado who do not want to see a return to the glory days of the state's uranium mining past. Residents of the resort communities in and around Telluride, Ridgway and Ouray tend to oppose the new mill, while those with mining roots in western Montrose County argue the local economy needs a boost. They resent opposition from "outsiders."

Sheep Mountain's White said the mill is a regional issue and that the commissioners need to take that into consideration or they will be open to litigation.

"I feel, and many other people feel, that [the commissioners] are being totally irresponsible to the public's health, safety and welfare that they are ultimately responsible for — not only Montrose County, but the neighboring counties as well," White said. "And if they choose to put blinders on and look at a very narrow scope in their approval process, then it will be challenged."

But even Democratic U.S. Sen. Mark Udall, a huge proponent of renewable energy such as wind and solar, has taken the controversial position that nuclear power needs to be part of the mix in order to break U.S. dependency on coal, oil and natural gas. Environmentalists, however, say the long-term wastes from nuclear power — and the potential for catastrophic accidents — make it a bad choice in the fight against global warming.

The next Montrose County commissioner hearing is 10 a.m., Sept. 30 at Friendship Hall in the Montrose County Fairgrounds and Event Center.

Comment on "Coming soon to a rest area near you: Yellowcake uranium, a low-risk form of hazmat" using the form below