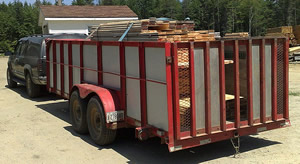 Local companies rally to re-use building materials and benefit Habitat Home Outlet
By realvail.com
May 28, 2009 — As is expected on any job site, local contractor Adolfson & Peterson Construction wound up with excess building materials from the construction of the new Battle Mountain High School in Edwards.

Many of these materials are returned to the vendors for a refund; however, some materials are not returnable due to custom tints or high shipping costs. Such was the case with the pallets of heavy block and stone ready to be removed from this large job site (the materials donated account for less than 1 percent of the total materials needed during construction of the school).

Under normal circumstances this material would be destined for the landfill; however, Adolfson & Peterson pushed to have these materials donated locally to benefit Habitat for Humanity's Home Outlet in Gypsum.

The challenge for the non-profit was how to physically move the large quantity of materials and to determine where to display the 10-12 truckloads of pallets in order to sell them to our community.

Ingenuity and creativity was required. Requests for help were made throughout the valley to many local organizations and "community minded" Gallegos Corporation came up with the solution. Gallegos Corp donated their trucks, fuel and employee efforts to transport 9-plus truckloads of materials to their stone yard on Spring Creek Road in Gypsum.

"We are always looking for ways to be involved in our community and working with Habitat for Humanity presented us with the perfect opportunity," Gallegos COO Gary Woodworth said. "Being able to help Habitat means a deserving family will be able to have a home of their own sooner than later."

The local Robinson Brick Company also helped out by picking up a few loads, as well. And again going above and beyond, Gallegos also agreed to sell the materials on behalf of Habitat for Humanity with all sales going directly to the non-profit.

Re-use particularly makes sense during these tough economic times. Floyd Duran, president of Riverview Cemetery, recently picked up five pallets of mason block.

"We needed to update and support a new wrought-iron fence, so getting the materials at a discount is great for our non-profit too. I'll be picking up more soon," Duran said.

"The Habitat Home Outlet is a great way to promote re-use and keep the benefit on a localized level. Both donors and consumers at the Habitat Home Outlet are contributing to improving our community in so many ways. Overcoming these seemingly difficult challenges for this donation pick-up shows the creativity we all can implement during these challenging economic times," said Tom McKay, Habitat Home Outlet Director.

"Every week we are presented with a great problem to overcome. One week before the stone and mason block came in A&P also donated some T&G floor decking. This time, the team at Superior Auto and Towing stepped up and delivered the floor decking materials to the Home Outlet store. Superior Auto and Towing has been towing donated vehicles for Habitat, so helping them move some lumber was just another generous offer."

For more information about Gallegos Masonry, call (970) 524-4322 or visit the stone yard one mile up on Spring Creek Road across from the main airport entrance in Gypsum.

For more information about the Habitat Home Outlet, call (970) 524-0669 or email tommckay@habitateaglelake.org.


Comment on "Local companies rally to re-use building materials and benefit Habitat Home Outlet" using the form below