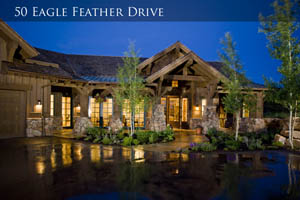 This 6,000-square-foot home at Red Sky Ranch was originally listed at $4,650,000, but could go for as low as $2,975,000 at the Sonnenalp auction July 25.
Photo courtesy Sonnenalp Real Estate
auctionsvail.com
$50 million in Vail Valley real estate to be auctioned in July
By Tom Boyd
July 14, 2009 — Recent real estate figures may show that the Vail Valley market is beginning to move again – monthly transaction numbers were up in May, and overall transactions on the year are beginning to show promise.

Yet with 87 single-family home sales and 98 multi-family unit sales to date in 2009, the industry – which once accounted for as much as 55 percent of the Valley's overall economy – is still in need of a jump start.


Auctions may be the answer. Almost $50 million in real estate will be offered in auctions in late July, and market leaders say the trend – which has a strong track record of selling properties in a struggling market – could re-shape the Vail Valley real estate marketplace.

Leading the charge is Sonnenalp Real Estate, which will host the largest of these auctions July 25. The process, said Sonnenalp's Joni White Taylor, brings activity to the market, gives buyers and sellers special advantages, and may help ease the glut of real estate listings on the market.

"I think that to a certain extent the market glut is a self-fulfilling prophecy," said Sonnenalp Real Estate's Joni White Taylor. "That's partly what this auction is about. Generating excitement and changing people's attitudes. As a community we need to be innovative and positive to spark a comeback."



The homes of the July 25 Sonnenalp auction.
Photos courtesy Sonnenalp Real Estate

The market is in need of a comeback: After a record-breaking boom cycle, during which home values in Eagle County went up more than 70 percent from 1998 to 2004 according to the Northwest Council of Governments, the real estate market seemed to suddenly run out of gas, causing the entire economic engine of the Vail Valley to sputter. Real Estate sales were down 67 percent in January 2009 compared to January 2008 – and while some of these numbers are showing signs of recovery in mid-2009, overall transaction numbers are still ailing.

Industry leaders say auctions generate excitement about the properties involved, and also help motivate buyers to make a decision.

"Sellers who are highly motivated can get their properties sold," Taylor said, "and there's a lot of inventory on the market right now – this is a way of getting activity on a property."

Taylor said there has already been considerable interest in the her July 25 auction, where six homes will be put up for sale. Minimum bids range from $2,975,000 to $3,850,000 – large numbers, yet they represent bargain-basement deals on some of the Valley's most distinguished homes.

The 5-bedroom, 6.5 bath home at 600 Highway 131, for example, has long been a landmark to drivers passing through Wolcott, who can look up to see the home atop the promontory across from Red Sky Ranch. Originally listed at $5,950,000, the minimum bid is now $3,175,000.

Maurice N. Hansen, 74, has been auctioning homes for more than 40 years and teaches real estate agents how to operate an auction. He will be using his stylistic calling skills to conduct Sonnenalp's auction. The process may be more familiar to those who are used to seeing it used to sell farmland, Hansen said, but auctions are likely to be more common in the Valley as sellers look to move property in a difficult market.

"If realtors get smart this is one of the best tools they'll ever have in their back pocket," said Hansen, himself a licensed broker. "I think you're going to see an awful lot more of it."

Minimum bids ensure the seller will get a minimum asking price – which can be enough to get a seller away from the carrying costs of a property. On the other hand, Hansen hopes, the publicity and excitement surrounding the upcoming auctions could also drive prices back to the original listing price.

This, in turn, could affect property values throughout the Valley.

Sonnenalp's July 25 auction will be followed by two more major auctions – Slifer Smith and Frampton will offer two properties worth as much as $5.6 million on July 26.

Two more properties will be auction by Grand Estate Auctions on July 28 at 2 p.m.

Taken together, the Sonnenalp, Slifer Smith and Frampton, and Grand Estate auctions will put as much as $50 million of real estate on the block this July.

To learn more about the upcoming auctions visit www.auctionsvail.com, www.vailrealestateauctions.com, and www.grandestatesauction.com.

Learn more about Maurice Hansen and Pacific Pride Realty at http://auctionoption.org/

3 Comments on "$50 million in Vail Valley real estate to be auctioned in July"