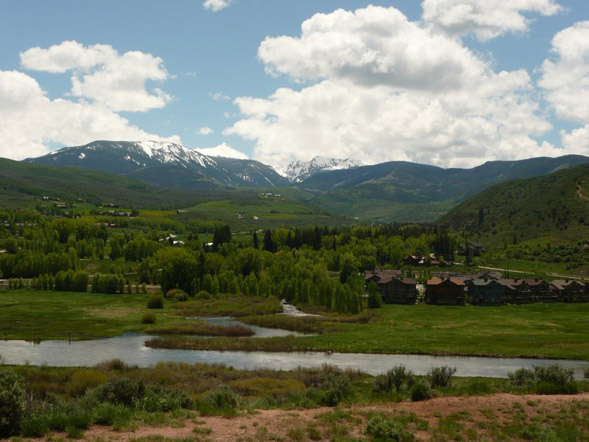 The spectacular views remain the same, but Vail real estate is undergoing a lull which is challenging sellers to properly price their listing.
Photo by Loy Van Vleet
investinvail.com
Vail Valley Real Estate market analysis: price ahead of the curve
Survive in today's market with smart pricing and intelligent techniques
By Sondra Slappey
June 1, 2009 — News Analysis - According to Barron's (11/24/08) the price of luxury homes (greater than $5 million) is down 20 percent since peaking in 2007 and expected to drop another 10-15 percent before bottoming out in 2010. Without further belaboring the dismal economic news and statistics from the last 3 months or so, we are possibly at the apex of the worst recession since the Great Depression.

In 2008 the S&P 500 returned a distressing 37 percent, wiping out trillions of dollars of paper wealth (which seems to equal real wealth in the minds of many). Our resort valley, which has been so immune to the pressures belying the rest of the country or world, has finally succumbed to outside influences. Short sales and foreclosures are rising at an alarming pace, and we have even seen absolute auctions taking place in Beaver Creek and Arrowhead.


There will continue to be downward pressure on market prices through the summer and into the fall of this year. My prediction is based on the fact that the supply of properties for sale tends to go up significantly once the lucrative short-term ski rentals are over. Investors that can afford to carry a vacant rental property may reduce the rental rates in search of summer rentals or allow their property to remain vacant, but many property owners try to sell in the off season and into the summer.

Late Spring is also the time of year that many locals choose to list their properties so as to minimally disrupt their children's school year. Everyone knows the steadfast rules of supply and demand economics - more inventory means downward pressure on prices and more selective buyers demanding a perceived good deal.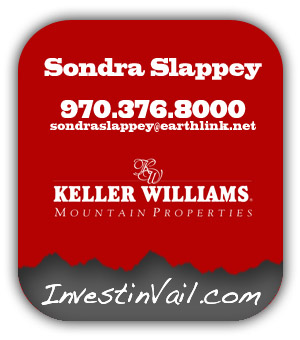 Sondra Slappey is a Keller Williams real estate broker who writes about the Vail Valley real estate market for realvail.com.
Logo by Vail Advertising

Let me be clear on one thing: the properties that are priced correctly and are in good condition are SELLING, some as low as 65 percent of original list price. These sellers are either being proactive and pricing ahead of the market or are finally fed up with the lack of activity and have become serious about selling. Additionally, the number of foreclosures is up, and this is a great way for well-heeled investors to acquire property at below market rates.

The year-end statistics for 2008 were recently released for Eagle County. Gross sales volume was $2.2 billion which is down about 25% from the peak of the market in 2007. There are currently 1,454 residential properties for sale in Eagle County, and all of 2008 saw 1,606 transactions. December recorded the lowest number of transactions since statistical records have been published (1996) yet our market is still evidencing sellers' resistance to lower their prices accordingly to be in line with a declining market. Many sellers are operating "behind the market" reducing their list prices in small increments and chasing the market downward. Motivated, serious sellers are pricing correctly, and many are succeeding.

In recent months, I have come up with a few new negotiating tactics for my buyers including prepaid association dues, sellers contributing to the down payment and other tangible items in addition to contracting properties at extremely discounted prices. My buyer clients have found a responsive market with motivated sellers willing to make deals.

If you are on the sidelines, it pays to know your market and understand what type of property you want. When the perfect opportunity presents itself, you will be ready to act quickly and with resolution.



Comment on "Vail Valley Real Estate market analysis: price ahead of the curve" using the form below