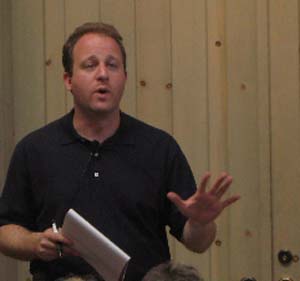 Polis defends health-care reform at packed town hall in Edwards
By David O. Williams
August 21, 2009 — The question put to U.S. Rep. Jared Polis by a man at Wednesday's health-care town hall in Edwards drew a loud cheer from the majority of clearly conservative mountain-dwellers feeling disenfranchised by the ultra-liberal freshman Democrat from Boulder.

The man, also from Boulder, asked Polis how he could be sure he was representing the majority of his constituents by supporting President Obama's health-care reform package, especially when the man was attending his third Polis town hall on the topic and opponents of the plan seemed to outnumber supporters at all three.

"This might be news to some of you here, but this congressional district is a fairly progressive congressional district that you live in," Polis told the overflow crowd in the wealthy Singletree subdivision, drawing cheers from the progressive minority in attendance. "It did vote overwhelmingly for Obama for his mandate of change. It voted for me, of course, and it voted for people who espouse a particular solution."

Polis said he made no secret of his support for a single-payer solution during his campaign last year, and barring that, now supports a government-controlled "public option" insurance plan to compete with private, for-profit insurance companies and hopefully drive down costs in order to decrease the ranks of the nation's 47 million uninsured.

Even tossing out that number drew boos that Polis quickly stifled by pointing out the nation's estimated 12 million to 15 million illegal immigrants will not be eligible for the public-option plan. He said that debate needs to be and will be handled separately when Congress gets around to comprehensive immigration reform.

Speaking to at least a couple of hundred people in the clubhouse of a golf-course community 10 miles west of Vail, where Polis's family owns a ski home, the Democrat was clearly on the most hostile soil in his district. Eagle County has been trending blue in recent election cycles, including supporting Polis in 2008, but in many ways it still has more in common with more conservative Grand Junction than Boulder.

"I understand your frustration," Polis said with apparently genuine empathy. "There are, for instance, in the district of my good friend [Republican] Mike Coffman, who represents the 6th Congressional District of Colorado and who will almost certainly be voting against this bill, many progressives and Democrats who feel they're not heard in that district."

As far as the co-op alternative to the public option is concerned, Polis said it's not currently in any of the three House versions of the bill nor the one Senate version, and he made it clear he feels the only real way to increase competition and bring down premium costs is through the government-run public option. But he quickly rejected any notion he's merely a stooge for Obama or House Speaker Nancy Pelosi.

"I don't do necessarily what Pelosi or Obama want. Just as an example, I've been a strong opponent of the wars in Afghanistan and Iraq. Obama personally called and wanted me to vote for the war supplemental and I did not do what Obama wanted on that," Polis said. "I stood my ground and would again if given the opportunity."

Seeming to again remember his audience, Polis brought up another example of his party-line defiance, one more germane to the health-care debate. He pointed out that he joined 20 of his colleagues in drafting a letter to House leadership opposing a surcharge on the wealthiest Americans, including small businesses, that was originally proposed as a way to fund the health-care bill.

With state taxes included, it could have raised income tax rates as high as 50 percent for some Americans –- a prospect with potentially chilling ramifications for tourism and vacation home destinations like the Vail Valley.

"If we moved to a 46 percent marginal rate, the valley would feel an impact, because when we're talking about people who are earning $300,000, or $400,000, or $500,000 per family, living in New York or California, that extra money that they pay in taxes is the money they spend on their vacation in Vail or their vacation in Glenwood Springs," said Polis, a multi-millionaire Internet entrepreneur.

Most in the crowd seemed to simply object to the notion of a government-run insurance option, discounting Medicaid and Medicare and in some cases pointing to those programs as examples of the kinds of failed bureaucracies that result when the feds get into the health-care game.

Some of the loudest cheers of the night came when a woman asked "if the public-option plan is so good, why don't we put Congress on it?"

"I will support offering the public option to members of Congress," Polis said to a rising tide of jeers. "But it's not fair to force conservative Republican members of Congress who opposed this damn thing to go on the public option. It really isn't. I support it; I'm going to go on it.

"Just like we're not forcing this on Americans. If you trust your insurer more than you trust the government, you are sticking with your insurer. If you trust the government more than your insurer, you're going with the government. That is your choice and we're empowering you to make it. I personally will make the pledge to you that if we pass some kind of public option, I will choose that option and put my money where my mouth is."

That at least drew mostly cheers from the crowd, although one man muttered, "I'd make that pledge, too, if I was a billionaire," apparently bemoaning his own mere millionaire status.

Comment on "Polis defends health-care reform at packed town hall in Edwards" using the form below