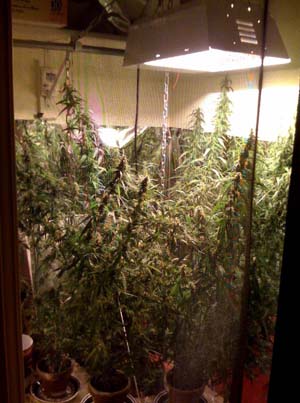 This illegal grow operation busted in Eagle County recently would still be illegal under new county regulations, but legal medical marijuana dispensaries would be limited to certain locations.
Courtesy of the Eagle County Sheriff's Office
Eagle County commissioners to vote Tuesday on temporary marijuana dispensary regulations
By realvail.com
September 4, 2009 — The Eagle County Board of Commissioners will consider a resolution adopting temporary regulations to govern medical marijuana dispensaries in the unincorporated areas of the county during its regular meeting on Tuesday, Sept. 8.

The meeting is scheduled to begin at 10 a.m. at the Eagle County Building, located at 500 Broadway in Eagle. If approved, the temporary regulations would take effect immediately and be in place for 30 days, with a public hearing scheduled for early October.

The resolution limits medical marijuana dispensaries to properties within the county's Commercial Limited, Commercial General or Industrial Zone Districts and prohibits them from locations within 200 feet of any residence, public school, private school, public park or playground, licensed child care facility, church or religious institution, drug or alcohol rehabilitation facility, or any public community center or publicly owned or maintained building open for use to the general public.

It also prohibits dispensaries as Home Occupations or Home Businesses, as well as within any residential or agricultural property.

If Tuesday's resolution is approved, the county's Planning Department will begin the process of bringing permanent land use regulation amendments regarding medical marijuana dispensaries through the review process.

The process typically averages three months and includes ample opportunities for public input during meetings with the Planning and Zoning Commission as well as the board of commissioners.

A copy of the resolution is available for review on the county's Web site at www.eaglecounty.us
.

Comment on "Eagle County commissioners to vote Tuesday on temporary marijuana dispensary regulations" using the form below