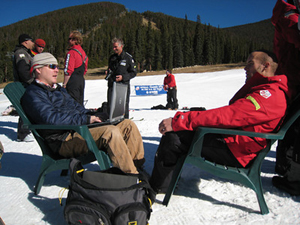 U.S. Ski Team member Jake Zamansky of Aspen, right, talks with RealVail's Tom Boyd during a break in training at Keystone Nov. 8. In his off time, Zamanski races motorcross and managed to bag a record mule deer and record elk with his father during hunting season this year in Colorado.
Photo by Doug Haney, U.S. Ski Team
Ski Team preps for World Cup season at Keystone
Beaver Creek's World Cup event only a few weeks away
By Tom Boyd
November 10, 2007 — There are only a few places in the world right now which could host the U.S. Ski Team as they prepare for the North American leg of the World Cup skiing tour – and Keystone is one of them.


U.S. Ski Team members have been training at Keystone's North Peak since Thursday, Nov. 8, and the report is that conditions are prime, perfect, and couldn't be better for racing gates.


The (race hill) has been incredible," said Ski Team member Ted Jitloff, who will be racing giant slalom at Beaver Creek's Birds of Prey World Cup Dec. 2, part of a four-event, four-day World Cup event Nov. 29 through Dec. 2. Click here for more information on the Charles Schwab Birds of Prey World Cup event.


"We spend most of the year on the road, we're in Europe, and it's been incredible training at Keystone. They've really rolled out the red carpet for us," Jitloff said.


Vail's Lindsey Kildow Vonn and Aspen's Jake Zamansky are among those training at Keystone in preparation for the coming World Cup schedule. Also spotted during training were men's team standouts Marco Sullivan, Steve Nyman, and Erik Schlopy.


Next on tap for the men: A world cup downhill and super-G in Lake Louise, Canada, Nov. 24-25, before coming to Beaver Creek for a four-event weekend.


For the women: giant slalom and slalom in Panorama, British Columbia Nov. 24-25, followed by a downhill and super-G in Lake Louise, Canada Dec. 1-2.


Vonn was focused on her training, and not available for comment Nov. 8, but Aspen's Zamansky said training in his home state is his favorite part of the year.


"I wish our entire season was in Colorado," laughed Zamansky, who recently bagged a record-setting, 7-by-7 elk and also a record-setting mule deer while hunting with his father near Aspen this season. "It's beautiful in Colorado, there's 300 days of sun a year, you can't beat it."


Zamansky will have to qualify for the Beaver Creek World Cup by doing well in the upcoming NorAm race scheduled to take place in Keystone Nov. 26-29.


Comment on "Ski Team preps for World Cup season at Keystone" using the form below