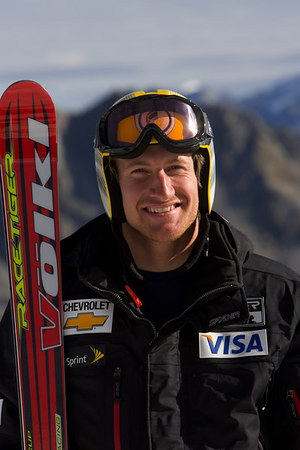 American skier Jimmy Cochran, above, was the top American finisher (14th) in today's World Cup slalom in Reiteralm, Austria.
Photo courtesy U.S. Ski Team
World Cup action continues as racers prep for Beaver Creek
Keystone hosts U.S. Ski Team members for training
By Tom Boyd
November 11, 2007 — The World Cup ski racing season continued with a men's and women's slalom in Reiteralm, Austria Nov. 11, even while members of the U.S. Ski Team trained in Keystone, Colorado.


Snowstorms have been fickle this year, already affecting the World Cup schedule. The men's slalom was originally scheduled for Levi, Finland, but was moved to Austria for lack of snow. Austria, meanwhile, is getting hammered by a large storm system.


American Jimmy Cochran fought through the blizzard to finish 14th in the men's race, top among Americans, while Marc Fini of Switzerland, Kalle Palander of Finland, and Manfred Moelgg of Italy went 1-2-3. Bode Miller, who no longer trains with the U.S. Ski team, placed 26th.


Ted Ligety, also of the U.S., marked a top split time but skied off course in his first run.


"Ted's definitely one of the fastest, if not the fastest slalom skier in the world now," U.S. head coach Phil McNichol said in a press release. "And for Jimmy to come from outside the first 30 starters with a top-5 run is outstanding."


The women's race was taken by Marlies Schild of Austria, followed by Nicole Hosp of Austria and Chiara Costazza of Italy.


American skier Resi Stiegler missed the podium by one tenth of a second to come in fourth. Lauren Ross, also of the U.S., did not finish her first run.


Training continues at Keystone


In the meantime, U.S. Ski Team members have been training at Keystone's North Peak since Thursday, Nov. 8. A current storm system is predicted to bolster snow conditions, but man-made snow is working just fine for the members of the team gathered at Keystone.


"You look to the left and right of (our training course) and it's dirt," said the Team's Ted Jitloff, "but you've got three or four feet of the most solid, compressed snow you can ask for on the course. It's the perfect kind of snow (for racing), and we're really taking advantage of it."


Jitloff is scheduled to race giant slalom at the Beaver Creek's Birds of Prey World Cup Dec. 2, part of a four-event, four-day World Cup event Nov. 29 through Dec. 2. Click here for more information on the Charles Schwab Birds of Prey World Cup event.


Vail's Lindsey Kildow Vonn and Aspen's Jake Zamansky are among those training at Keystone in preparation for the coming World Cup schedule. Also training at Keystone are Marco Sullivan, Steve Nyman, and Erik Schlopy, among others.


Next on tap for the men: A world cup downhill and super-G in Lake Louise, Canada, Nov. 24-25, before coming to Beaver Creek for a four-event weekend.


For the women: giant slalom and slalom in Panorama, British Columbia Nov. 24-25, followed by a downhill and super-G in Lake Louise, Canada Dec. 1-2.


Comment on "World Cup action continues as racers prep for Beaver Creek" using the form below