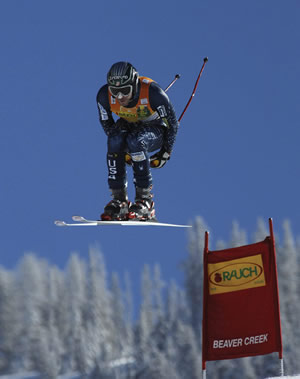 Bode Miller won the Birds of Prey downhill last year at Beaver Creek and should get a chance to defend that title Nov. 30 despite less-than-ideal November weather in the Vail Valley.
By Dan Davis
trekkerphoto.com
Birds of Prey World Cup races still on track
Warm weather hampers snowmaking, but change is on the way
By David O. Williams
November 18, 2007 — Despite Vail's delayed opening and recent unseasonably warm weather hampering snowmaking efforts, Beaver Creek officials do not expect a repeat of 2001 when World Cup ski races on the famed Birds of Prey course were cancelled due to warm weather.


That's good news for American men, who in recent years have made the Birds of Prey their own personal victory party, with at least one win each of the past four seasons. They'll look to continue that trend again Nov. 29-Dec. 2 in four scheduled races (super-combined, downhill, super-G and giant slalom).


"Progress has actually been pretty good given the marginal snowmaking conditions," Beaver Creek spokeswoman Christina Schleicher said Friday. "In addition to nighttime efforts, (crews) were able to blow snow all day (Thursday) and also (Friday) morning on the course."

Birds of Prey schedule
Tuesday, Nov. 27, 11 a.m. – downhill training

Wednesday, Nov. 28, 11 a.m. – downhill training


Thursday, Nov. 29, 11 a.m. – super combined downhill


Thursday, Nov. 29, 2:30 p.m. – super combined slalom


Friday, Nov. 30, 11 a.m. – downhill


Saturday, Dec. 1, 11 a.m. – super-G


Sunday, Dec. 2, 9:45 a.m. – giant slalom, first run


Sunday, Dec. 2, 12:45 p.m. – giant slalom, second run


All races on Birds of Prey course at Beaver Creek; free and open to the public. Access via free shuttle-bus service from Beaver Creek Village or by skis to Red Tail finish area (lift ticket required). Go to www.vvf.org/vvf/info/events.athletic.birdsofprey.aspxfor more information.

Light snow fell at higher elevations Saturday, and the long-range forecast calls for more winter-like weather. A storm Tuesday and Wednesday could bring measurable accumulations and lower temperatures to enhance snowmaking.


"It looks like there's a significant change in weather coming next week," Schleicher added. "The forecasted cold nights should provide better snowmaking conditions and help to build a solid race surface."


And ski racers actually prefer the harder consistency of manmade snow.


"(When they blow snow) you've got 3, 4 feet of the most solid compressed snow you can ask for," U.S. Ski B Team member Tim Jitloff of Reno, Nev., said last week during training at Keystone. "It's the perfect kind of snow, and we're really taking advantage of it."


Jitloff, a 2005 junior world champion in combined, is expected to race the GS at Beaver Creek after finishing 18th in the event at the World Championships in Are, Sweden, earlier this year.


Since 2003, U.S. men have taken full advantage of home snow at Beaver Creek – their only chance to race in front of American fans each season. Since its debut in 1997, the Birds of Prey has gone from the Hermann Maier show (six victories between '97 and '03) to the Bode Miller and Daron Rahlves show (five combined wins between '03 and '06).


With Rahlves now retired and Miller racing independent of the U.S. Ski Team, the focus has shifted to the squad's new and rising stars such at 2006 Olympic gold medalist (combined) Ted Ligety (two third-place finishes at Beaver Creek the last two years) and Steve Nyman (third in the downhill at Beaver Creek last year).


Beaver Creek is set to open for the season Wednesday, Nov. 21, with nearby Vail now opening the same day. In 2001, there was virtually no snow at either resort right up until Thanksgiving. That day it started snowing heavily but it was too late to save the races. With some cooperation from Mother Nature, 2007 won't be a repeat of '01.


"We are very confident that with the big drop in temperatures and indications of a strong shift in the weather pattern that we will open with a very good snow surface next week," Bill Jensen, chief operating officer of Vail Mountain, said in a release. "It appears that the first major winter storm of the season is headed our way next week as well, which is very good news for our Thanksgiving holiday guests who may even experience a powder day."


International Ski Federation (FIS) officials typically like to schedule World Cup early-season, speed-event races at the higher-elevation resorts of North America because they require more snowmaking for good course conditions.


Comment on "Birds of Prey World Cup races still on track" using the form below