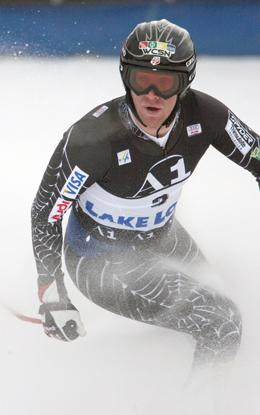 Sullivan headed to Beaver Creek ready to contend for downhill title
American racer grabs second at Lake Louise downhill
By realvail.com
November 25, 2007 — Squaw Valley's Marco Sullivan comes into Beaver Creek on a roll, having jumped onto his first World Cup podium Saturday, Nov. 24, in a frosty downhill at Lake Louise, Alberta, Canada.


Sullivan, who just missed his first podium in Italy last season, finished second to Canadian Jan Hudec Saturday, with fellow Americans Steven Nyman (15th) and Bode Miller (20th) joining him in the top 20.


In the season-opening super-G on Sunday, Sullivan was a disappointing 35th – a race won by Norway's Aksel Lund Svindal, the defending overall World Cup champion. Nyman was the top American, in 13th, Scott Macartney was 17th and Miller finished 25th.


But Sullivan was riding high after his second-place in Saturday's downhill. Before missing the podium by one-hundredth of a second in Val Gardena last season, Sullivan's previous World Cup best was a sixth in a downhill at Beaver Creek in 2002, a race in which fellow Californian and America's best-ever speed-event skier, Daron Rahlves, was third.


Rahlves, of Truckee, Calif., went on to win Beaver Creek's Birds of Prey of downhill twice before retiring before last season. Sullivan tore ligaments his knee in training on the Birds of Prey course the year after his sixth-place finish and has been on the mend ever since, including two knee surgeries leading up to the 2006 Winter Olympics. At the 2002 Games in Salt Lake City, Sullivan was the top American (9th) in the downhill.


Last season Sullivan was 10th in the downhill at Beaver Creek, a race won by Miller with Nyman in third. After Saturday's result in Canada it appears Sullivan is all the way back and will be a contender for the title on the only men's downhill held in the United States (Dec. 1).


Sullivan said he feels a connection to Saturday's Canadian winner, Hudec.


"He won (Friday's) final training, so I felt good about being close," Sullivan said. "I was telling someone he and I have had a lot of knee surgeries between us, so it's even nicer for us to be 1-2 on the podium. And, really, I think there's more for me. This isn't it. I'm heading to Beaver Creek and I'm ready to keep it rolling."


On Friday, International Ski Federation (FIS) officials confirmed the Birds of Prey course would be ready for the only men's World Cup on U.S. snow each season. Despite a lack of snow in Colorado, temperatures have been cold enough for good snowmaking, and John Dakin, spokesman for the Vail Valley Foundation, also confirmed on Thursday that the races were on track. Similarly tough early-season conditions plagued Canadian race organizers over the weekend.


"Snow conditions stayed fantastic all day, but we had a good feeling before the race for how the guys would do," U.S. downhill coach Chris Brigham said of Saturday's race. "When Marco ran it was pretty flat light, but he skied tremendously. He took advantage of the opportunity. Races up here are usually super tight, so you have to be clean."


Sullivan simply would not be denied a podium spot Saturday.


"I told him in the finish this was a payback for last year in Norway when he skied so well in poor conditions and then they stopped and finally restarted, and he didn't ski as well. What goes around comes around. This was a nice payback for Marco," Brigham said.


The snow drought in the Rockies forced organizers, who had made snow to cover the course, to drop the downhill start about 150 meters to get it off the windswept, steep section at the top of the run. "It was about 15 degrees, but it felt colder with the wind blowing," Brigham said.


The men's tour in North America concludes Sunday with a super-G at Lake Louise before racers head to Beaver Creek for the Charles Schwab Birds of Prey races Nov. 29-Dec. 2 with a super combined, downhill, super-G and giant slalom.


In women's World Cup action over the weekend, Denise Karbon of Italy won a giant slalom in Panorama, British Columbia, Canada, Saturday, Nov. 24, with American Olympic gold medalist Julia Mancuso in 10th and teammate Resi Stiegler tied for 12th. In Sunday's slalom won by Austrian Marlies Schild, Stiegler was the top American (9th) and Mancuso finished 16th. The women's tour now moves to Lake Louise for speed events Nov. 27-Dec. 2.


Comment on "Sullivan headed to Beaver Creek ready to contend for downhill title" using the form below