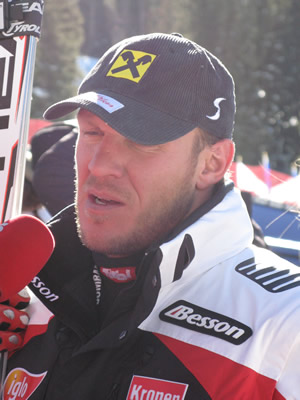 Hermann Maier has won seven races on the Birds of Prey course at Beaver Creek, but none since 2003.
By David O. Williams
Miller or Maier: who owns the Birds of Prey?
Four days of World Cup racing pits Austrian powerhouse against America's best
By David O. Williams
November 28, 2007 — The question of ownership of the Birds of Prey ski-racing course at Beaver Creek was a hotly debated topic at Tuesday's World Cup downhill training.


Is North America's preeminent downhill run Bode Miller's track, or is it the exclusive domain of the most winning active racer on the circuit, four-time overall champion Hermann "The Herminator" Maier of Austria?


"I think it's more Hermann's living room than the U.S. guys. But I will try to step in Hermann's feet," joked Maier's countryman, Michael Walchhofer, the downhill silver medalist from the 2006 Winter Olympics.


Given that a full 13 percent of Maier's 53 wins (second all-time only to Ingemar Stenmark's 86) have come at Beaver Creek, Walchhofer may have a point. Maier has won seven races at Beaver Creek since the Birds of Prey's inception in 1997: four downhills, including the 1999 world championship, two super-Gs and a giant slalom.


Miller, 10th on the all-time victory list with 25, is just two wins from tying Phil Mahre for the U.S. mark of 27 and surpassing Austrian legend Franz Klammer's 26 wins. He's won each of the last three seasons at Beaver Creek, including last year's downhill.
Bird of Prey World Cup schedule
Thursday, Nov. 29, 11 a.m. – super combined downhill

Thursday, Nov. 29, 2:30 p.m. – super combined slalom


Friday, Nov. 30, 11 a.m. – downhill


Saturday, Dec. 1, 11 a.m. – super-G


Sunday, Dec. 2, 9:45 a.m. – giant slalom, first run


Sunday, Dec. 2, 12:45 p.m. – giant slalom, second run


All races on Birds of Prey course at Beaver Creek are free and open to the public. Access via free shuttle-bus service from Beaver Creek Village to Red Tail finish area. Go to www.bcworldcup.com or call 970-949-1999 for more information.

"This is really Bode's track," said Canadian Erik Guay, fresh off a fifth-place finish in the super-G in Lake Louise, Canada, last weekend. "He's done so well in the past here. (The Americans) have trained here, they know the track, they're skiing phenomenal this year, so we'll have to fight with the Americans a little bit."


Technically, the U.S. Forest Service owns the Birds of Prey course, and Vail Resorts leases it, but the question of athletic ownership will likely be decided Friday when the men's downhill kicks off at 11 a.m.


The four days of racing actually gets underway Thursday, Nov. 29, with the super-combined event, which tallies times from one run of downhill (11 a.m.) and one run of slalom (2:30 p.m.). But Maier doesn't ski slalom and won't compete, and Miller, a former tech (GS and slalom) specialist with 14 tech wins to his credit, has been very shaky in slalom in recent years.


Both Maier and Miller, who is racing independent of the U.S. Ski Team this season, are winless thus far this season, and Maier has not won on the Birds of Prey course since 2003.


"The last two or three years I had some problems here in the downhill and before it was perfect, so hopefully I can make the same results as before," Maier said. "It's not easy. You have to forget the last three years and concentrate for a new race now."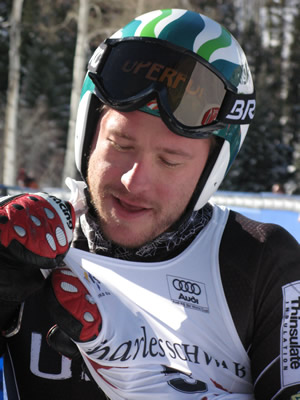 Bode Miller has won on the Birds of Prey course each of the last three seasons, including last year's downhill.

Maier has more than Miller to worry about in the downhill this season. Marco Sullivan of Squaw Valley, Calif., is coming off his first podium (a second in downhill last weekend at Lake Louise) and was 10th in the downhill at Beaver Creek last season – a race won by Miller with fellow Americans Steve Nyman in third and Scott Macartney in 8th.


"It's a totally different perspective than I've had coming here before," said Sullivan, who suffered a severe knee injury during training at Beaver Creek four years ago. "I really want to back up the result I had last week with a podium here, and I've always skied fast here."


In today's combined, last season's overall World Cup winner, Aksel Lund Svindal of Norway, won't be able to defend his win in the event here last season. He was taken to a local hospital Tuesday after crashing during training and breaking his nose, losing several teeth and cutting his leg with the edge of his ski.


American Ted Ligety of Park City, Utah, the 2006 Olympic gold medalist in combined, has finished third in the slalom and GS here the past two seasons.


"It definitely would be nice to get a W," Ligety said. "(Sunday's) GS is kind of my main focus right now, and the super-combined after that, followed by the super-G."


Comment on "Miller or Maier: who owns the Birds of Prey?" using the form below