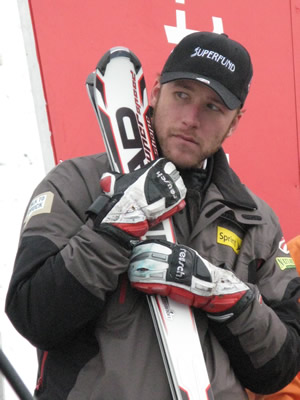 Bode Miller very nearly climbed on his first podium of the season Thursday in a super combined claimed by Swiss skier Daniel Albrecht, who Miller has trained with occassionally since leaving the U.S. Ski Team.
By David O. Williams
Miller, former teammates take his independence in stride
Mahre says departure from U.S. squad may establish trend
By David O. Williams
November 29, 2007 — The theme song of the U.S. Ski Team might be "I Ain't Got No Bode" this World Cup season, but don't expect any of the American athletes or coaches to sing the blues version.


Ski racing's rebel without a country declared his independence in the offseason, mainly to avoid rules implemented last season largely to curtail his carousing ways, but Miller, 30, won't exactly be missed on the U.S. squad.


"There isn't any question Bode is a great ski racer, and he has the opportunity in the near future to become the greatest American ski racers of all time," said U.S. Ski Team president and CEO Bill Marolt, referring to Miller's pursuit of the all-time American victories record held by Phil Mahre.


"We know (Miller's) going to have ongoing success and we're going to cheer his success, and at the same time it's important for us to realize we really have a strong team and we've had great early-season success and our focus is on giving the guys the support they need."


Bird of Prey World Cup schedule
Friday, Nov. 30, 11 a.m. – downhill

Saturday, Dec. 1, 11 a.m. – super-G


Sunday, Dec. 2, 9:45 a.m. – giant slalom, first run


Sunday, Dec. 2, 12:45 p.m. – giant slalom, second run


All races on Birds of Prey course at Beaver Creek are free and open to the public. Access via free shuttle-bus service from Beaver Creek Village to Red Tail finish area. Go to www.bcworldcup.com or call 970-949-1999 for more information.

A rule last season mandating athletes stay in the team hotel was the final straw for Miller, who travels in his own RV and in the past has stirred controversy with his comments about drinking and skiing, doping in sports and the unimportance of Olympic medals.


The 2005 overall World Cup champion took a beating in the press for failing to medal at the 2006 Winter Olympics in Torino, Italy, despite going in as a heavy favorite. Although he owns two silver medals from the 2002 Winter Olympics in Salt Lake City, Miller made more headlines in the offseason when he said he was unlikely to go for gold in Vancouver in 2010.


As for the American record of 27 World Cup wins held by Mahre, Miller said last season it was something he would achieve in pursuit of the single-season record of 13 wins held by Swedish legend Ingemar Stenmark, the all-time leader with a staggering 86 wins.


Miller is currently 10th all-time with 25 wins after tallying "only" four victories last season. He needs just two wins this season to leapfrog Austria's Franz Klammer in 9th and tie Mahre for 8th all-time.


Miller hasn't won a race yet this season, battling a back injury to finish fifth in the opening giant slalom in Soelden, Austria, in October and just missing the podium with a fourth-place finish Thursday in the Birds of Prey super combined event. In three other World Cup races this season he's finished no higher than 20th.


If Miller defends his Beaver Creek downhill title Friday, Nov. 30, and wins either the super-G or giant slalom this weekend, don't expect Mahre to send Miller the type of congratulatory video Hank Aaron sent Barry Bonds when he surpassed the all-time homerun record last summer.


"I very much doubt I'll reach out to Bode," Mahre said. "It really isn't a record that warrants that kind of attention. It might be different if my name was Stenmark and it was that record being broken."
Mahre, a three-time overall World Cup champion who along with his twin brother Steve often butted heads with ski team coaches and management in the 1980s, said Miller's split with the team may be a growing trend in coming years.


"I didn't always agree with policies, but not to the point of departing," Mahre said. "Going it on your own is probably not something that's too far off in the future with other athletes. You see it in other sports such as track and field and gymnastics.


"Is it a positive? Probably for some and not for others. Someday you might have manufacturer teams competing against each other, ala cycling with athletes from different nations on these teams."


Miller has been training with the Swiss, Italians, Norwegians and Swedes so far, and said after Thursday's race that things have not changed too much for him this season.


"It hasn't been anything different really," Miller said. "Things were never easy on my team; they made it difficult for me when I was on the team and they've continued to do that when I'm off the team, but it hasn't been much of a change."


Current members of the U.S. squad say the retirement before last season of Daron Rahlves and the departure of Miller before this season has unified them and brought younger athletes to the forefront.


"It's made us stronger because we're all stepping up into the leadership role rather than having one guy who is the clear leader," said Marco Sullivan, who reached his first podium last weekend in a downhill at Lake Louise, Canada, finishing second.


"The only thing really Bode is getting out of (being on his own) is he can sit in his RV and he doesn't have a few rules over his head, but for most of us it wouldn't make a lot of sense because there's a system with the U.S. Ski team that's been established over the past 30 years and it works well and most of us don't really clash with that system."


Sullivan also noted Miller's financial success allows him the freedom to go it on his own, a luxury most ski team athletes don't enjoy. Retired racer Kristina Koznick went out on her own on the women's side after a coaching dispute, but required more sponsors and fundraisers to make it happen, Sullivan added.


Miller now trains on his own and travels on his own, although his results count toward U.S. totals in the hunt for the Nations Cup.


"I think we missed him in training opportunities because he's great to have to really gauge how you're doing in relation," said U.S. racer Scott Macartney. "In race times he's doing his own thing, so around this time of year when the races really start, even last year, we didn't see a ton of him. In terms of athlete relationships, we still see each other and hang out so it's really not that big a deal for us."


Comment on "Miller, former teammates take his independence in stride" using the form below