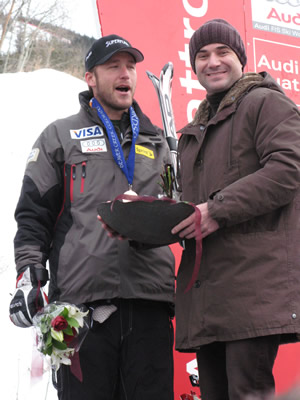 Bode Miller, a 25-time World Cup winner, and Andre Agassi, an eight-time Grand Slam winner, mug for the cameras at Beaver Creek Thursday, Nov. 29.
By David O. Williams
Miller fourth in Birds of Prey combined event
Albrecht wins first regular-season World Cup event
By David O. Williams
November 29, 2007 — These days Bode Miller, who hasn't won a World Cup slalom since 2005, is just happy when he finishes one.


Thursday on Beaver Creek's Birds of Prey course Miller not only finished the slalom portion of the super combined event, he almost got on the podium (top 3).


Miller had the 18th fastest time in the slalom after finishing sixth in the downhill earlier in the day and his combined time of 2 minutes, 1.28 seconds was good enough for fourth, his best result this season. Daniel Albrecht of Switzerland won with a time of 2:00.26.


Miller was in third when Frenchman Jean-Baptiste Grange came out of nowhere in the slalom, making up a 2.3 second deficit after the downhill to finish second at 2:00.93. Ondrej Bank of the Czech Republic rounded out the podium with a time of 2:01.23.

Bird of Prey World Cup schedule
Friday, Nov. 30, 11 a.m. – downhill

Saturday, Dec. 1, 11 a.m. – super-G


Sunday, Dec. 2, 9:45 a.m. – giant slalom, first run


Sunday, Dec. 2, 12:45 p.m. – giant slalom, second run


All races on Birds of Prey course at Beaver Creek are free and open to the public. Access via free shuttle-bus service from Beaver Creek Village to Red Tail finish area. Go to www.bcworldcup.com or call 970-949-1999 for more information.


"It is unusual," Miller said of Grange storming the podium from so far out. "He skied above and beyond the norm and I didn't ski very well (in slalom), so I was kind of surprised to be on the podium in the first place."


Miller, who will try to defend his Beaver Creek downhill title today at 11 a.m., wasn't too happy with his speed run either.


"I made a lot of mistakes in the downhill," he said. "I was on my side twice, once on my right side, once on my left side and was way off the line a bunch of times. And the slalom was just straight bad."


Asked what he has to do to win his third career downhill at Beaver Creek, Miller said: "Not fall down mostly. If I don't fall down, I should be OK."


Albrecht, who along with other members of the Swiss team has been training with Miller since the American split from the U.S. Ski Team this offseason, claimed his first regular-season World Cup victory, following up his world championship in the event in Sweden earlier this year.

"It was a little bit special that I was so fast in the downhill and I was a little nervous for the slalom because you never know what can happen in the slalom," Albrecht said of his race Thursday, "but I said to myself, 'just take some risk and go for it and ski well.'"


Miller was joined by two other Americans in the top 10 – 2006 Olympic combined gold medalist Ted Ligety (8th) and T.J. Lanning (10th), both of Park City, Utah.


"I knew I had a chance to move up a lot," Ligety said after finishing 39th in the downhill, "and it's always good to beat my childhood nemesis."


American Steve Nyman was second after the downhill but crashed out in the slalom.


Comment on "Miller fourth in Birds of Prey combined event" using the form below