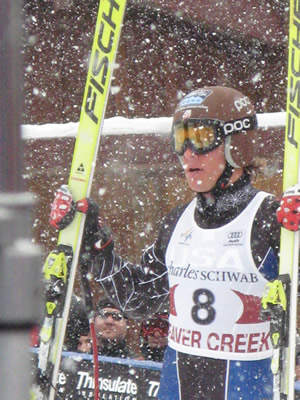 Utah's Steve Nyman checks out his second-place time after finishing in a snowstorm Friday in the Birds of Prey downhill.
By David O. Williams
Austrian Walchhofer wins Birds of Prey downhill
Americans Nyman, Miller finish second and sixth
By David O. Williams
November 30, 2007 — Austrian Michael Walchhofer broke a couple of streaks at Beaver Creek Friday, narrowly winning a World Cup downhill to snap a four-year winning streak by Americans on the Birds of Prey course and end a surprising victory drought for Austrians so far this season.


Walchhofer edged American Steve Nyman by five-hundredths of a second on a snowy day on North America's most dangerous downhill course, putting ski racing's most dominant nation in the victory column for the first time this season with a time of 1 minute, 13.74 seconds.


"It's not just another downhill," said Walchhofer, an 11-time World Cup winner and the silver medalist in the downhill at the 2006 Winter Olympics. "It's one of the most difficult downhills, so it's a great victory and an important victory, especially with the Austrian press waiting for a victory (this season)."


Nyman, of Provo, Utah, who was third in the downhill at Beaver Creek last year - his first ever podium - skied eighth Friday in a fairly heavy snowstorm. His second-place time of 1:13.79 stood up until Walchhofer nailed his run eight racers later in better light with the snow diminishing slightly.


Didier Cuche of Switzerland was third with a time of 1:13.84, and the defending Birds of Prey downhill champion, independent American Bode Miller, went down on one hip near the top of the course in the Talon Turn but recovered to finish sixth (1:14.10).


Andrew Weibrecht, a 21-year-old from Lake Placid, N.Y., started 53rd and nailed the downhill run of his life, jumping up to 10th and giving the U.S. three in the top 10. On Thursday, Weibrecht earned his first-ever World Cup points by finishing 14th in the super combined event.


Still, the U.S. squad, despite three second-place finishes in the six World Cup races so far this season, remains winless. Walchhofer said the increasing depth of talent around the world is making it tougher to claim victories, noting races have been won thus far this season by Norwegians, Swiss and Canadians.


"The races are very international now and it's not so easy to beat them, and in the years before most of the time I skied against other Austrians and now I ski against everybody," Walchhofer said. His countryman, Hermann Maier, who has won seven times at Beaver Creek, was leading midway through his run but faded to 11th with a time of 1:14.30.


Nyman, 25, who got his first and only World Cup win last season, might have had his second if he hadn't gone for a brief ride on one ski in the Abyss section of the course.


"I'm a little wild by style, I guess, but it's never the game plan and we're always hanging on," Nyman said of the high-speed bobble. "I just got juiced. It was a good compression, and I just juiced out of it and I was floating in the air with my feet in front of me, but I did that every training run."


With a storm system moving in in the morning, race officials moved the downhill start down 85 meters to the bad-weather start, which was the same for the combined event Thursday and trims about 27 seconds off the running time.


"You're always not happy because it's not the full race," Nyman said of the shortened course, "but I did well on it (Thursday in the downhill portion of the combined, finishing second), so either way I'm comfortable."


Nyman will try again to get the Americans in the win column this season when he races in today's super-G event beginning at 11 a.m.


Comment on "Austrian Walchhofer wins Birds of Prey downhill" using the form below