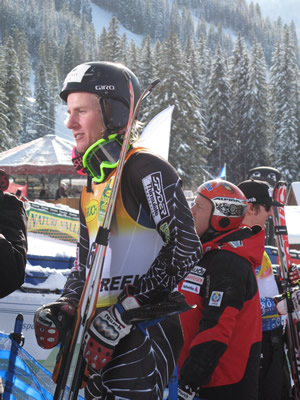 Olympic gold medalist Ted Ligety, of Park City, Utah, waits to see if his time will hold up for a podium spot in the Birds of Prey giant slalom Sunday. Ligety wound up tied for fourth in a race won by Switzerland's Daniel Albrecht.
By David O. Williams
Ligety ties for fourth in GS won by Albrecht
Mistake by Miller costs him second run
By David O. Williams
December 2, 2007 — Switzerland's Daniel Albrecht came into this weekend's World Cup ski-racing action with no regular-season wins to his credit. He now has a realistic shot at a third career win in the Dec. 3 super-G after winning the giant slalom here Sunday.


American independent Bode Miller came into the weekend with no wins yet this season, stuck on 25 career victories and just two back of Phil Mahre's all-time U.S. record of 27. Miller, who didn't qualify for a second GS run, now heads into the super-G – postponed to Monday, Dec. 3, due to heavy snow Saturday – hoping to salvage just one win on a Birds of Prey course he has owned the past three seasons.


Albrecht, who won the super combined event here Thursday, attacked a straight and speedy Birds of Prey giant slalom course Sunday, topping Austria's Mario Matt by a mere five-hundredths of a second.


Albrecht posted the 11th fastest first run, then started 20th in the second run and turned in a combined time of 2 minutes, 24.30 seconds that held up as racer after racer charged the upper part of the course only to dump speed on the bottom.


"I had a good feeling about it, but in the first run I was skiing too easy, then in the second run I opened it up and told myself, 'let's go,' and I was pretty fast on the bottom," said Albrecht. "I love this place here. I love the slopes and the snow is so great for me here. I'm always skiing fast here and I don't know why. It's just a great place for me here."


Albrecht's countryman, Didier Cuche, fastest in the first run, dropped to third overall after the second run with a combined time of 2:24.41, just six-hundredths of a second behind Matt's second-place time of 2:24.35.


Olympic combined gold medalist Ted Ligety of Park City, Utah, who has two third-place finishes at Beaver Creek the past two seasons (in GS and slalom), looked poised to repeat that feat Friday.


Starting 26th in the second run after turning in the sixth fastest first-run time, Ligety couldn't make up enough time on the less-technical lower third of the course, posting a two-run time of 2:24.45, which tied him for third with last year's Birds of Prey GS winner, Massimiliano Blardone of Italy. Racing from the 30 spot in the second run Sunday, Cuche, who also finished third in the downhill here Friday, knocked Ligety and Blardone off the podium and into a tie for fourth.


"It's just a straight course, and it's tough for me to make up a lot of speed on those kind of things," Ligety said. "Daniel must have skied it great, because Didier lost nine-tenths down there, (Austria's Benjamin) Raich lost so much time. It's tough for sure. These straight courses you have to let it run and nail everything because if you just switch it sideways at all you lose so much speed."


Miller, who won a giant slalom here in 2005 with teammates Daron Rahlves in second and Erik Schlopy just missing the podium in fourth, skied off course on his first run after flying into the Golden Eagle section of the course, where sunlight turned to shadow. Miller hit a gate, missed the next gate, hiked back up and finished with a time that put him 10 seconds out of the running.


Schlopy, who's been battling injuries lately, finished 21st on Sunday with no other Americans qualifying for the second run.


"My feelings on the day are very positive," Schlopy said. "I've been struggling with my health and physically for the last year and I turned the corner just a couple weeks ago and it's just a matter of getting healthy again and feeling it, but the skiing's there, it's just a matter of being able to finish the races strong."


Racing action continues today with a super-G at 10 a.m. on the Birds of Prey course. Miller has never won a super-G race here, although he was second in 2004.


Comment on "Ligety ties for fourth in GS won by Albrecht" using the form below