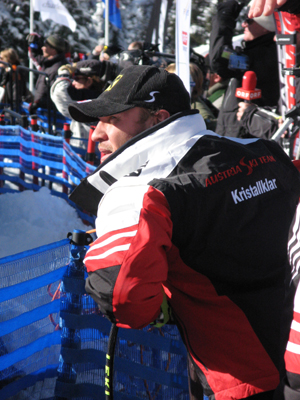 Hermann Maier of Austria, above, watches five of his countrymen finish in the top-5 during the Beaver Creek Birds of Prey World Cup super-G today. Maier finished 19, while teammate Hannes Reichelt won in a time of 1:19.87.
By David O. Williams
Austrians dominate Birds of Prey super-G
Miller hits a rock, loses edge, but still finishes 30th
By David O. Williams
December 3, 2007 — BEAVER CREEK – Austria, the greatest ski-racing nation on the planet, reestablished its dominance on the World Cup circuit Monday with Hannes Reichelt winning a super-G on the Birds of Prey course and two of his countrymen joining him on the podium in second and third.


Reichelt, who won the super-G at Beaver Creek two years ago for his only other World Cup victory, started first Monday and laid down a winning time of 1 minute, 19.87 seconds on a tight, technical course that saw 13 of 59 racers fail to finish.


Coming into Beaver Creek with no wins this season, Austrians won Friday's downhill and claimed five of the top six spots in the super-G Monday - including Mario Scheiber in second (1:19.89) and Christoph Gruber in third (1:20.08). The U.S. men failed to win an event here for the first time since 2002 and remain winless on the season.


"I hope this starts a series for the next super-Gs and GS, because the winter started off really good," Reichelt said. "(Sunday) I was seventh place in GS, and that gives me a lot of self-confidence, and that was the reason why (Monday) I was so fast."


The top American finisher was tech (slalom and GS) specialist Ted Ligety, who admits speed events such as super-G and downhill are outside of his comfort zone, but still charged the course to claim his first World Cup super-G points with a 23rd-place finish.


American independent Bode Miller, a winner here each of the last three seasons, was winless thus far this year heading into the super-G, and his bad luck continued in the final race here this year. Miller said he hit a rock near the first gate, folding over a huge section of the inside edge of his right ski and preventing him from effectively turning the rest of the way down.


He still posted a time and actually earned points with a 30th-place finish, but Miller is always going for the win. He managed a fourth and a sixth at Beaver Creek this year, and afterwards was philosophical about those results.


"To myself anyway I showed that I have the speed to win any races," Miller said. "In GS, super-G and downhill I have a significant amount more speed than the other guys are capable of right now, so those are good things."


Only one other American finished Monday's race (Scott Macartney in 44th) and three others skied off the demanding course and failed to finish, but Ligety said there's no reason to panic because the U.S. didn't get a win on its home hill this season.


"It's definitely tough, but we had a lot of good results across the board, a lot of guys having breakthrough performances," Ligety said. "We can't be too mad at ourselves about that. With (Andrew) Weibrecht's performance (10th in the downhill) and then Nyman getting second (in downhill), it was still a good week."


As a preview of women's World Cup ski racing action on tap beginning Friday in Aspen, American racer Resi Stiegler, a 2006 Olympian from Jackson Hole, Wyo., was a forerunner in Monday's men's race.

Comment on "Austrians dominate Birds of Prey super-G" using the form below