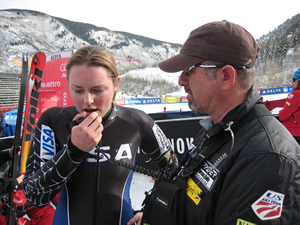 Vail's Lindsey Vonn, formerly Kildow, radios up to one of her teammates with a course report during downhill training Wednesday at Aspen. Vonn had the fastest time in training, and races for real on Friday.
By Doug Haney/U.S. Ski Team
www.usskiteam.com
By any other name, Vonn is still a champion
Vail ski racing product looks to claim Aspen downhill
By David O. Williams
December 6, 2007 — Editor's note: Aspen's World Cup downhill has been postponed till Saturday at 10:45 a.m., and the super-G originally scheduled for Saturday has been cancelled. Sunday's slalom is still scheduled for a 10 a.m. first run and a 1 p.m. second run.


Friday marks the official kickoff of the North American rebranding tour for Lindsey Vonn.


Sure, the tour really got under way Saturday in Lake Louise, Canada, where Vonn, formerly Lindsey Kildow, won a World Cup downhill for the fourth straight year, accounting for half of her eight Cup wins overall.


But Friday's downhill is in Aspen, just an hour and half from her adopted hometown of Vail, and the 23-year-old, who had the fastest time in Wednesday' downhill training on Ruthie's Run, clearly has something to prove under her new married name.


"It's kind of a fresh start for me," Vonn said of this season, referring to her marriage Sept. 29 to former U.S. Ski Team member Thomas Vonn. "This is my first speed race as Lindsey Vonn, and (Saturday) was a big win, a nice new win for Lindsey Vonn."


Lake Louise is a very different course from Aspen, which is much more demanding and technical, but Vonn has a history of success in speed events at Aspen, winning a Nor-Am super-G there in 2000 and finishing seventh in a World Cup super-G there in 2005.


"It's a really technical hill, very challenging terrain and very steep with a lot of difficult aspects," Vonn said. "I don't know if it really suits my style, but I'm still confident I'll do well."


Wednesday's training would seem to back up that sentiment. Vonn, the third winningest American women's ski racer of all-time behind only Tamara McKinney and Picabo Street, wants to show American ski racing fans what she can do and break the U.S. winless streak at Aspen since World Cup racing resumed there in 2000.


"I'm really, really looking forward to Aspen," said Vonn, noting there has not been a women's downhill there since 1988. "This is my first opportunity to race my discipline, which is downhill, not only in my home country but in my home state."


With a win in Aspen, Vonn – who no matter her last name will forever be known as the woman who crashed in training at the 2006 Winter Olympics and recovered to finish eighth in the downhill and seventh in the super-G – would tie her mentor, Street, for the second most World Cup wins by an American woman at nine and trail only McKinney's 18.


Vonn, who as fresh-faced 17-year-old turned in the top U.S. women's result at the 2002 Olympics in Salt Lake City (6th in the combined), moved to Vail with her family from her native Minnesota in 1997 to get serious about alpine racing. She came up through the ranks of Ski Club Vail, landed on the U.S. Ski Team and made her World Cup debut in 2000.


Despite all her success, a big-event (Olympic or world championship) medal eluded her until she broke through with two silvers earlier this year at the Worlds in Are, Sweden. She partially tore her ACL in a training run at that event and was sidelined the rest of the season. But she battled in rehab through the offseason, and is obvioulsy all the way back.


Following Saturday's win at Lake Louise (by nearly a full second), U.S. Ski Team alpine director Jesse Hunt was clearly impressed: "This is Lindsey's fourth straight win up there in Lake Louise. She's dominating up there and has dominated in the past. It's pretty spectacular to see what she can do; she just crushed it."


Even Vonn's own mother, Linda Krohn, who jumped onto the teleconference call at the end to congratulate her daughter, seems a big in awe of Vonn's talent.


"I see her in People Magazine and I can't even believe she's my daughter; it is totally surreal," Krohn said, "but I have four other kids, so I can't dwell on Lindsey, although I would like to travel with her."


Lindsey and Thomas Vonn, when they're not traveling the World Cup circuit, live in a new home they built in Park City, Utah. Krohn said marriage agrees with her daughter.


"I think she seems more confident, she seems more serene, and that everything is OK, and for a mother that's a wonderful thing."


Aspen Winternational World Cup Schedule


Friday, Dec. 7, 11 a.m. – women's downhill, Ruthie's Run


Saturday, Dec. 8, 11 a.m. – women's super-G, Ruthie's Run


Sunday, Dec. 9, 10 a.m. – women's slalom first run, Strawpile


Sunday, Dec. 9, 1 p.m. – women's slalom second run, Strawpile


Comment on "By any other name, Vonn is still a champion" using the form below