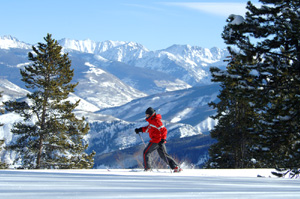 Beaver Creek Nordic guide Nate Goldberg enjoys the view from a route along the Beaver Creek Nordic park trails.

Nordic – the oldest new sport in the world
To some, a preferred way to ski Vail
By Tom Boyd
March 28, 2007 — There are many myths and rumors about the origins of skiing, but the earliest evidence of mankind on skis is found in a set of recently discovered eastern Russian rock carvings. The carvings appear to depict Nordic cross-country skiers chasing wild game during the prehistoric era.

In prehistoric days, skiing may have given winter hunters the edge over their quarry. Other times it may have been a simple way to get from point A to point B in the snowy northlands. Yet it's easy to imagine that, sliding through ancient landscapes on a frosty morning, more than one traveler must have reveled in the enjoyment of cross-country skiing, on his or her way through the wilderness.

In this day and age, skiing is only rarely used for transportation, but Nordic skiing still retains the element of travel, the trappings of a trek, and something satisfying still seeps into the soul of any skier who slides through winter landscapes on our own frosty, modern mornings.

In the Rocky Mountains, Nordic has long played second fiddle to its more gregarious cousin – alpine skiing. But Nordic skiing is almost always the precursor to downhill skiing. By one incarnation of Newton's laws, what skis down must first ski up – and Nordic skiing was the way most of Vail's early skiers went up before they went down.

For example, when Vail founder Earl Eaton first gazed upon the Back Bowls, he did so while standing on a pair of Nordic skis. Even before Eaton's adventures in the late 1950s, skiers near Trapper's cabin at Beaver Creek shooshed up and down a logging track there, also on Nordic skis. Later on, Vail original Ben Krueger designed and built the Vail Golf Course with the knowledge that, in wintertime, it would become the Vail Nordic Center.

Where to go Nordic skiing in the Vail Valley

1. The Vail Nordic Center:
Located on the Vail Golf Course in East Vail, about 2 miles east of the Vail Village roundabout, the Vail Nordic Center offers spectacular views of the Gore Range and the Vail Valley. Lessons and tours are available daily, starting at $64. See Vailrec.com or call (970) 479-2260 for more information.


2. Tours and lessons on Vail Mountain will show Nordic skiers a true wilderness experience as they quietly slide into the backcountry around Blue Ski Basin. Lead by an experienced guide, skiers and snowshoers can learn about the history and wildlife in the area. See www.vail.snow.com and click on "Nordic" for more.



3. Beaver Creek Nordic Center:
More than 32 groomed and rustic trails meander through pine, meadows, and aspen trees near Strawberry Park in Beaver Creek. Accessible by the Strawberry Park lift, the Beaver Creek Nordic Center is high-elevation, allowing for spectacular views of the surrounding snow-capped peaks. Lessons and nature tours are available starting at $67 – see www.beavercreek.snow.com and click on "Nordic" or call (970) 845-5313 for more information.



4. Cordillera Nordic Park:
Cordillera's Nordic skiing park is part of the Cordillera Mountain Lodge experience, and generally requires that the users be a guest at the lodge. Packages start at $209 a night. Located south of Edwards, the Cordillera tracks cover 11 miles of fully-groomed trails which offer beautiful vistas of the Sawatch Mountain Range and the Vail Valley below.



5. Get wild!
Nordic skiing was originally invented as a method of travel, and intrepid skiers will find that skis can be a great way to get around on Vail's many mountain trails in the wintertime. Experienced skiers will find the North Trail to be a fun workout and challenge, and others might try the steep – but beautiful – trek up Davos Trail in northern West Vail. These exploits are for people who know what they're up to! Be sure to ask a local for advice and directions, and make sure to inform someone where you are headed before trekking out on your own.

Today, the Vail Nordic Center is still one of the most popular places to Nordic ski in the valley. Groomed tracks allow visitors to ski in traditional style (one foot in front of the other) or skate ski (in a hockey-skate style), beneath the stoic countenance of the Gore Range.
Beaver Creek and Cordillera have also built Nordic centers, and more and more people of all ages are discovering that a Vail/Beaver Creek vacation is made more interesting, and more diverse, by a day or two on the Nordic track.
This type of skiing is suitable for any kind of person. It can be like a walk in the park, a jog through the woods, or a heavy-duty workout, depending upon what the skier is looking for. To get a better sense of what's out there, what to do, and where to go, we profile four locals who love to ski – Nordic style.

Kevin Hochtl

Like many of Vail's born-and-bred locals, Hochtl has European roots. As a youth, Hochtl's father, Karl, gave him a healthy respect for many of Europe's most respected sports.

"There's no doubt that dad gave us an appreciation for Nordic skiing, soccer, biking – a lot of those sports that are huge in Europe but not so big here in the States," said Hochtl. "While the other kids were playing football I was out on the soccer field. When they were playing hockey I was out on the Nordic track."


Afternoons at the Vail Nordic Center taught Hochtl about discipline and endurance, he said. As an aspiring Olympic athlete, the 26-year-old Hochtl has taken Nordic skiing to its apex. He trains hard, works hard, and moves fast. His favorite place to train, he said, is the Vail Nordic Center – where he learned his craft as a youngster.


This winter he'll be competing around the world, but he'll still have time to head back to Vail for a few spins around the Vail track. If you see a blur flying past you, that's probably Hochtl.
His efforts, he hopes, will inspire a new generation of Vail skiers to try Nordic skiing as well as alpine.


"The alpine skiers here in Vail have, over the years, created a legacy," Hochtl said, referring to World Cup skiers like Mike Brown, Sarah Schleper, Lindsay Kildow, and Chad Fleischer, all of whom are from Vail. "But Nordic is coming on strong, and I'd love to see Vail put itself on the Nordic skiing map."


Ulrica Johansson

Ulrica Johansson's love of Nordic skiing began as a young girl in the small town of Falköping, Sweden. The picturesque hills between Göteborg and Stockholm framed her early days, where Johansson traveled through the area with her brothers on wooden skies and leather boots.

Her traveling nature has brought her to Vail, where she now helps train Vail Resorts' Nordic instructors in the traditional and skate varieties of Nordic skiing. Modern equipment has Johansson on state-of-the-art, lightweight skis with specialized boots, but the feeling, she said, is still the same.

"Cross-country skiing is a way of life," she said. "I love the workout and the surroundings, I love the snow-covered trees and the wind in my face. The feeling of being in nature touches my soul and heart more than any religion."

Johansson loves to ski on the groomed tracts of the valley's Nordic centers, but she said backcountry skiing, through mountain trails which are sometimes covered in fresh snow, is where she fully delves into the joy of her sport.

"We all live busy lives," she said, "but the backcountry skiing experience offers an opportunity to be totally separated from the world as most people know it. It is a time to not crowd the brain with everyday normal worries and plans. A time to just be you, reflect and be grateful for the beauty nature offers."

Johansson recommends several different winter trails for more intrepid souls to explore the winter backcountry around Vail. Corral Creek, Shrine Mountain Pass (accessible on Vail Pass), Camp Hale, Tennessee Pass, Grouse Creek and Meadow Mountain trails are all on the top of her list. Prepared with warm clothes, a headlamp, a space blanket and energy bars, Johansson even skis to the tops of local peaks. The experience, she said, makes her feel alive, excited, and challenged.


Daniel Weiland

Weiland is one of the people who is working hard to put Vail on the Nordic skiing map. From a family with German roots, Weiland is now the head Nordic Coach at Ski Club Vail. He grew up in Eagle-Vail and began coaching youngsters soon after leaving college in the late 1990s. A program which started with less than 10 youths now has grown to include over 200 young Nordic skiers.

In between training sessions, coach Weiland is an avid adventure racer. He has often teamed up with other Vail adventure racing legends, including Eco Challenge champions Mike Kloser and Billy Mattison. Although most of his adventure racing takes place in the summertime, he also races in winter events, and has developed a reputation nation-wide as one of the best Nordic skiers and snowshoers on the circuit.

But working with the youths, he said, is just as rewarding as racing across the snow among the best endurance athletes in the world.

"What these kids are able to do is just amazing," he said. "Nordic racing is a very demanding sport, and it requires a lot of discipline. At 14 or 15 years old, that's tough for a young person to do. But we have a lot of young people coming out and working very hard."

Weiland said he sees great talent coming out of the youth program over the next few years, but he wants to make sure his youths are enjoying what they're doing. Nordic skiing, he said, is about getting outside – even on the coldest days in winter – and as long as his young skiers are doing that, he said, he's happy.


Nate Goldberg

As director of the Beaver Creek Nordic Center, Nate Goldberg points out that you don't have to be an adventure racer or an Olympic prospect to make Nordic skiing enjoyable. Equipment advances have made the sport more accessible to all kinds of people, and the top-notch grooming and instruction at Beaver Creek can help get beginners into their stride.

Goldberg recommends that never-evers try snowshoeing first, just to get used to the idea of being on snow. After that, though, he encourages newcomers to try a lesson or two with his trained instructor staff. The freedom of movement allowed by Nordic skiing is too good to pass up.

"We have views of three different mountain rangers up here at Beaver Creek," Goldberg said. "I think it's one of the best kept secrets in Colorado."

Goldberg said that, even though Nordic takes skiers across more gentle terrain, it still gives him a feeling of elation.
"Nordic or cross country skiing is very exhilarating in a different way," he said. "The views, serenity and workout are a real buzz for many."

Goldberg also runs clinics for one of Nordic skiing's fastest-growing elements: telemark skiing. Telemark skiing is the downhill form of Nordic skiing, and has taken hold among veteran skiers who are looking for something which combines the work-out of cross country skiing with the downhill element of alpine skiing. Once skiers master the art of telemarking, they open up a whole new world of winter freedom. They can ski up and ski down any hill they dare, and that, said Goldberg, is the ultimate freedom of Nordic skiing.


Comment on "Nordic – the oldest new sport in the world" using the form below