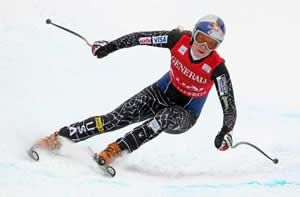 Vail's Lindsey Vonn flies down the Ruthie's downhill course at Aspen Saturday en route to a fourth-place finish.
Courtesy of U.S. Ski Team
Vonn fourth in Aspen downhill despite powdery conditions
Ligety grabs podium in Austrian GS; Miller finishes 7th
By David O. Williams
December 9, 2007 — Vail's Lindsey Vonn finished fourth in a World Cup downhill in Aspen Saturday, with only 37 racers coming out of the start gate before organizers pulled the plug due to falling snow and soft course conditions.


Britt Janyk of Canada won the downhill that was postponed from Friday due to more than 2 feet of snow falling on the Aspen area. Austrians Marlies Schild and Renate Goetschl filled out the podium in second and third.


Vonn, who had never skied a World Cup downhill at Aspen – the only stop in the United States for the women's tour – was disappointed she couldn't at least climb on a podium, something no American woman has done since the World Cup returned to Aspen in 2000.


But she acknowledged the course conditions weren't ideal for her style. She won both training runs on the Ruthie's course Wednesday and Thursday before the snow hit, and was coming off a win in the season-opening downhill in Lake Louise, Canada, Dec. 1.


Saturday's originally scheduled super-G was cancelled, but a slalom was held Sunday on lower Ruthie's Run.


In that race, no Americans were particularly close ot the podium. Jackson Hole's Resi Stiegler was the top U.S. finisher in eighth, with Austrian Nicole Hosp - last season's overall World Cup champion - winning in decisive fashion.


Olympic GS gold medalist Julia Mancuso was well back in 19th, and Vail's Lindsey Vonn, not a particularly strong slalom skier, finished 27th.


In men's action, Ted Ligety of Park City, Utah, was third in a giant slalom in Bad Kleinkichheim, Austria, Saturday – a race won by Italian Massimiliano Blardone. American independent Bode Miller was seventh.


In Sunday's slalom, though, it was a different story. In a race won by Austrian Benjamin Raich, Ligety failed to finish the first run and Miller didn't qualify for the second run.


Comment on "Vonn fourth in Aspen downhill despite powdery conditions" using the form below