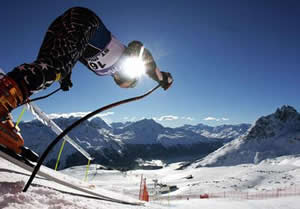 Ski Club Vail racer Lindsey Vonn gets ready to launch down the course Saturday in a downhill race in St. Moritz, Switzerland. Vonn finished second, just missing tying Picabo Street for the second most World Cup wins by an American woman.
Coutesy of the U.S. Ski Team
Vailís Vonn second in St. Moritz downhill
American Macartney climbs on podium in Val Gardena
By realvail.com
December 15, 2007 — ST. MORITZ, Switzerland Ė Vailís Lindsey Vonn reclaimed the World Cup downhill points lead Saturday, finishing second in a downhill on the 2003 World Championships course. In a repeat of their 2007 World Championships downhill race, Anja Paerson of Sweden won with Vonn runner-up in single-digit cold.


World champion Paerson posted a winning time of 1:39.32. Vonn finished in 1:39.40 and her close friend Maria Riesch of Germany was third. Julia Mancuso (Olympic Valley, CA) was 10th with Stacey Cook (Mammoth Mountain, CA) 27th.


"I made a little mistake in the middle section and that cost me the win. I caught an edge and lost my line a little bit. It wasn't big but with eight-hundredths of a second [her differential from Paerson], it doesn't take much. On the whole, though, I'm pretty happy with my skiing," Vonn said.


She plans to spend Christmas in Europe, visiting again with Riesch and her family in Germany. "Maria's a good friend and we enjoy hanging out. It was so cool to be on the podium together, although I wish we'd been 1-2 - with me No. 1," Vonn laughed. "Her family is always so welcoming to me, so it'll be a nice holiday."

After three downhills, she has 230 points to Canadian Britt Janyk's 182. Vonn won the season's first downhill in Lake Louise two weeks ago and was fourth at the Audi Aspen Winternational last weekend in Aspen. Overall, she's fifth in the points after nine races.


"There are two sections you have to nail to be fast - in the middle and the lower section. I didn't get it today, but maybe tomorrow" in the super-G, she said. The super-G course was set following the downhill by U.S. Coach Alex Hoedlmoser.


Hoedlmoser said Vonn's mini-miscue "happened right in front of me in the middle part. It was a key section where you needed to set up for a turn. One of her skis hooked up and there was just this little bobble, which cost her. Eight-hundredths of a second can disappear quickly...and other than that she did a great job."


"She was attacking all the way, really charging, and definitely was in the hunt again. A little bobble like that happens sometimes when you're going for it like she was," he said.


Mancuso skied the upper section well but uncharacteristically had a problem in the middle. "She usually skis the middle well because it's a technical part, but she got back on her skis in a key section and that cost 'Jules' speed for the bottom of the run," he explained. "She's coming, though. We're getting some things figured out with her equipment and she's definitely going in the right direction now."


The weekend's races were moved from Val d'Isere, France, because of poor snow conditions. The women run a super-G Sunday and then head from St. Moritz, the 2003 FIS Alpine World Ski Championships site, to St. Anton, Austria, the 2001 Worlds host, for a downhill and super combined Dec. 21-22.


In menís action, Scott Macartney, of Crystal Mountain, Wash., stormed to the second podium of his career - his first in downhill - as he finished third Saturday in a World Cup downhill in Val Gardena, Italy. Austrian Michael Walchhofer won and Bode Miller, of Bretton Woods, N.H., was eighth.


Walchhofer, who won the Birds of Prey downhill at Beaver Creek, Nov. 30, was timed in 1:56.70, with World Cup leader Didier Cuche of Switzerland, who won Friday's super-G, second (1:56.88).


Macartney finished in 1:57.26 while Miller's time was 1:57.85. T.J. Lanning, of Park City, Utah, starting 54th in the field of 60, was 31st, bumped out of the points (top 30 racers), by the next-to-last skier. Steven Nyman, of Provo, Utah, who won in Val Gardena last season, fell on the upper part of the course.


"I didn't do anything amazing, just charged and had a mostly mistake-free run," Macartney said. "I skied clean at the top."


Macartney felt he was having a strong run, but added, "It's always hard to tell how fast you're going. The run felt clean. I felt I was carrying good speed, but you never feel really fast. I got massive air off the Camels and I thought, 'Uh oh' - but I pulled it off."


Macartney paused and agreed with a reporter, "Yeah, never a bad time for a podium."


"This is awesome. 'Scotty Mac' has been paying his dues for a long time and this is a sweet payback for him," said menís downhill head coach Chris Brigham.


It was the second podium of his career for Macartney, a two-time Olympian from Dartmouth College. He's in his 10th season on the U.S. Ski Team. In 2006, heading into the Torino Olympics, he was second in a super-G in Garmisch-Partenkirchen, Germany. Saturday, he became the fifth U.S. man to reach the podium this season.


"The biggest thing, and what I really like, is this is the third downhill of the season and I'm the third different American to be on the podium," he said. Previously, Marco Sullivan, of Squaw Valley, Calif., was second in Lake Louise and Nyman was second at the Charles Schwab Birds of Prey downhill behind Walchhofer.


The men's Audi FIS World Cup schedule swings from speed events to gate-running for the next two days. The men race a giant slalom Sunday in Alta Badia and a slalom Monday.






Comment on "Vailís Vonn second in St. Moritz downhill" using the form below