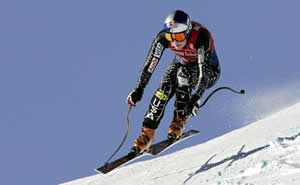 Lindsey Vonn charges to a women's downhill victory in St. Anton, Austria, Friday, the ninth World Cup win of her career.
Courtesy of the U.S. Ski Team
Vail's Vonn wins downhill in Austria, ties Street with 9 career victories
Ski Club Vail product now second in wins all-time among American women
By realvail.com
December 21, 2007 — ST. ANTON, Austria – Vail's Lindsey Vonn skied "on the edge" and nailed the bottom of a women's downhill run Friday to win the ninth race of her World Cup career, extending her downhill points lead and tying her with Picabo Street for second all-time in wins among U.S. women behind only Tamara McKinney.


Julia Mancuso of Olympic Valley, Calif., was third over the challenging men's speed track from the 2001 World Championships.


The podium was a North American "sandwich." Vonn's seventh downhill win came in a time of 1:32.00. Second place over the 2.2K course went to Kelly VanderBeek of Canada in 1:32.36 and Mancuso, surviving a near-spill at the bottom, finished in 1:32.38.


Early in her career, when she raced as Lindsey Kildow, Street was her idol and they remain good friends. Street won nine DHs in her glittering career; Vonn has nine wins, too - seven in DH, two in super G.

The victory extended Vonn's discipline points lead. After four downhills, she has 330 points to 224 for Canadian Britt Janyk, who won Dec. 8 at the Audi Aspen Winternational in Colorado. Vonn also moved into fourth place overall behind defending World Cup champion Nicole Hosp of Austria, who took over the lead from Sweden's Anja Paerson. Mancuso moved into sixth overall.


The 2001 FIS Alpine World Ski Championships were held in snowy St. Anton, but the men and women raced on different courses. Friday, the women tackled the men's DH run.


Vonn led the second training run after being fourth in the first training, but said she struggled at the start of the run - although she had the fastest first split time. However, Vonn regrouped as she came through the bottom section.


"I don't know what happened at the top, just screwy mistakes, but then I was all over the place in the middle - caught an edge, a little bobble, did some funny stuff. It was a crazy ride. I was out of control the whole way.


"But I knew the bottom section was critical and where you could win or lose it," she said. "It just shows that if you keep fighting and you're determined, you can find success.


"It was a pretty difficult course, and it kind of reminded me of Aspen. You never can stay in your tuck, you're always going, going over a roll or something else - no big jumps but there's a lot of drama, a lot of activity."


It was a little reminiscent of her silver-medal performance at the 2007 Worlds last February in Are, Sweden. She had a mid-race bobble and "turned my brain off" to shred the bottom of the run and collect her second silver medal of the World Championships.


"Yeah, exactly. That's it - just like Are. This was weird, too - just a wild ride. I mean, who knows, if I hadn't had that mistake up top, hadn't had those problems, would I have pushed it as I did at the bottom? I'm sure I would've skied well, but would I have won? Who knows? You don't know if that mistake pushes you harder," Vonn said.


She praised the decision to stage the race on the men's course because that is more challenging than the women's run. "It's a very technical course and I would love to see more of these on the World Cup circuit. Many [women's] hills are just too easy, but this one demands everything of the racers," Vonn said.


Women's DH Coach Alex Hoedlmoser said the two-time Olympian could sense she was off the pace "and she was on the edge all the way to the bottom. It was an awesome run, especially with her trouble at the top."


He liked the way Vonn carried her training run aggressiveness into the race. "Lindsey brought it all over, all of it, and was completely on the edge because she knew she needed to make up time. She had a big mistake in the middle part and everybody thought 'That's it. It's over for Lindsey' - but she was full-on at the bottom.


"This is a very challenging run, intimidating and challenging and fast. There's a lot of terrain. Lindsey had just an awesome run. And Jules was awesome, too. She was on edge and at the bottom she made a great save to keep it together. She held on and barely made it past the wickets [gates]...just totally kept it going somehow," he said.


By the time Ludlow skied, at No. 43, the light was difficult, he said, "and she laid down a beautiful run. It's good to see her putting it down like that."


The women race a super combined Saturday, a shortened downhill and one run of slalom. Last January in a so-called super combi elsewhere in Austria (Altenmarkt-Zauchenee), Mancuso won with Vonn second.


Comment on "Vail's Vonn wins downhill in Austria, ties Street with 9 career victories" using the form below