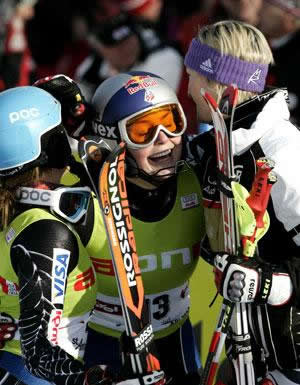 Vail's Lindsey Vonn is mobbed after winning the 10th World Cup race of her career Saturday in St. Anton, Austria.
Courtesy of the U.S. Ski Team
Vailís Vonn sweeps St. Anton World Cups
Passes Picabo for second most all-time American wins with 10
By realvail.com
December 22, 2007 — ST. ANTON, Austria Ė Vailís Lindsey Vonn took over as World Cup points leader and passed childhood idol Picabo Street as she won a World Cup super combined Saturday for her second World Cup victory in 24 hours, the 10th of her career. Julia Mancuso, of Olympic Valley, Calif., was third for the second day in a row. WCSN.com will webcast on demand.


Her teammates lifted Vonn onto their shoulders in the finish area to mark the historic moment, the first time an American woman has won two races on back-to-back days since Tamara McKinney won a giant slalom and slalom March 10-11, 1984, at Waterville Valley, N.H.


Vonn, who had won a downhill Friday, and Mancuso were 1-2 after the downhill portion of the "super combi." Mancuso was tied for second with defending champion and then-reigning World Cup points leader Nicole Hosp of Austria, but Hosp went out on her second run.


Vonn, who changed her name from Kildow in September after marrying 2002 Olympian Thomas Vonn, finished with a time of 2:20.28 for the downhill and one run of slalom. In second place was her close friend Maria Riesch of Germany (2:20.91), who will be hosting Vonn for the Christmas holidays. Mancuso, with a bobble in the lower portion of the slalom, had the fourth-fastest slalom run and finished in 2:20.93 for her third podium of the season.

"This is so great! I'm so happy to be on the podium, and to be on the podium with Maria and Julia ... just so wonderful," said Vonn, a product of Ski Club Vail.


After her downhill victory, Vonn laughingly said, "Well, I've got to go back to 'the office' tomorrow and do it all again." And then she did just that, building a 1.48-second lead in the downhill and posting the 10th-fastest slalom run.


After dominating the 2.2K downhill, she didnít gamble on the short but steep slalom hill. "I didn't take too many risks," she conceded.


She missed slalom training Friday because of the normal post-race press conference and other interviews, she said. However, teammate Stacey Cook, of Mammoth Mountain, Calif., filled her in on the course set by Chris Knight, U.S. women's slalom and GS head coach. When Hosp, Sweden's Anja Paerson and Austrian Marlies Schild, the defending World Cup slalom champ, went out in the slalom, it left the door wide open for Vonn.


"With so many good racers out, I didn't have to take too many risks on my slalom run," Vonn said. "I decided to make it a smart race."


She refused to think about winning the overall title because it's so early in the World Cup schedule - and because the women won't be running speed races until late January. "It's fun to be leading the overall standings now, but the season is long. I like to be one of the main players, but Nicole Hosp is a remarkable skier in all the disciplines," she said.


The women face three weekends of slalom and GS racing, so Vonn - who also is No. 1 in downhill points - said Hosp likely will move back to the top of the overall standings. "I'll do my best [in the tech races] and if [success] comes, it comes. If not, that's also OK," she added.


One of her goals has been to win a super combined event. With that in mind, Vonn said she trained a lot of slalom and GS during the fall. "My hard work is paying off," she said.


After 12 races, Vonn has 474 points to 419 for Hosp. Riesch is third at 389. Mancuso sits in sixth place (364) with a podium in three different disciplines (super combined, DH and giant slalom). Vonn has seven World Cup triumphs in downhill, two in super G and now one in super combined. Overall, she has 25 top-3s in her career. Among U.S. women, she is second to McKinney, who won 18 World Cup races and overall title.


"It was another unbelievable day. They all were charging, right from the start of the downhill," Head Coach Patrick Riml said. "What Lindsey did is unreal; she dominated the downhill again and then she and Julia really did a good job in slalom. They haven't had much slalom training in the last couple of weeks because of the speed races, so this was excellent." Two weeks ago, they had a downhill in the Audi Aspen Winternational in Colorado and last week, the women had a downhill and super G in St. Moritz, Switzerland.


The downhill was over the same course the women skied Friday, but Riml said that challenge for the slalom skiers was balanced "because the slalom course is so steep. It starts with a steep pitch, has some side hill, some more steep and then down to the finish. They're both very tough courses."


The Audi FIS Alpine world Cup schedule takes a break for Christmas. The women resume Dec. 28-29 with a giant slalom Friday and slalom Saturday in Lienz, Austria.




Comment on "Vailís Vonn sweeps St. Anton World Cups" using the form below