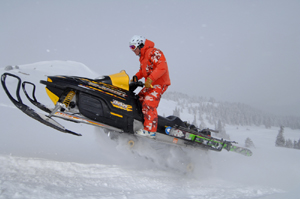 Tyson Bolduc rides through powder at the Vail Pass Recreation Area on his way to another run down Ptarmigan Peak. Snowmobiles are a popular replacement for ski lifts, especially during the last week of the year, when Vail and Beaver Creek passes are restricted for some.
By Dan Davis
trekkerphoto.com
With $6 and a snowmobile, Vail Pass can be almost as good as Vail Mountain
By Tom Boyd
December 28, 2007 — VAIL PASS - Pinned to the door of the Vail Pass Ranger station is a tattered poster that depicts a man skiing through the wilderness. It reads: "How vainly I seek for places isolated, serene, without man's traces."


The sign is fitting, given its location near the busy parking lot of the Vail Pass pay-to-play winter recreation area. Skiers, snowboarders, snowshoers and snowmobilers collect there every morning to sally forth into the 55,000-acre Vail Pass Winter Recreation Area. Passes, available through the Forest Service, are $6 a day or $40 for the season.


Vail Pass becomes even more popular during this time of year, when Vail and Beaver Creek merchant ski passes are restricted. Locals looking to make tracks often head to Vail Pass until their passes become good again Jan. 1.


One of the most popular things to do there is to sled-ski. Skiers use snowmobiles to access the mountain tops and ridgelines, then ski the backcountry. Instead of riding a lift, hiring a snowcat or flying to Alaska for some heli-skiing, sled-skiers take turns shuttling each other to the top of powder-caked runs.

The Shrine Pass hut system
Shrine Mountain Inn
Located within the Vail Pass Winter Recreation Area, the Shrine Mountain Inn consists of three separate cabins (Jay's, Chuck's, Walter's) that sleep a total of 36 people. A shared sauna is located between Chuck's and Jay's and propane grills are provided at each cabin. Shrine Mountain Inn is privately owned and booked through the 10th Mountain hut system. Check availability at
www.Huts.org
.
Hut elevation:
11,209 feet.
Hut location:
While located far enough from paved roads to keep a backcountry mood, the cabins of Shrine Mountain Inn are perhaps the least difficult 10th Mountain "ski in" huts to access. An ideal first hut trip, these cabins are 2.7 miles from Interstate 70, Vail Pass Trailhead.
Jay's cabin - capacity:
12. Spaces rent for $41 per person per night and can be booked individually.
Chuck's cabin - capacity:
12. Upstairs spaces rent as a group for $41 per person per night ($246 per night). Downstairs spaces rent for $27 per person per night and can be booked individually.
Walter's cabin - capacity:
12. Upstairs spaces rent as a group for $41 per person per night ($246 per night). Downstairs spaces rent for $41 per person per night and can be booked individually.
Web site:
ShrineMountainInn.com
Dates open:
The Shrine Mountain Inn cabins are open all year.
Avalanche safety
The definitive source for avalanche information in Colorado is the Colorado Avalanche Information Center. A visit to its Web site is essential before any backcountry trip. The Forest Service also offers backcountry and travel information at the number below.
More than one person in any private group should be educated in avalanche awareness, including how to choose routes with minimized avalanche danger, how to use a beacon and how to conduct an avalanche search.
•
Web site:
Avalanche.State.CO.US
•
Phone:
303-499-9650
Fee
$6 per person per night is in effect though April 16, and children 14 and younger are free.
Backcountry etiquette
With so many people doing so many things, it's important to maintain the peace among all users.
•
Skiers and snowshoers should stay to one side of the groomed trail.
•
Snowmobilers should go slowly when passing skiers or snowshoers.
•
Snowmobilers should hold up a finger-count of how many more in their group are still coming behind.
•
All users are asked to refrain from littering.
"You can spend $5,000 and have a week of heliskiing, or you can spend $5,000 on a snowmobile and have three seasons of fun," said Onie Bolduc, a Vail local who rides Vail Pass on a regular basis with his brother, Tyson. "The snowmobiles are fun to drive as well. So even when you don't get to ski, you still enjoy the downhill."


Sled-skiing has become popular at Vail Pass, but it's only one of a handful of activities ongoing at Vail Pass. Vail Powdercats has a cat-tours and cat-skiing operation there, and Nova Guides offers snowmobile tours. Others are headed to one of four huts in the area, and still more are cross-country skiing, snowshoeing or just enjoying the view.


It makes for a lot of people doing a lot of things - not all of which complement each other.
In the early 1990s, problems arose between backcountry skiers who were seeking solace away from noisy snowmobiles and snowmobilers who didn't want to be limited in where they could ride in the backcountry.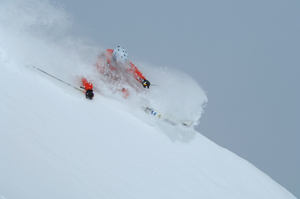 The skiing on Vail Pass can be as good as anywhere on Vail Mountain, as Tyson Bolduc displays above.

The Vail Pass Task Force was formed from local citizens and representatives from Nova Guides, Vail Powdercats and Shrine Mountain Huts to help mediate the conflict.


The Task Force collaborated with the Forest Service to help create "motorized zones" and "nonmotorized" zones. A fee, instituted 10 years ago, helps pay for the maintenance and monitoring of the area, as well as maps, parking facilities and a Forest Service staff of six rangers.


"We sold over 200 tickets (on a weekend in 2006/2007)," said the Forest Service's Mike Bartholow, a Forest Service ranger at Vail Pass. "That doesn't include folks who have season passes or folks who are with a guided tour or heading to a hut."


Bartholow didn't know what percentage of people are there to sled-ski, but he said special "hybrid" areas are unique to Vail Pass. These are areas designed specifically for people who want motorized access to the top of a slope, but don't want motorized vehicles on the ski slope itself.


"The opportunity to do the hybrid skiing is pretty unique," he said. "There aren't a lot of other places where you can do that."


Ptarmigan peak is a hybrid location popular with sled-skiers, and at any given time it's possible to find people skiing in that area. The snowmobiles and snowcats in the area might make noise, but they still bring solace to skiers who don't want to be alone in the avalanche-prone backcountry.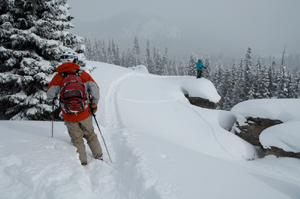 Onie Bolduc, background, checks a route down a set of cliffs while the author, foreground, prepares to pick his line.

"I kind of like the fact that there's a lot of people around; it makes me feel like, if there's an avalanche or something goes wrong, at least there are a lot of people around to help out," said one Vail Pass skier, who asked not to be named because she was, "skipping work," somewhere in Summit County.


Chuck Ogilby, a member of the Vail Pass Task Force, said areas such as Ptarmigan can be quite busy, but there are still places to find solitude and silence.


"The snowmobile community can go out and see that they're getting really nice, groomed trails," he said. "But the skier that doesn't really want to go out there and see a snow machine and hear one, he's got places where snowmobiling isn't really allowed. There are fairly extensive pods where people can go."


Once away from the parking lot and away from the groomed trails, a seeker for places isolated and serene probably won't find any person's trace. But he will have to hike through the snow instead of taking a ride to the top. It's a trade-off many are willing to make, and at Vail Pass, they have the choice.

How to prepare


A guided trip requires less self-reliance, but on a private trip, one must prepare for the possibility of a sled breakdown or other problems - therefore, be ready for a possible overnight stay in the wilderness. It's also easy to become lost or separated, so be sure to assign definite meeting places and locations beforehand.

• Very warm clothes - more than what is necessary for skiing.

• A thin hood with face shield that can fit under a helmet.

• Water.

• Sunscreen.

• Extra energy bars, energizing food.

• Hand-held walkie-talkie radios.

• Fully charged cell phone (keep it somewhere warm so the battery doesn't freeze).

• Waterproof matches.

• Knife, snowmobile repair tools.

• Headlamp and extra batteries.

• Two pairs goggles, two hats, two pairs gloves (keep extras in a backpack).

• Breakdown backcountry shovel.

• Avalanche probe.

Avalanche beacon.


1 Comment on "With $6 and a snowmobile, Vail Pass can be almost as good as Vail Mountain"