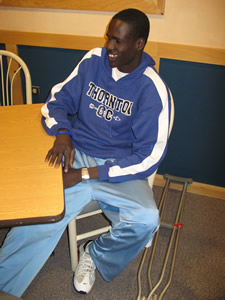 War refugee Dey Tuach, originally from Sudan and now a track star at Thornton High School near Denver, relaxes in the Vail Valley Medical Center cafeteria after knee surgery at the Steadman-Hawkins Clinic Tuesday, Jan. 8.
By David O. Williams
Runner from Sudan gets second shot with surgery in Vail
Steadman-Hawkins donates operation to refugee track star
By David O. Williams
January 12, 2008 — Dey Tuach could see the finish line last October in the boy's 5A state cross-country championship. In fact, the Sudanese refugee running for Thornton High School was leading the 3.1-mile (5K) race after 3 miles when his knee gave out and he crumpled to the ground.


Tuach could have stayed on the ground. None of his coaches or teammates would have faulted the 18-year-old senior. But he got up and tried to finish, only to collapse again.


"Here he is at mile 3 of a 3.1 mile race and he just crumples, and he was in the lead," said Thornton athletic director Donna Miles. "It was just heartbreaking … and his first words to us were, 'I'm sorry I disappointed you.'"


Tuach on Tuesday was philosophical about the setback, his long, lean 6-foot-5 frame stretched out over two chairs in a waiting room at the Vail Valley Medical Center following surgery on the damaged knee.


"Runners have good days and bad days," Tuach said quietly in broken English. "At that time I'm thinking it's really bad for me because I wanted to win the state meet, but now I forget about it because I'm just going to run again. Track season is right now again coming, so I want to go to state and maybe get a win."

Tuach's remarkable perseverance, coupled with an impressive support system, has brought him a long way in his short but hard life - from a village in rural Sudan torched by government troops to a United Nations refugee camp in northwest Ethiopia to suburban Thornton to the renowned Steadman-Hawkins Clinic in Vail.


"What's going on in the Sudan is heinous, and this is a way for those of who are more fortunate to have a direct impact on problems going on in another part of the world," said Dr. Tom Hackett, who removed old scar tissue from Tuach's knee and repaired a small tear in the meniscus. The surgery, hospital stay and anesthesia were all donated to the uninsured Tuach.


Hackett, who operated on an NFL player right before Tuach and an Olympic ski racer right after him, says Tuach's uncommon strength and commitment should easily have him running again within six weeks, in plenty of time for the late March track and field season.


Tuach hopes a win at state will propel him to an NCAA Division I scholarship – he's already been contacted by the University of Florida and Arizona State and has offers from Adam's State and Western State in Colorado – and his ultimate dream of a spot on the U.S. Olympic Team.


"Dey is a charger," added Hackett, whose brother-in-law is a Kenyan businessman involved in peace negotiations in Sudan. "I might not be able to get (Tuach) a scholarship, but I can at least give him the chance to do his best and see if he can pull it off himself. The kid has unbelievable perseverance and resolve."


That resolve manifested itself when Tuach was seven years old in the village of Malakal in southern Sudan. His father had sent him out one morning to herd cattle and gather dung to be used as cooking fuel when Sudanese Army troops raided the village as part of a civil war that has raged between the north and the south since 1983.


Tuach tried to make it back to his devastated village only to be intercepted by a neighbor who told him he would be killed if he returned. The neighbor, Tuach and other refugees fled across the desert on a four-month journey to Ethiopia, drinking water from mud puddles and occasionally eating raw antelope. He said many people died on the way, including some killed by crocodiles during a river crossing.


Tuach then lived in desperate conditions in a crowded U.N. refugee camp until he was 16 and got the chance to join a cousin in Denver. He has not spoken to his parents or 13 siblings (two of whom are believed to be dead) since the attack and is not entirely sure of their fate, although he says his parents are alive and living near a town called Udier.


He did manage to talk by phone to a cousin in Sudan the day of his surgery.


"I had been thinking a lot about those guys who live there. It helped me today (to call). I think that's why I didn't feel pain here in my body. I'm good right now," Tuach said.


Comment on "Runner from Sudan gets second shot with surgery in Vail" using the form below