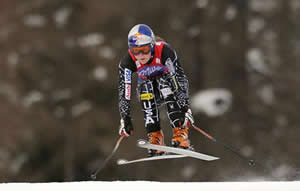 Vail's Lindsey Vonn rockets to a downhill win in Cortina, Italy, Saturday - the 11th victory of her career.
Photo courtesy of the U.S. Ski Team
Vailís Vonn crushes Cortina downhill
11th career victory propels Ski Club Vail product to second in overall hunt
By realvail.com
January 19, 2008 — CORTINA D'AMPEZZO, Italy - World Cup downhill leader Lindsey Vonn, of Vail, mauled a downhill run Saturday for her fourth win of the season, moving into second place in the overall standings with the 11th victory of her career, this one by a whopping .83 seconds.


Julia Mancuso, of Olympic Valley, was seventh. But Vonn led from the start as she overtook Mancuso to win with a time of 1:36.70. Downhill world champion Anja Paerson, of Sweden, who edged Vonn at the championships last February, was second in 1:37.53, with Canadian Emily Brydon completing the podium.


Saturdayís win was Vonn's eighth World Cup downhill triumph, putting her one back of childhood idol Picabo Street and Daron Rahlves as the most successful U.S. downhiller of all time. She also has won two super-Gs and a super combined.

Mancuso covered the 2.8-kilometer course in 1:38.18, with Stacey Cook (Mammoth Mountain, Calif.) 27th and Libby Ludlow (Bellevue, Wash.) 29th. After 19 races, Austrian Nicole Hosp, who did not run Saturday, has 699 points to 638 for Vonn, with Mancuso sixth at 559.


Skiing immediately after Mancuso, Vonn began shredding the Olympia delle Tofane run right out of the gate. She led by 0.75 seconds at the first interval timing checkpoint, added a hundredth of a second by the next interval, was up 1.26 at the third split and led by 1.48 at the final split before the finish.


"It was awesome. I really had fast skis today," Vonn said. "I skied well, and that, in combination with my Rossignols being so fast, it all worked out well.


"I got a little late in some sections, but I had a faster line. I wasn't taking too many risks. I just tried to ski a good, clean line and not go too straight," she said. "I could feel my skis were so fast. I was trying to keep up with them because it was like they just wanted to go faster."


Her first World Cup top-3 came in Cortina, almost two years ago to the day. She got her first top-5 in a downhill Jan. 17, 2004, and reached her first podium the next day in another downhill.


"It's definitely a challenging hill. There are a lot of sections where you have to ski really well. You can't make a mistake because you have to keep your speed up all the way down. I felt the key was the top first two sections and I skied well through there. But once you do that, then you have to maintain it to the bottom," she added.


Head coach Patrick Riml said: "Lindsey was really impressive. After just one training run [because of midweek snows], she looked at video last night with Alex [Hoedlmoser, downhill head coach] and made some adjustments from the training run.


"It's pretty simple - you just have to be fastest, and Lindsey did a great job doing that," he said. A couple of mistakes at the top of the run cost Mancuso, who skied well through the bottom as she took the lead momentarily. "If Jules cleans things up, she'll be set for the super-Gs tomorrow (Sunday) and Monday."


When a couple of feet of snow hit Cortina Wednesday and Thursday, organizers pushed back the scheduled super-G from Friday - originally postponed from last month at the Audi Aspen Winternational in Colorado - to Monday. Live timing will be available Sunday at 5 a.m. EST. WCSN.com will webcast same-day coverage at 10 a.m. EST.


Comment on "Vailís Vonn crushes Cortina downhill" using the form below